2020 Matteo Pellicone | UWW Ranking Series
Fix, Gilman, Colon: Three Americans Headline 57kg Matteo Pellicone Field
Fix, Gilman, Colon: Three Americans Headline 57kg Matteo Pellicone Field
Daton Fix, Thomas Gilman, and Joe Colon will all be in the same 57kg bracket at this weekend's Matteo Pellicone Ranking Series event in Rome, Italy.
Jan 15, 2020
by Wrestling Nomad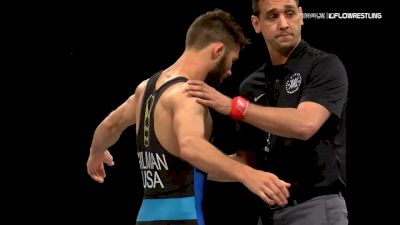 Unlock this video, live events, and more with a subscription!
Get Started
Already a subscriber? Log In
Unlock this article, live events, and more with a subscription!
Get Started
Already a subscriber? Log In
This coming Saturday in Rome 57kg will resemble the hit FX show The Americans. Daton Fix, Thomas Gilman, and Joe Colon will all be in the same weight class on Saturday.
Watch the Matteo Pellicone LIVE on Flo
January. 15-18 | 4:30 AM Eastern
With only 11 total entries, it seems almost assured that we will get at least one match at the Matteo Pellicone featuring a head-to-head between two wrestlers from the United States. It will not only affect ranking points for the Pan Am qualifier, but also seeding for the Olympic Team Trials, as well.
We already did a full weight class preview for the Ranking Series event, but now we're going to focus on the three Americans. Here's what to expect from the wrestlers representing the Red, White, and Blue at the lightest weight class.
Daton Fix: Cowboy RTC/Titan Mercury
Daton made the world team in just his second year on the senior level, in the toughest field of the quad as the winner had the potential to qualify the weight for Tokyo. He beat Thomas Gilman in the final seconds of the U.S. Open final, and then won in three matches at Final X: Lincoln, avenging a pair of losses to Gillman from Final X the year prior.
Fix would go on to win the Pan Am Games, beating Reineri Andreu Ortega of Cuba 4-1 in the semis; Ortega had beaten Gilman at the 2018 Pan Am championships. After six appearances at age-level World Championships, he made his senior-level debut at worlds in Kazakhstan in September. There, Fix went 1-1, falling in a controversial match to 2017 world champ Yuki Takahashi (JPN) in the second round.
That was the last time we saw Fix wrestle, so there's a ton we need to find out. The first is what Daton's attack rate will be, which is something that has the potential to go up. The second is what adjustments the world, and in specifically other Americans, have made to Daton's re-attack and counter heavy game.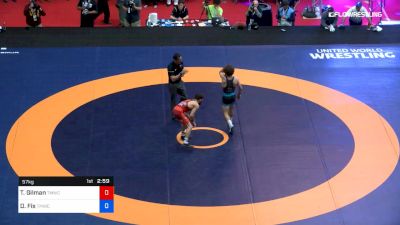 Unlock this video, live events, and more with a subscription!
Get Started
Already a subscriber? Log In
Aside from maintaining his top seed for the Olympic Team Trials, it would also be good for Fix to face Stevan Micic (SRB) and Ravi Kumar (IND), both of whom are already qualified for the Olympics. Fix and Micic have history from the 2015 Junior circuit, with Fix winning the Open and Micic taking the two matches at the Trials to make the world team. Kumar is highly offensive, averaging over nine points per match in Kazakhstan, and could play right into Fix's hands with so many opportunities to re-attack.
It's been a while since we've seen Fix hit an inside trip in a big match, so it would be interesting if he were in a situation where he was down big late and needed a four-pointer. At this point, his regular gut wrench is his main par terre attack over the trap arm. Perhaps he has been using his Olympic Redshirt year to learn a leglace, something his Oklahoma State coach John Smith was quite adept at.
We've never seen Daton against Joe Colon, so going under him would be a great test to Fix's par terre defense. However, the Cowboy would be favored in most if not all neutral exchanges against the Fresno State assistant, though Colon does have a solid low single. This will be Daton's first overseas trip for something other than worlds (or the Pan Am Games) since 2016 when he wrestled in the Grand Prix of Spain as a first-year Junior.
Thomas Gilman: Hawkeye WC/Titan Mercury
Gilman has been very active on the senior level, even when he was battling injuries. He wrestled five times last year, four of which were in Russia, and will be going to the Yarygin right after this as well. Before that, it was four competitions overseas in 2018 and three in 2017, which was shortened by him spending the first three months of that year chasing an NCAA title as a senior at Iowa.
The former Hawkeye has long struggled with finishing below the knee, so any opportunity to get real match situations to improve on that will be helpful to him. Like several other Americans at the Alans, he took a loss where he needed a score in the final minute, so this is as good a practice as any to work on closing out matches, both in terms of holding a lead and coming back late.
A world silver medalist in 2017, Gilman had separated himself from the field domestically to the point that most everyone knew it would be him and Fix in Final X. Now, of course, guys like Spencer Lee and Seth Gross enter the fray, but Gilman has not been threatened by pretty much anyone else in the field.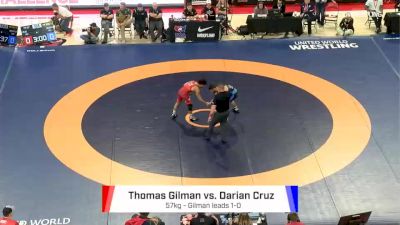 Unlock this video, live events, and more with a subscription!
Get Started
Already a subscriber? Log In
Along that line, it is very obvious he can dig an underhook, typically lefty, and drive guys to the edge for stepouts. This was very much on display against Darian Cruz in the WTT finals, where he scored six of his nine points in those two matches on stepouts, two out of four in match one and four out of five in the second bout. That strategy tends to carry itself against foreign opponents, and while it is great to know you can get a stepout when you need one, there's also something to be said if he can start getting more consistent takedowns.
While fans, Gilman's coaches and the Peacock himself would, of course, love to see more takedowns out of him, the previous paragraph does speak to how well he wrestles in the zone and controls the edge, even against international foes. Both of the other Americans present issues when trying to finish leg attacks, and both in different ways.
Lastly, beyond his ability to leapfrog Fix or drop behind Colon in Olympic Trials seeding, he can position himself for a seed in Tokyo. If every entry competes, there will be as many as 16 points up for grabs. He was 2-0 on the Junior level against Micic, but the second was an injury default, and it was over five years ago.
Joe Colon: Valley RTC/Titan Mercury
The last time we saw Colon down at 57kg was in February of 2017 at the Dave Schultz, which was still a day before weigh-in. There, he went 2-2 with a loss to Tyler Graff in the semis. Before then, he qualified for the last OTT at 57kg, going 2-2 overall. His best performance at the weight domestically was in 2015, when he won the challenge tournament to make the Trials finals opposite Tony Ramos, finishing second on the ladder and making the national team.
He's since spent time up at 61kg this quad, winning a bronze medal at worlds in 2018 and then falling to Graff at Final X: Lincoln last year. Internationally, he won a pair of Pan Am golds, made the finals at Medved, and won bronzes in Ukraine and Poland. It's pretty clear that he's a factor both domestically and internationally in any tournament he enters
Now, of course, his quality depends strongly on if he can have a good weight cut, but he has definitely been shrinking his body for at least a few weeks if not months in preparation for an Olympic run. He was clearly smaller when we saw him coaching in Fort Worth, and planned on making scratch before going to Rome.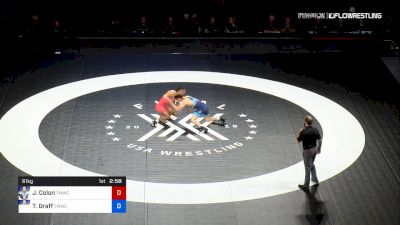 Unlock this video, live events, and more with a subscription!
Get Started
Already a subscriber? Log In
What makes Colon so dangerous is the variety of ways he can win a match. He's tough to score on because of his chest wrap and belly whizzer, and both of those things translate to him being able to score in bunches if the match turns into the teens and double digits by both guys. He's tough on top with a very good gut wrench, which the threat of alone can cause stress on people. He's got a capable single leg and should be able to match guys like Fix and Gilman strength-for-strength.
There's a chance Colon upsets Gilman and Fix, putting himself in position to be the guy sent to Ottawa for the Pan Am qualifier. He would not only have wins over the past two world teamers, but he would also have separation points for the qualifying event and put Team USA in a potentially better position to get the weight into the Games.
Among the Americans at this weight, Colon has the most to gain, if not for any other reason that this will almost definitely be his last go-round trying to make an Olympic team. There's such a variety of wrestlers in this field, in terms of quality and styles, plus two other Americans and two guys who will be in the field in August. Colon should be appointment viewing for everyone this Saturday.