Unlock this article, live events, and more with a subscription!
Get Started
Already a subscriber? Log In
The most prestigious award in wrestling is the Hodge Trophy, and who better than us to let you know who is leading the race for wrestling's version of the Heisman?
This is our fourth update of the official Hodge rankings for the 2019-20 season, and the most recent was right before Midlands and the Southern Scuffle. The major shakeup came at Midlands, with Seth Gross officially knocking everyone in 133 out of contention for the Hodge this year.
With the tournament portion of the season over, we've now entered the time period where conference duals will dominate the discussion every weekend. Before we begin, a reminder of what the criteria is for the Hodge Trophy.
Hodge Criteria

A wrestlers record
Number of pins
Dominance on the mat
Past credentials
Quality of competition
Sportsmanship/Citizenship
Heart
Simple enough, you have to be undefeated to be considered for the Hodge. I will mostly use pin percentage instead of raw number of pins, something our new FRL co-host Ben Askren would have not liked when he was juicing his numbers at the Central Missouri State Open back in the day. Past credentials are basically NCAA placements, and quality of competition is an ever-changing strength of schedule comparison.
Sorry, but everyone ties in the last two criteria in my book. Now, criteria three is tricky. I define "dominance on the mat" in several ways, using not only bonus rate, but also dominance score, and average time spent on the mat (ATOM). Dominance score treats every match like a dual and averages the total team points accrued.
For the purpose of these rankings, only matches against other Division I wrestlers are factored in, and bouts against teammates are thrown out. Here is a brief overview of the baseline states from our contenders
| | | | | | | |
| --- | --- | --- | --- | --- | --- | --- |
| Rank | Name | School | Wins | Pin | Tech | Major |
| 1 | Zahid Valencia | Arizona State | 14 | 6 | 2 | 5 |
| 2 | Spencer Lee | Iowa | 8 | 2 | 5 | 1 |
| 3 | Mark Hall | Penn State | 11 | 4 | 2 | 3 |
| 4 | Alex Marinelli | Iowa | 12 | 7 | 0 | 0 |
| 5 | Vincenzo Joseph | Penn State | 5 | 2 | 1 | 0 |
| 6 | Kollin Moore | Ohio State | 15 | 1 | 4 | 7 |
| 7 | Ryan Deakin | Northwestern | 10 | 3 | 0 | 3 |
| 8 | Luke Pletcher | Ohio State | 16 | 2 | 2 | 6 |
| 9 | Nick Lee | Penn State | 10 | 3 | 4 | 2 |
Realistically the Hodge right now is between Zahid Valencia and Spencer Lee, with Mark Hall trailing close behind. Then everyone from Alex Marinelli to Nick Lee is fighting for that fourth finalist spot, and arguments can be made many different ways there.
Pretty consistently you will see that I put a lot of stock in winning one of CKLV, Midlands, or Scufffle, mainly because there are so few opportunities to see D1 wrestlers in a high-level tournament setting. I also believe strongly in falls importance to the Hodge, since the award's namesake Danny Hodge is maybe the most statistically dominant pinner in NCAA history (36 pins in 46 matches).
Lastly, I frequently use past credentials as a separation point and tiebreaker. So guys like Zahid, Spencer, and Cenzo who already began this season with a pair of NCAA titles had a head start, and then past placements are an easy thing to look at when comparing two guys with similar resumes.
Honorable Mentions:
Jack Mueller (Virginia), 125
Michael Kemerer (Iowa), 174
Gable Steveson (Minnesota), 285
Mason Parris (Michigan), 285
---
9) Nick Lee (Penn State), 141
Now that Lee is up to 10 matches we can take him out of the honorable mention. His bonus rate is only behind the three frontrunners, plus his third-place showing at Senior Nationals is a strong indicator of the level he's on this year. We're already circling the February 15 matchup against Luke Pletcher at the Bryce Jordan Center.
Dominance Score - 4.9
Bonus Rate - 90%
Average Time on Mat - 5:02
8) Luke Pletcher (Ohio State), 141
The naysayers won't believe it, but Pletcher has 10 bonus-point wins in 16 matches this year, and half of his wins are against ranked opponents. While the dominance, bonus, and ATOM are all lower than Nick Lee's, it is important to factor in quality of competition, with Pletcher taking CKLV and Lee not doing Scuffle. Additionally, Pletcher has better results against their common opponents of Dylan Duncan, Doug Zapf, and Dresden Simon, and has placed fourth twice to Lee's two fifth-place finishes at NCAAs.
Dominance Score - 4.0
Bonus Rate - 63%
Average Time on Mat - 6:42
7) Ryan Deakin (Northwestern), 157
I was prepared to put Deakin ahead of Moore and maybe even Cenzo when he demolished Kendall Coleman on Friday night, but his 6-0 decision of Pipher brought me back down to earth a little. He does not have the past accomplishments either, but Deakin has some "next topic" level stuff going for him right now.
Dominance Score - 4.2
Bonus Rate - 60%
Average Time on Mat - 5:55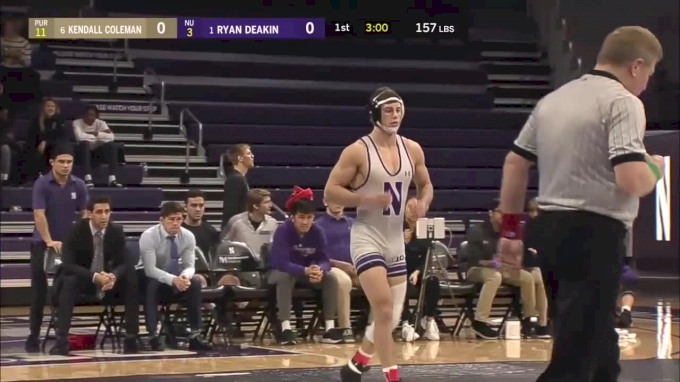 Unlock this video, live events, and more with a subscription!
Get Started
Already a subscriber? Log In
6) Kollin Moore (Ohio State), 197
While Moore does have the overtime match with #12 Jake Woodley and two close wins over Arizona State's 15th-ranked Kordell Norfleet, he has otherwise been on a bonus tear, well above the bonus percentage of his teammate Pletcher, Deakin, and even the star 165 pounders ahead of him. What also helps Moore is, he doesn't have a Pletcher/Lee or Cenzo/Marinelli matchup waiting for him, so his likelihood of going undefeated is higher than most.
Dominance Score - 4.2
Bonus Rate - 80%
Average Time on Mat - 6:31
5) Vincenzo Joseph (Penn State), 165
Just like Nick Lee and Mark Hall, Vincenzo not wrestling in the Southern Scuffle is factored against him. He has wrestled just five times this season, with a 7-4 win over #4 Josh Shields and teching #8 Tanner Skidgel to start the year. With Marinelli having more pins than Cenzo has matches, the Hawkeye leapfrogs him, for now.
Dominance Score - 4.6
Bonus Rate - 60%
Average Time on Mat - 5:05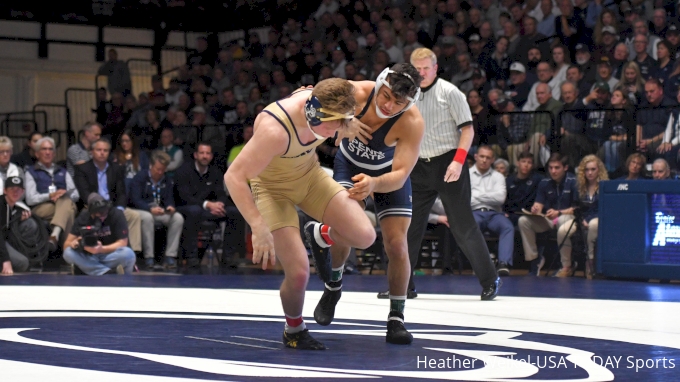 Unlock this video, live events, and more with a subscription!
Get Started
Already a subscriber? Log In
4) Alex Marinelli (Iowa), 165
I have Marinelli in the four spot for the same reason I have his teammate ranked second: pins. The Bull now has seven on the year, which is the most of any Hodge candidate and puts him at a 58-percent pin rate. I'm fine with anyone putting Cenzo ahead of him because of the two titles and three finals, but this one will be settled on January 31 anyway.
Dominance Score - 4.75
Bonus Rate - 58%
Average Time on Mat - 5:12
3) Mark Hall (Penn State), 174
This seems like a good time to remind everyone that matches against non-D1 and teammates are thrown out when compiling these stats, which is why I have Mark at 11-0 with four pins (plus he stalled out Joey Gunther in the Illinois dual, which you can watch below). He and Spencer Lee have similar strength of schedule right now, with Hall being carried on the strength of his 7-2 win over #2 Jordan Kutler and an 11-3 major of #8 Anthony Valencia.
Dominance Score - 5.00
Bonus Rate - 91%
Average Time on Mat - 5:28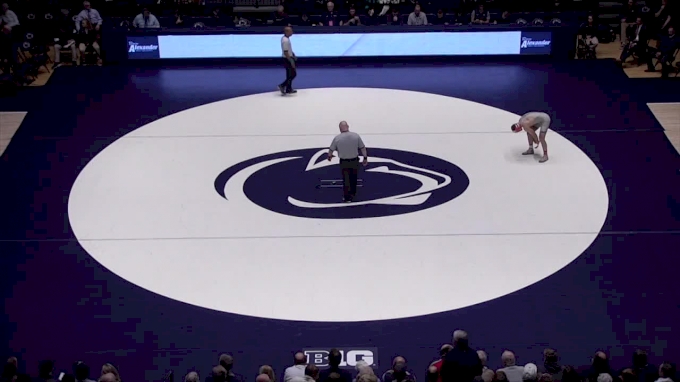 Unlock this video, live events, and more with a subscription!
Get Started
Already a subscriber? Log In
2) Spencer Lee (Iowa), 125
As I've stated above, not having a major tournament title puts a dent in any candidacy, even if the reason for not finishing Midlands is almost certainly tied to a quick turnaround from winning Senior Nationals. What can't be denied, though, is that Spencer ranks first on this list in dominance score, has bonused everyone he has wrestled, and is averaging an eye-popping three minutes and four seconds on the mat. However, he has just two pins and has yet to face Mueller, Pat Glory, or Nick Piccininni, so his quality of competition is hurt there.
Dominance Score - 5.125
Bonus Rate - 100%
Average Time on Mat - 3:04
1) Zahid Valencia (Arizona State), 184
At this point it's Zahid, then Spencer, then Mark Hall, and then everyone else. He's got the second most pins of anyone on this list, and the second-best pin rate (and probably lost one when it looked like he had Gavin Hoffman flat in the first period a week ago). The senior has wins over half of the top 10 in his weight class and has the best past accomplishments of anyone. Unless Spencer starts pinning more people, the Hodge is Zahid's to lose.
Dominance Score - 4.93
Bonus Rate - 93%
Average Time on Mat - 5:15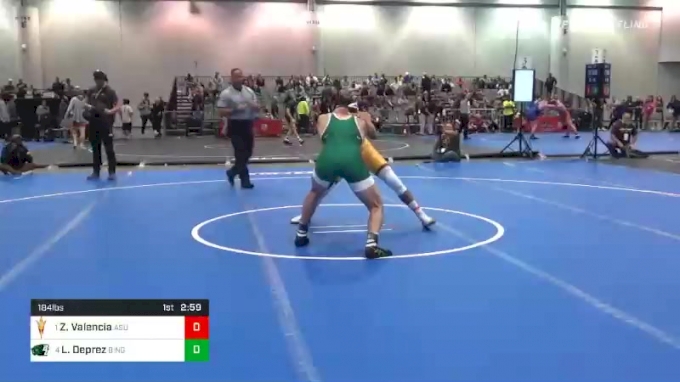 Unlock this video, live events, and more with a subscription!
Get Started
Already a subscriber? Log In