Unlock this article, live events, and more with a subscription!
Get Started
Already a subscriber? Log In
Merry Christmas and happy holidays, wrestling fans. I'm not sure if any of you have ever asked for a Hodge Trophy as a present, but for these guys below, they can actually make it happen.
Watch the 2020 Southern Scuffle LIVE on Flo
January 1-2 | 9:00 AM Eastern
This is the third edition of our official Hodge Rankings for the 2019-20 season. We did one in the preseason, followed by another before the Cliff Keen Las Vegas in early December. These will be updated again in mid January once the conference portion of dual season gets going.
But here's how things look just a few days before we close out the year with Midlands 57 and ring in a new decade as we always do in Chattanooga at the Southern Scuffle. The major headlines come at heavyweight, with Anthony Cassar getting severely injured at Senior Nationals and Gable Steveson making his return to the Gopher lineup.
| | | | | | | |
| --- | --- | --- | --- | --- | --- | --- |
| Rank | Name | School | Wins | Pin | Tech | Major |
| 1 | Zahid Valencia | Arizona State | 10 | 5 | 2 | 2 |
| 2 | Spencer Lee | Iowa | 3 | 0 | 2 | 1 |
| 3 | Mark Hall | Penn State | 10 | 5 | 1 | 3 |
| 4 | Austin DeSanto | Iowa | 4 | 0 | 2 | 1 |
| 5 | Vincenzo Joseph | Penn State | 4 | 1 | 1 | 0 |
| 6 | Kollin Moore | Ohio State | 13 | 1 | 4 | 6 |
| 7 | Luke Pletcher | Ohio State | 14 | 2 | 1 | 5 |
| 8 | Ryan Deakin | Northwestern | 8 | 3 | 0 | 2 |
Austin DeSanto has a massive opportunity this weekend, as he could pick up another win over Seth Gross, or face Sebastian Rivera in the finals. Similarly, Rivera will probably be the 3 seed so he would need to knock off both Gross and DeSanto to win his second straight Midlands title. Then we'll see if Ryan Deakin can follow up his dominant CKLV with another Midlands crown.
Watch the 57th Ken Kraft Midlands LIVE on Flo
December 29-30 | 10:30 AM Eastern
Beyond the basic stats above, we look at several things to determine these rankings. They include dominance score, which treats every match like a dual meet and averages how many team points a wrestler accrues every time they step on the mat. Then there is pin percentage, a far better determinant than just the total number of pins.
Additionally, we'll be looking at bonus rate, which divides a wrestler's total number of matches by the number of times they have a win by major, tech, or fall. Finally, there is the average time spent on the mat, as well as wins over ranked opponents. All numbers only factor in matches against other Division I wrestlers.
Honorable Mentions:
Jack Mueller (Virginia), 125
Sebastian Rivera (Northwestern), 133
Nick Lee (Penn State), 141
Alex Marinelli (Iowa), 165
Michael Kemerer (Iowa), 174
Gable Steveson (Minnesota), 285
---
8) Ryan Deakin (Northwestern), 157
Deakin looked great in going back-to-back at CKLV, earning three ranked wins as well as a win over Jacori Teemer, en route to a title there. With four ranked wins total and another two over qualifier level guys, there's no doubt about Deakin's quality of competition thus far. If he runs through Midlands in equal or more impressive fashion, which might include a revenge win over Kaleb Young, the chatter of him being a Hodge finalist should only increase.
Dominance Score - 4.375
Bonus Rate - 63%
Average Time on Mat - 5:39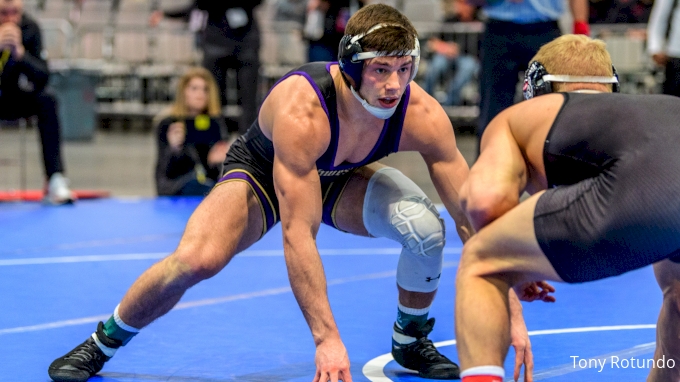 Unlock this video, live events, and more with a subscription!
Get Started
Already a subscriber? Log In
7) Luke Pletcher (Ohio State), 141
There are a number of people still doubting Pletcher, always coming back to his lack of offensive output as a 133 and during his true freshman year, when he failed to place. But over half of his wins have come against opponents ranked in the Top-20, and he'll get to face #4 Nick Lee, #7 Max Murin, and #8 Tristan Moran in duals. His takedown ratio was 28:1 in his favor at CKLV. Scoff all you want, but Pletcher is a legit title threat and has been one of the nation's most dominant wrestlers so far this season.
Dominance Score - 3.93
Bonus Rate - 57%
Average Time on Mat - 6:52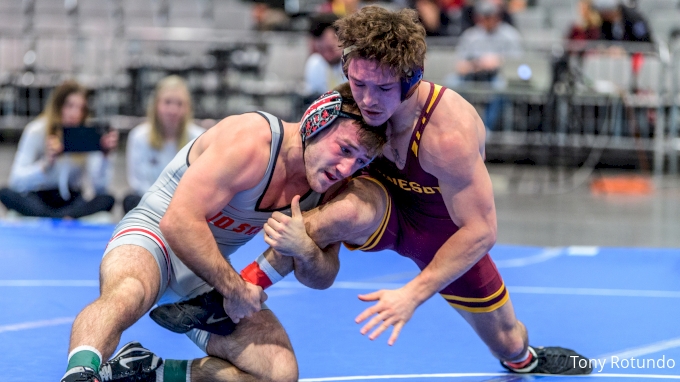 Unlock this video, live events, and more with a subscription!
Get Started
Already a subscriber? Log In
6) Kollin Moore (Ohio State), 197
Moore notched his third CKLV title and is on pace to become a four-time All-American. Six of his 13 wins this year are over ranked opponents, including majors over #5 Nathan Traxler and #8 Christian, as well as a tech of #7 Tom Lane. His dominance score is higher than the two guys above him and he has no clear challengers at this point.
Dominance Score - 4.31
Bonus Rate - 85%
Average Time on Mat - 6:26
5) Vincenzo Joseph (Penn State), 165
Most were probably surprised that Cenzo didn't wrestle at Senior Nationals after showing up at the Bill Farrell. He also did not do the Wilkes, missing out on a chance to pick up a few pins like his teammate Mark Hall. His next big tests come on January 24th in Lincoln against Isaiah White and a week later in Iowa City against Alex Marinelli.
Dominance Score - 4.25
Bonus Rate - 50%
Average Time on Mat - 6:07
4) Austin DeSanto (Iowa), 133
Not much has changed so DeSanchize is still the four. Aside from the potential Gross or Rivera match we mentioned above, getting some pins at Midlands is what will help his Hodge case the most. It's going to be hard enough to overcome his own teammate Spencer Lee if DeSanto's stats aren't as good and he has two fewer titles than Lee.
Dominance Score - 4.25
Bonus Rate - 75%
Average Time on Mat - 5:51
3) Mark Hall (Penn State), 174
We didn't see Hall at either the Bill Farrell or Senior Nationals, instead wrestling at both the Black Knight Open and Wilkes Open. His numbers are comparable to Zahid, and they're both pinning at a 50% clip. The Nittany Lions have won five of the past eight Hodge trophies, but with a few stars vacating the weight, he may not get the benefit of the doubt when it comes to quality of competition.
Dominance Score - 5.00
Bonus Rate - 90%
Average Time on Mat - 5:00
2) Spencer Lee (Iowa), 125
Coming off a Senior Nationals title, it's easy to justify there being a pretty big gap between him and Mark Hall. Spencer has one more title and the lowest average time on the mat in the country, but he has yet to pin anyone, though he's only wrestled three matches. Hopefully we see him at Midlands, but if not a large portion of his Hodge votes will probably come if he guides Iowa to their first team title in a decade.
Dominance Score - 4.67
Bonus Rate - 100%
Average Time on Mat - 4:22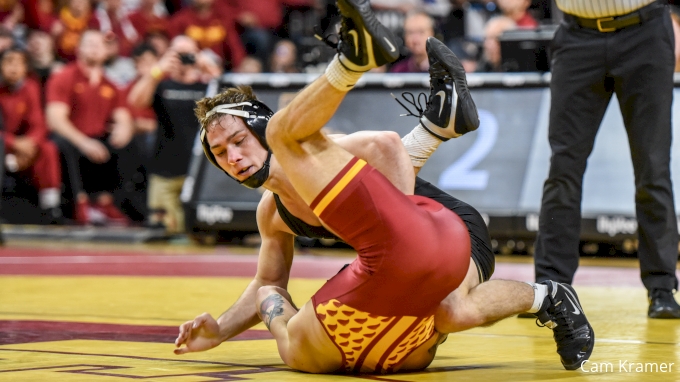 Unlock this video, live events, and more with a subscription!
Get Started
Already a subscriber? Log In
1) Zahid Valencia (Arizona State), 184
Although their numbers are similar, it's going to be difficult for anyone to justify voting for Mark Hall over Zahid. It never factored in to Kyle Snyder's Hodge candidacies, but Zahid just won the Olympic Trials qualifier, further pointing to this being a two-horse race between Valencia and Spencer. He needs 10 more pins to beat his personal high in a season.
Dominance Score - 5.1
Bonus Rate - 90%
Average Time on Mat - 4:58