Unlock this article, live events, and more with a subscription!
Get Started
Already a subscriber? Log In
The dual portion of the Big Ten schedule kicks off this weekend with 11 different matches. We'll be focusing here on the Land of Lincoln coming to State College.
Watch Illinois at Penn State LIVE on Flo
Friday, Jan. 10 | 7:00 PM Eastern
First up is Illinois at Penn State in Rec Hall on Friday night, followed by Northwestern at PSU on Sunday afternoon, once again in Rec Hall. The Illini return home to face Indiana at Huff Hall on Sunday, and Northwestern starts their weekend by hosting Purdue.
Neither Illinois nor Northwestern has put out their probable starters, so we are working off the match notes Penn State posted this morning. We already know Anthony Cassar and Kyle Conel are out for the year, but what else could we see out of the Nittany Lions?
Watch Northwestern at Penn State LIVE on Flo
Sunday, Jan. 10 | 2:00 PM Eastern
They've got four weights listed with two different guys as options: 125, 149, 157, and 197. Penn State could be a slight favorite or tossup at 125 on Friday against Justin Cardani but a decided underdog on Sunday against #8 Michael DeAugustino. In our most recent conference rankings, DeAugustino was ranked fourth, Brandon Meredith ranked ninth and Cardani 12th, so for PSU and Illinois they're looking to fight their way into qualifier contention.
At 133, #4 Roman Bravo-Young will get his toughest match to date this season when he faces #8 Travis Piotrowski on Friday. Unfortunately, Sebastian Rivera will be out for at least this weekend so we'll have to shine on that Seabass/RBY matchup until Big Tens at the RAC.
Unlock this video, live events, and more with a subscription!
Get Started
Already a subscriber? Log In
Up at 141, Nick Lee should see #14 Dylan Duncan on Friday and then Alec McKenna when they face Northwestern. Lee has looked excellent this year, with seven bonus-point wins in his eight matches, not to mention his third-place finish at Senior Nationals. There's a non-zero chance he could wind up a Hodge finalist by April.
The second weight where PSU has two guys listed is 149, where Luke Gardner and Jarod Verkleeren split the starting time in the Nittany Lions' first semester duals. JVerk beat Gardner at the Black Night Invite, which he won, and also won the Wilkes Open, which Gardner did not enter. Both will be favored against Mousa Joudeh of Illinois, but will have to overcome Yahya Thomas on Sunday.
Speaking of Thomas, he's looking to bounce back after coming into Midlands as the four seed but going 1-2. The Junior world team member should first see Griffin Parriott on Friday, who he beat 10-3 at CKLV, and then one of either Verkleeren or Gardner. Also after Midlands last year, Thomas only wrestled four duals but that likely had to do more with his weight cut than anything else.
Although he wrestled in the most recent dual, Brady Berge is still an "or" along with Bo Pipher, but at this point it is presumed Berge is the starter the remainder of the season if he is healthy. He'll start off with Eric Barone, who is presently ranked #22 but began the year ranked sixth. Then comes Ryan Deakin, the consensus #1 after rolling through CKLV but did not wind up competing at Midlands.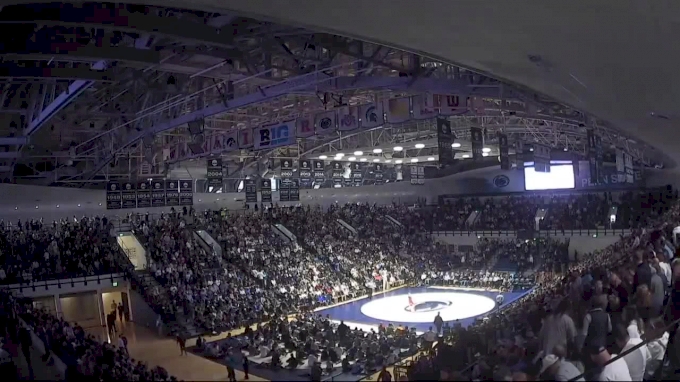 Unlock this video, live events, and more with a subscription!
Get Started
Already a subscriber? Log In
The back half of the lineup is where the real intrigue lies for Penn State. Both Vincenzo Joseph and Mark Hall are in the running for the Hodge as they close out their careers, and are likely to pick up bonus points in both matches this weekend.
Up at 184, true freshmen Aaron Brooks is now the only option for the Nittany Lions. He appeared to injure his forearm in his last match at Senior Nationals, so hopefully that is fully healed so as not to hinder him the rest of the way, as well as any injuries for Illinois and Northwestern so all the teams are at full strength for both duals.
The moment Brooks' redshirt was pulled, the immediate question became, "What happens to Shakur Rasheed?" Going back to Penn State media day, head coach Cael Sanderson indicated Brooks would be redshirting because Rasheed is or would be healthy. However, injuries to Conel may have forced their hand, and Rasheed will now apparently be returning to the lineup at the same weight where he placed seventh at NCAAs two years ago.
Finally we come to heavyweight, where Seth Nevills will be making his varsity debut. The youngest of the Nevills brother is 6-0 this season, 3-0 against D1 opponents after winning the Mat-Town Open at the beginning of December. His best win came against Youssif Hemdia last year while he was on a greyshirt.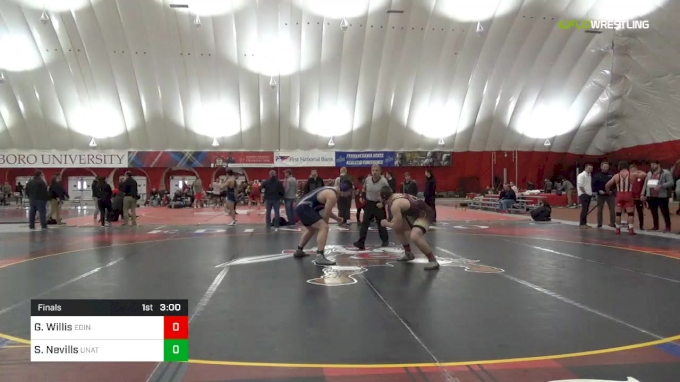 Unlock this video, live events, and more with a subscription!
Get Started
Already a subscriber? Log In
#2 Penn State Probable Lineup
125: Brody Teske, FR or Brandon Meredith, FR
133: Roman Bravo-Young, SO
141: Nick Lee, JR
149: Luke Gardner, JR or Jarod Verkleeren, SO
157: Brady Berge, SO or Bo Pipher, JR
165: Vincenzo Joseph, SR
174: Mark Hall, SR
184: Aaron Brooks, FR
197: Shakur Rasheed, SR or Austin Hoopes, SO
285: Seth Nevills, FR
#8 Northwestern Probable Lineup
125: #8 Michael DeAugustino, FR
133: Dylan Utterback, JR
141: Alec McKenna, SR
149: #13 Yahya Thomas, SO
157: #1 Ryan Deakin, JR
165: Shayne Oster, SR
174: Tyler Morland, SO
184: Jack Jessen, FR
197: Lucas Davison, FR
285: Jack Heyob, FR
Illinois Probable Lineup
125: Justin Cardani, FR
133: #8 Travis Piotrowski, SR
141: #14 Dylan Duncan, JR
149: Mousa Jodeh, SR
157: #22 Eric Barone, SR
165: #14 Danny Braunagel, FR
174: #16 Joey Gunther, SR
184: #11 Zac Braunagel, FR
197: Matt Wroblewski, SO
285: Luke Luffman, FR