2020 Matteo Pellicone | UWW Ranking Series
USA Wrestling Announces Roster Traveling To Rome For Ranking Series Event
USA Wrestling Announces Roster Traveling To Rome For Ranking Series Event
USA Wrestling has released the roster of 45 athletes scheduled to compete in next weekend's Matteo Pellicone Ranking Series event in Rome, Italy.
Jan 7, 2020
by Wrestling Nomad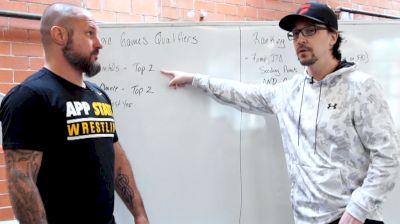 Unlock this video, live events, and more with a subscription!
Get Started
Already a subscriber? Log In
USA Wrestling has released the roster of 45 athletes wrestling in next weekend's ranking series event in Rome. Below is the complete press release written by Taylor Miller of USAW.
Watch the Matteo Pellicone LIVE on Flo
January. 15-18 | 4:30 AM Eastern
The United States is sending 45 Senior-level athletes across all three Olympic styles to the Matteo Pellicone International in Rome, Italy, which kicks off United World Wrestling's 2020 Ranking Series. Competition is set for Jan. 15-18 live on FloWrestling.org.
Of the 45 wrestlers, 17 will compete in men's freestyle, 15 in Greco-Roman and 13 in women's freestyle. The U.S. squad features 29 past Senior World Team members, with 11 owning World medals, including World champions Kyle Dake (74 kg MFS), Kyle Snyder (97 kg MFS), Tamyra Mensah-Stock (68 kg WFS) and Adeline Gray (76 kg WFS).
Other World medalists set to compete include Thomas Gilman (57 kg MFS), Joe Colon (57 kg MFS), James Green (74 kg MFS), Sarah Hildebrandt (50 kg WFS), Alli Ragan (57 kg WFS), Mallory Velte (62 kg WFS) and Adam Coon (130 kg GR).
While it is an Olympic year, non-Olympic weights will be contested in all three styles at the event, and the format is a one-day tournament for all 30 weight classes.
Competition begins with Greco-Roman action Jan. 15-16, followed by women's freestyle Jan. 16-17 and men's freestyle Jan. 17-18. The rest of the entries can be found HERE. All times in the schedule below are eastern standard.
MATTEO PELLICONE INTERNATIONAL
Rome, Italy (UWW Ranking Series event), January 15-18
Wednesday, Jan. 15
4:30 a.m. – Qualification and repechage (GR 55-60-63-67-87-97-130kg)
1 p.m. – Opening Ceremony
2 p.m. – Finals (GR 55-60-63-67-87-97-130kg)
Thursday, Jan. 16
4:30 a.m. – Qualification and repechage (GR 72-77-82kg & WFS 57-62-68-76kg)
2 p.m. – Finals (GR 72-77-82kg & WFS 57-62-68-76kg)
Friday, Jan. 17
4:30 a.m. – Qualification and repechage (WFS 50-53-55-59-65-72kg & MFS 97-125kg)
2 p.m. – Finals (WFS 50-53-55-59-65-72kg & MFS 97-125kg)
Saturday, Jan. 18
4:30 a.m. – Qualification and repechage (MFS 57-61-65-70-74-79-86-92kg)
2 p.m. – Finals (MFS 57-61-65-70-74-79-86-92kg)
Men's freestyle roster
57kg: Daton Fix (Titan Mercury WC/Cowboy RTC)
57kg: Thomas Gilman (Titan Mercury WC/Hawkeye WC)
57kg: Joe Colon (Titan Mercury WC/Valley RTC)
65kg: Zain Retherford (Nittany Lion WC)
65kg: Jordan Oliver (Sunkist Kids WC/Tar Heel WC)
65kg: Joey McKenna (Titan Mercury WC/Pennsylvania RTC)
74kg: Kyle Dake (Titan Mercury WC/Finger Lakes WC)
74kg: James Green (Sunkist Kids/Nebraska WTC)
74kg: Logan Massa (New York AC/Cliff Keen WC)
86kg: Pat Downey (Titan Mercury WC/NJ RTC)
86kg: Alex Dieringer (Titan Mercury WC/Cowboy RTC)
86kg: Zahid Valencia (Sunkist Kids)
97kg: Kyle Snyder (Titan Mercury WC/Nittany Lion WC)
97kg: Bo Nickal (Nittany Lion WC)
97kg: Hayden Zillmer (Gopher WC RTC)
125kg: Tony Nelson (Gopher WC RTC)
125kg: Gable Steveson (Gopher WC RTC)
Men's Freestyle National Coach: Bill Zadick, Colorado Springs, CO
Manager of Men's Freestyle Programs: Joe Russell, Colorado Springs, CO
Women's freestyle roster
50kg: Whitney Conder (Army WCAP)
50kg: Sarah Hildebrandt (New York AC/USOPTC)
50kg: Victoria Anthony (Sunkist Kids)
53kg: Areana Villaescusa (Army WCAP)
53kg: Katherine Shai (Titan Mercury WC)
57kg: Alli Ragan (Sunkist Kids/Hawkeye WC)
57kg: Jenna Burkert (Army WCAP)
62kg: Kayla Miracle (Sunkist Kids/Hawkeye WC)
62kg: Mallory Velte (Titan Mercury WC)
62kg: Macey Kilty (Sunkist Kids/USOPTC/TarHeel WC)
68kg: Tamyra Mensah-Stock (Titan Mercury WC/USOPTC)
68kg: Victoria Francis (Titan Mercury WC)
76kg: Adeline Gray (New York AC)
Women's Freestyle National Coach: Terry Steiner, Colorado Springs, CO
Women's Freestyle National Assistant Coach: Clarissa Chun, Colorado Springs, CO
Coach: Jermaine Hodge, Colorado Springs, CO
Greco-Roman Roster
55kg: Max Nowry (Army WCAP)
60kg: Ildar Hafizov (Army WCAP)
67kg: Jamel Johnson (Marines)
67kg: Xavier Johnson (Marines)
67kg: Calvin Germinaro (Minnesota Storm)
72kg: Raymond Bunker (Marines)
77kg: Pat Smith (Minnesota Storm)
77kg: Kamal Bey (Sunkist Kids)
77kg: RaVaughn Perkins (New York AC/USOPTC)
82kg: John Stefanowicz (Marines)
87kg: Patrick Martinez (New York AC/Finger Lakes WC)
87kg: Joe Rau (Titan Mercury/Chicago RTC)
97kg: G'Angelo Hancock (Sunkist Kids/USOPTC)
97kg: Daniel Miller (Marines)
130kg: Adam Coon (New York AC/Cliff Keen WC)
Manager of Greco-Roman Programs: Gary Mayabb, Colorado Springs, CO
Coach: Herb House, Castle Rock, CO
Support Staff
Official: Roy Scott, Boynton Beach, FL
Medical: Jodi Loecke, Windsor, CO
Strength & Conditioning: Mason Walters, Colorado Springs, CO
Dietician: Rob Skinner, Colorado Springs, CO
Delegate: Rich Bender, Colorado Springs, CO
Delegate: Les Gutches, Colorado Springs, CO