2020 Doc Buchanan
5 Matches To Look Forward To At The Doc Buchanan Tournament
5 Matches To Look Forward To At The Doc Buchanan Tournament
The Doc Buchanan Invitational used to be one of the best tournaments in California — it's now one of the toughest tournaments in the country.
Jan 3, 2020
by Pablo Di Maria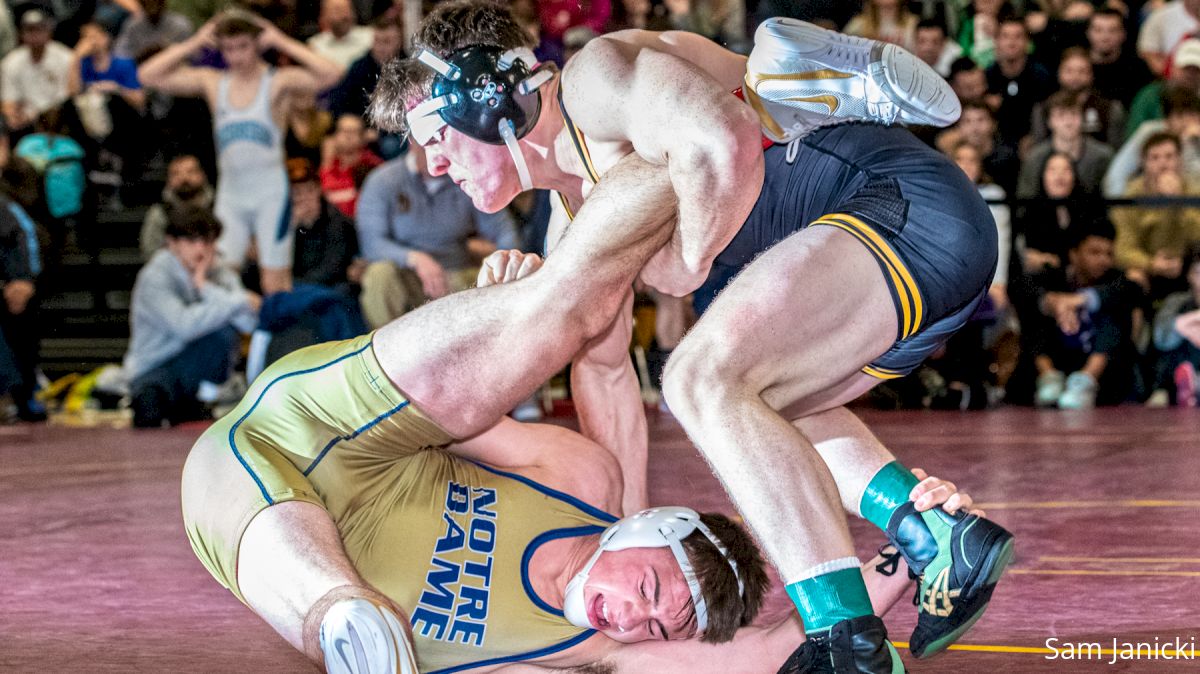 Unlock this article, live events, and more with a subscription!
Get Started
Already a subscriber? Log In
The Doc Buchanan Invitational used to be one of the best tournaments in the state of California — it has now become one of the toughest tournaments in the country.
Watch the 2019 Doc B Live On FloWrestling
Jan. 3-4 | 12:30 PM ET
Buchanan (CA), St. Ed's (OH), Clovis (CA), Gilroy (CA), Oak Park River Forest (IL), Lake Highland Prep (FL), Delbarton (NJ), Montini Catholic (IL), St. John Bosco (CA), Christian Brothers (MO), Selma (CA), Clovis North (CA), and so many more of the nation's best teams will be in attendance.
Here are five matchups you need to see this weekend at the 2020 Don Buchanan.
113: # 1 Richard Figueroa (Selma, CA) vs. # 2 Joey Cruz (Clovis North, CA)
We should get a barnburner of a match as two-time California state champion and Who's # 1 winner Richard Figueroa could take on FloNationals and Reno Tournament of Champion titlist Joey Cruz in Saturday's finals. Both natives from the city of Selma, Figueroa, and Cruz met in the finals of FloNationals at 51 kilograms with Cruz getting the edge and winning 5-2. Since that meeting, both athletes have been tearing the competition. Cruz is an uncommitted sophomore; he dropped down weight and won Reno TOC and the Zinkin Classic at 113-pounds.
113: # 2 Joey Cruz (Clovis North, CA) vs. # 4 Jacob Rivera (Selma, CA)
As mentioned above, Cruz is currently undefeated and ranked # 2 in the country. If all goes according to the seeds, Cruz and Jacob Rivera could be facing each other on Saturday in the semifinal round. Rivera was a California state place winner at 126 pounds. Rumors are circulating that he will be making the drop to 106 pounds to win an individual state title. He made waves in the national scene when he traveled to North Carolina and won an individual belt at the Super 32 tournament. An interesting fact is that both Cruz and Rivera were part of the Selma wrestling club during their youth days. Both know each other quite well and a low-scoring match should take place as both athletes will be looking for any mistake to take advantage and come out victorious.
126: # 1 Robert Howard (Bergen Catholic, N.J.) vs. Maximo Renteria (Buchanan, CA)
Howard is a two-time New Jersey state champion for the Crusaders of Bergen Catholic and a former Cadet World Team Member who has committed to compete for Cael Sanderson at Penn State. He will be looking to win his second hat after winning it in 2018 by defeating current Rutgers 125-pound wrestler Nicolas Aguilar in the finals. His opponent, Maximo Renteria, is no stranger as he is a two-time California state champion that was second in this event at 120-pounds. Renteria has made great strides in wrestling as he was the Super 32 runner-up in October. Howard was injured at the Beast of the East and we should see if the injury will hamper his chances of obtaining a second hat.
152: # 1 Sonny Santiago (St. John Bosco, CA) vs. # 2 Chase Saldate (Gilroy, CA)
One of the most anticipated matches at 152 pounds could be between two Californian's in # 1 Sonny Santiago (St. John Bosco) and # 2 Chase Saldate (Gilroy). Santiago has yet to compete this season but will be ready for the opposition this upcoming weekend. A North Carolina recruit, Santiago was victorious at the Who's # 1 dual-meet match where he knocked out future Oklahoma State wrestler Travis Mastrogiovanni of Blair Academy. Saldate, who is a California state runner-up, was victorious at the Super 32 tournament where he won the belt for the first time. He is currently undefeated and recently won Reno TOC by dominating Campbell recruit Aaron Gandara of Poway 10-2 in the finals. We should expect fireworks if this match occurs.
160: # Paddy Gallagher (St. Edward, OH) vs. # 4 Cael Valencia (St. John Bosco, CA)
The 160-pound weight class should give us a great matchup in the finals between St. Edward's Paddy Gallagher and St. John Bosco's Cael Valencia. Gallagher, fresh off a verbal commitment to Ohio State to wrestle next season, recently won a Walsh Jesuit Ironman championship to help the Eagles finish 11th in the team standings. A high-profile wrestler, Gallagher was a Junior Fargo Champion last summer that defeated Valencia 14-11 in the quarterfinal round on his way to the title. Valencia is not the same wrestler who saw Gallagher last summer. He is wrestling head-and-shoulders above the competition and it showed went he won titles at Journeymen Fall Classic and Super 32. Fans in attendance should get their money's worth with the matchup between these two athletes.