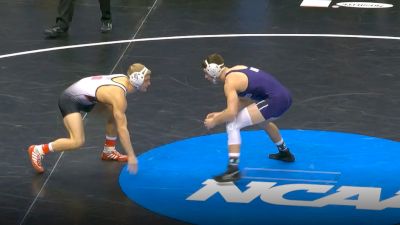 Unlock this video, live events, and more with a subscription!
Get Started
Already a subscriber? Log In
Unlock this article, live events, and more with a subscription!
Get Started
Already a subscriber? Log In
It's probable that the wrestler standing on top of the podium at 157 at this weekend's Cliff Keen Las Vegas Invitational will also be the No. 1 wrestler in the country. That alone makes 157 one of the most compelling weights in the tournament, but the potential matchups make it even more exciting.
I dove into this bracket a bit in a middleweights preview article yesterday, but it deserves a closer look.
Watch 2019 Cliff Keen Las Vegas LIVE on Flo
December 6-7 | 12:00 PM Eastern
The Four at the Top
The wrestlers who should earn the top four seeds at this weight are all undefeated and are ranked 1st, 2nd, 4th, and 7th in the country. The No. 1 seed is also the wrestler in the land, 2018 NCAA Finalist Hayden Hidlay. Behind Hidlay will either be Junior World champ David Carr of Iowa State or Junior World silver medalist Ryan Deakin. I believe Carr will get the nod due to his common-opponent victory over Kaleb Young, but the seeds are a bit immaterial since they're expected to hit in the semis either way. The fourth-seeded wrestler should be Purdue #7 freshman Kendall Coleman, who is off to a blazing hot start to his Boilermaker career. He has become one of the most exciting wrestlers to watch at this weight.
---
Big Potential Semifinal Matchups
Top Side: If these wrestlers make it through the CKLV gauntlet, we should see a top side semi between Hidlay and Coleman. Kendall Coleman will be the big underdog in this matchup. It might be easy for many wrestling fans to overlook Coleman who has only burst onto the NCAA scene in the last few weeks.
In the first weekend of the year, Coleman rattled off wins over ranked opponents Eric Barone, Anthony Artalona, and Will Lewan. His style is entertaining, too as his timing and match tactics often create opportunities for him to score big moves and put a lot of points on the board. While Coleman has crept up on many wrestling fans this year, he believes he's ready for the challenge of taking on the top guys at this weight as he explained in an interview with Andrew Spey.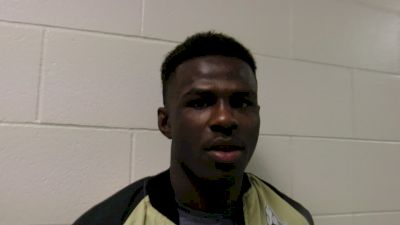 Unlock this video, live events, and more with a subscription!
Get Started
Already a subscriber? Log In
If Coleman makes it to this semi, he'll probably have the top mug dog at 157, Hayden Hidlay. With Jason Nolf out of the picture, this feels like it could be Hidlay's year, and this weekend he'll have the chance to prove that he's the man to beat.
Hidlay's positioning and under-hooks, combined with his scrambling ability and explosiveness, give him a lot of ways to score while also limiting his opponents' scoring opportunities. For these reasons, I believe Hidlay will come out on top in a match with Coleman.
Bottom Side: The other prospective semifinal would be a final in just about any other tournament. Second-ranked freshman David Carr is expected to face fourth-ranked junior Ryan Deakin.
Deakin has established himself as a contender at this weight. He was an All-American a season ago and won the U.S. Open over multiple-time world medalist James Green to qualify for Final X this summer. So far this year, he has earned bonus points in every match he's wrestled and seems to be motivated to dominate. He's excellent in every position and certainly has the goods to get it done against Carr.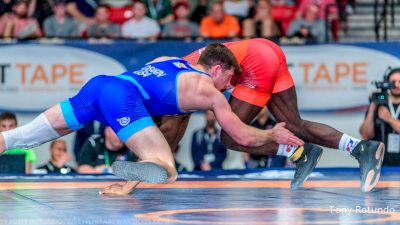 Unlock this video, live events, and more with a subscription!
Get Started
Already a subscriber? Log In
David Carr has looked solid from his redshirt year to the first part of this season, but he had remained largely untested until two weeks ago when he took on Iowa's Kaleb Young. Carr demonstrated great resolve in that match and pulled off a third-period win that propelled him to #2 in the national rankings.
Like Deakin, Carr also had a productive summer, winning a gold medal at the Junior World Championships. During that tournament, Carr seemed to fade late in matches but always had enough to get his hand raised. While Deakin has more experience on the NCAA scene, I'm leaning toward Carr in this one. Deakin could make me look very silly, but Carr's win over Young has me believing he's ready for this challenge.
---
Potential #1 vs #2 in the Finals
If those results come to pass, we'll see #1 Hayden Hidlay against #2 David Carr. Mike Mal broke down some of the finer technical points of this matchup earlier this week, and this really appears to be a match that either guy could win.
David Carr has passed every test he's been given in his young career, and he has had tremendous success at every level of wrestling he's experienced. The win over Young I mentioned above is almost enough to make me pull the trigger and pick Carr, but I haven't seen enough matches to know if that's the right call.
Keep in mind, Hayden Hidlay has just five losses in his first two seasons, more than half of which came against NCAA finalists. He has a 56.82-percent bonus rate and is not afraid of big moments. If Carr and Hidlay hit in the finals, I'm taking Hidlay this time.
---
Potential Landmines
While we're licking our chops at the thought of these potential semis and finals matchups, a whole bunch of tough guys are fully expecting to disrupt these neat storylines. Other ranked guys include #11 Will Lewan, #17 BC LaPrade, #20 Justin Thomas, and #22 Jacori Teemer.
Of that group, Teemer might be the most interesting. He entered his freshman season with a lot of fanfare but dropped his first bout. He has rebounded since then in a big dual against Penn State, but wrestling fans are still waiting to see him perform against some of the top guys at this weight.
As I mentioned in the middleweight preview, you should make sure to follow a couple of unranked guys, especially Cornell's Colton Yapoujian and Nebraska's Peyton Robb. Both are freshmen with skill sets that suggest they could make a serious impact this weekend. Yapoujian could win a lot of tight matches as his tough top game prepares him to shut a lot of guys down.
Peyton Robb enters this event having scored bonus points on every opponent he's faced other than one win by injury default. He isn't afraid to go big which makes him really fun to watch. Check out Robb's quick fall in a dual against Northern Iowa.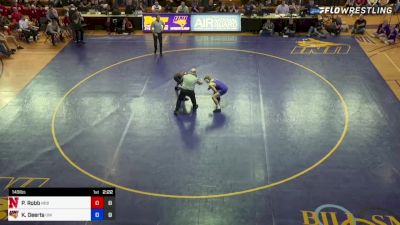 Unlock this video, live events, and more with a subscription!
Get Started
Already a subscriber? Log In