Unlock this article, live events, and more with a subscription!
Get Started
Already a subscriber? Log In
By now, you've already read Nomad's Lightweight Preview, so you know that it's CKLV week! This year's field includes over 100 ranked wrestlers and looks once again to be the toughest in-season tournament of the year.
Watch 2019 Cliff Keen Las Vegas LIVE on Flo
December 6-7 | 12:00 PM Eastern
The middleweights this year are particularly loaded with legitimate NCAA title contenders in each bracket.
Before we dive into the middleweights, make sure you check out Nomad's lightweight preview, read our seed projections for the tournament, and keep your eyes peeled for Andrew Spey's deep dive into the upperweights. But for now, check out the heat we have at the middleweights.
---
149lbs: 13 Ranked
#4 Collin Purinton (Nebraska), SR
#5 Max Thomsen (Northern Iowa), SR
#6 Jarrett Degen (Iowa State), JR
#7 Griffin Parriott (Purdue), JR
#8 Brock Zacherl (Clarion), SR
#10 Sammy Sasso (Ohio State), FR
#12 Brayton Lee (Minnesota), FR
#14 Yahya Thomas (Northwestern), JR
#16 Henry Pohlmeyer (South Dakota State), SR
#17 Russell Rohlfing (CSU Bakersfield), SR
#19 Brent Moore (Virginia Tech), JR
#21 Josh Maruca (Arizona State), SR
#22 Greg Gaxiola (Fresno State), JR
Andrew Alirez (Northern Colorado), FR
Commentary: Both at CKLV and at NCAAs this year, 149 could go so many different ways. The upperclassmen at this weight haven't always been consistent, and while the youngsters have demonstrated impressive talent, they haven't proven themselves yet.
Nebraska Senior Collin Purinton could enter the CKLV as the most surprising #1 seed of the entire tournament. Purinton, who was 8-6 last year, is off to a 6-0 start this season and has earned the #4 ranking after his upset win over Northern Iowa's Max Thomsen. He has struggled with consistency throughout his career, so it's hard to imagine him coming out on top of this field. But his win over Thomsen was also unexpected, and he'll try to keep his undefeated streak going.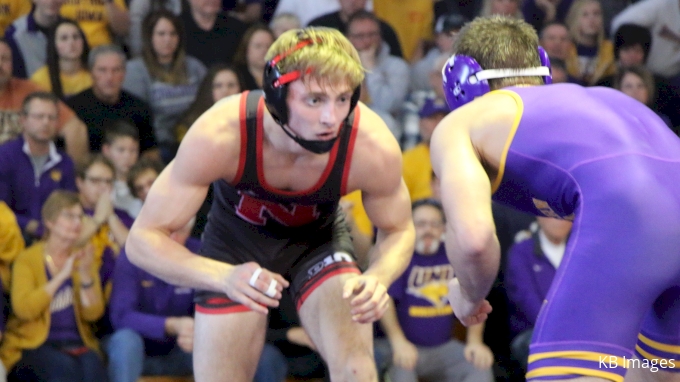 Unlock this video, live events, and more with a subscription!
Get Started
Already a subscriber? Log In
Another senior, the aforementioned Thomsen, is working to regain his freshman form when he was an All-American in 2017. He is one of two All-Americans in this field and has some of the most impressive results of this group. Still, Thomsen has vulnerabilities as he demonstrated in his loss to Purinton earlier this season.
The other All-American in this field is Jarrett Degen of Iowa State who finished seventh at NCAAs last season. Degen just might be the tallest 149-pounder in the country, and his length and unconventional approach present a lot of problems for his opponents. Degen has yet to face many of the top competitors in this field other than Thomsen who has had his number, but his skill set has proven effective against top competition.
Griffin Parriott is another highly ranked wrestler without a lot of results against guys in this bracket. He has come down to 149 for his junior year after spending his previous seasons at 157. The one significant test he has had at 149 came against Clarion's Brock Zacherl. Parriott passed that test last week beating Zacherl 4-2. That puts him in the title conversation at this weight.
Brock Zacherl, who was ranked fifth in the country before his loss to Parriott, is another serious contender here. Zacherl is coming off a season-ending injury a year ago but he has had consistent results throughout his career having won 86.75 percent of his matches with a 41.72-percent bonus rate. Clarion fans have been waiting for Zacherl to put it all together to earn All-American honors. If this is going to be the year for Zacherl, the CKLV is a great place for him to show it.
Ohio State freshman Sammy Sasso started his career on fire racking up bonus-point wins is his first five matches at the Michigan State Open. Since then, Sasso has cooled a bit, even dropping a match to Virginia Tech's #19 Brent Moore who is also in this field. When Sasso is on, he looks like an NCAA title contender; other times, like his match this weekend against Hunter Richard of Cornell, he seems to struggle with gas tank issues. Still, Sasso is a contender to win this bracket.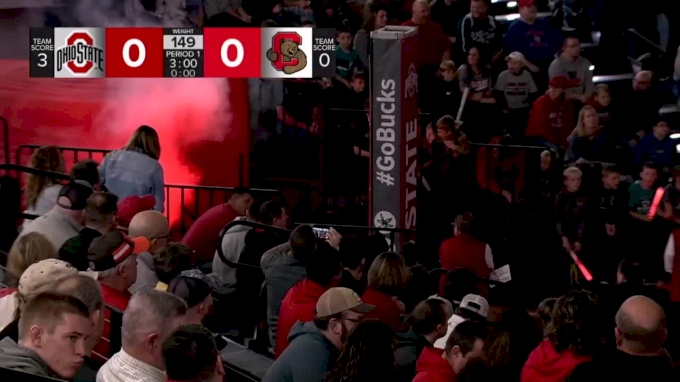 Unlock this video, live events, and more with a subscription!
Get Started
Already a subscriber? Log In
This bracket is so loaded that even guys outside the top 10 like Minnesota's Brayton Lee and Northwestern's Yahya Thomas pose real threats to win the weight. One unranked wrestler who just might win it all is Northern Colorado's Andrew Alirez. The major question about Alirez is his health as he didn't travel with the team in their dual against Fresno State over the weekend. While Alirez is unproven at the NCAA level, having yet to face a ranked opponent, he has gotten it done on the freestyle scene against senior-level talent like two-time NCAA champion Dean Heil.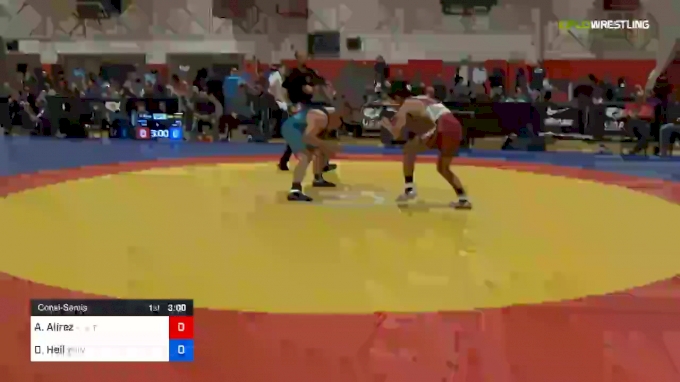 Unlock this video, live events, and more with a subscription!
Get Started
Already a subscriber? Log In
149 is one of the toughest weights to predict because there are so many dangerous contenders, but I'll give it a shot. I'm leaving Alirez out of this prediction because I don't believe he'll compete due to injury.
David Bray's Prediction: 1) Sasso, tOSU 2) Zacherl, Clarion 3) Thomsen, UNI 4) Degen, Iowa State
---
157lbs: 8 Ranked
#1 Hayden Hidlay (NC State), JR
#2 David Carr (Iowa State), FR
#4 Ryan Deakin (Northwestern), JR
#7 Kendall Coleman (Purdue), FR
#11 Will Lewan (Michigan), FR
#17 BC LaPrade (Virginia Tech), JR
#19 Justin Thomas (Oklahoma), JR
#22 Jacori Teemer (Arizona State), FR
Peyton Robb (Nebraska), FR
Colton Yapoujian (Cornell), FR
Carson Brolsma (Minnesota), SR
Commentary: This might be the most intriguing weight of the entire tournament. The four guys at the top of this bracket are high-powered 157-pounders who could all make a serious run in March, but this weight also has unranked guys who just might make a move this weekend.
At the top, #1-ranked Hayden Hidlay of NC State will be the favorite in this bracket. The 2018 NCAA finalist has a win over Ryan Deakin, the fourth-ranked wrestler in the country and one of the top-ranked wrestlers in this weight. Hidlay is the man this year, both at the CKLV, and in the entire NCAA field.
Ryan Deakin is ranked fourth in the country, but he just might earn the #2 seed here because of his long list of accomplishments against NCAA opponents. Deakin was an All-American last season finishing sixth. If our seed projections hold, he could see Iowa State freshman David Carr in one of the most exciting semifinal matches of the whole event.
David Carr is ranked second in the country and will probably have the #2 or #3 seed opposite Deakin. His move up the rankings came after week 4 of the season when he knocked off Iowa's Kaleb Young. A potential Carr vs Deakin semifinal is an exciting prospect. Despite Carr's relative inexperience, he's my pick in that match. He has the win over Young who has been a thorn in Deakin's side. He also owns a Junior World gold medal compared to Deakin's Junior World silver. Of course, Deakin may make me look foolish here, but I'm going with Carr.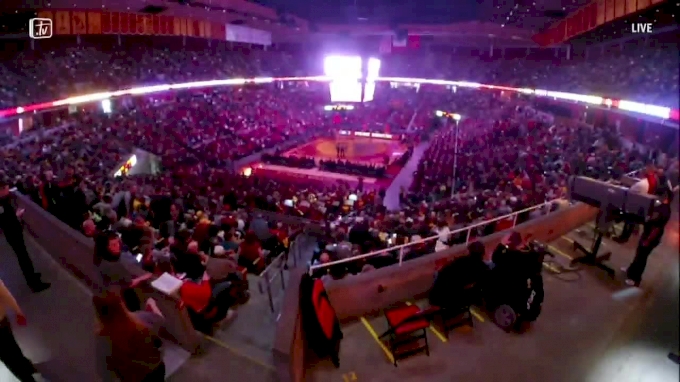 Unlock this video, live events, and more with a subscription!
Get Started
Already a subscriber? Log In
Seventh-ranked Kendall Coleman of Purdue rounds out the top four in this bracket. Coleman is 12-0 at the start of his redshirt freshman season with wins over ranked foes like Will Lewan and Anthony Artalona. His offense has looked incredibly potent this year, but he has yet to face anyone as accomplished as Hayden Hidlay, his possible semifinals opponent. Hidlay is so tough to score on, and I think he gets the better of this match.
One unranked wrestler to keep an eye on is Nebraska's Peyton Robb. Husker fans have had his name circled since he signed with Nebraska, and he's already making an impact in his freshman season. He's 6-0 with two falls, a tech, two majors, and an injury default. Robb has yet to hit a ranked opponent, so he hasn't had an opportunity to climb the rankings himself, but that kind of high-powered offense is must-watch stuff this weekend.
Another freshman to watch is Cornell's Colton Yapoujian who has started the year 11-1, his one loss coming at the hands of #1 Hayden Hidlay. Yapoujian is a skilled top wrestler who can turn opponents or ride for close wins when necessary. I'm curious to see how his top game translates in a field as stacked as this.
OK, I'm delaying my predictions by thinking of all the heat at this weight, but it's time to pick.
David Bray's Prediction: 1) Hidlay, NC State 2) Carr, Iowa State 3) Deakin, Northwestern 4) Coleman, Purdue
---
165lbs: 10 Ranked
#4 Isaiah White (Nebraska), SR
#5 Josh Shields (Arizona State), SR
#6 David McFadden (Virginia Tech), SR
#8 Andrew Fogarty (North Dakota State), SR
#12 Ethan Smith (Ohio State), SO
#14 Phillip Conigliaro (Harvard), SO
#16 Tommy Bullard (NC State), JR
#22 Emil Soehnlen (Purdue), FR
#23 Ricky Stamm (Hofstra), JR
Austin Matthews (Northern Colorado), SR
Jake Allar (Minnesota), SR
Cam Coy (Virginia), SO
Dewey Krueger (Wyoming), SR
Commentary: 165 is stocked with talent like most weights in this tournament. Isaiah White is the deserving 1 seed, but he'll have his hands full with Shields, McFadden, and the field.
Nebraska's Isaiah White has certainly earned the #1 seed here. He finished fifth at last year's NCAA tournament and already has a win this year over fifth-ranked Josh Shields. He's unbeaten on the year, and his solid position will make him tough to beat this weekend.
Unlock this video, live events, and more with a subscription!
Get Started
Already a subscriber? Log In
Josh Shields of Arizona State is likely to get the #2 seed. He is a two-time All-American whose only losses this year have come against White and Penn State's #1 Vincenzo Joseph. Shields, like White, wins a lot of close matches. His potential semifinal against Virginia Tech's David McFadden is one of the most compelling matches at this weight.
Virginia Tech's #6 David McFadden will probably enter this tournament as the #3 seed. His loss to Ohio State's Ethan Smith put a damper on what some considered to be a potential title season. Despite that loss, McFadden is one of the most accomplished wrestlers at 165 this season and poses a serious threat to win this weight class.
Andrew Fogarty of NDSU is expected to be the #4 seed. His top wrestling prowess keeps him in every match and allows him to score bonus points in matches where he gets his turns going. His bonus rate so far this season is an impressive 78 percent proving just how dangerous he is.
Ohio State's Ethan Smith may earn the #5 seed which would set up a potential Fogarty vs Smith quarterfinal. Smith has earned the #12 ranking due in large part to his upset win over McFadden, but he also has three losses on the year. While he's proven he can hang with about anyone, I'm nervous about picking him over anyone as dangerous on top as Fogarty.
Before I make my picks, let me say, we'll have a dark horse article later this week that will offer a deeper dive into some of the more under-the-radar guys at these weights. This could be useful for you fantasy wrestling junkies or you fans of plain ol' good wrestling. OK, now on to the picks.
David Bray's Prediction: 1) McFadden, Virginia Tech 2) White, Nebraska 3) Shields, ASU 4) Fogarty, NDSU