Unlock this article, live events, and more with a subscription!
Get Started
Already a subscriber? Log In
This week was chock-full of surprises, including 11 upsets of guys in the top 10. We listed every upset we could find, but first, check out a few of the most significant ones of the weekend:
---
Brent Moore Decks Sammy Sasso
In a dual with its share of drama, Virginia Tech's #21 Brent Moore stunned Ohio State's #6 Sammy Sasso with a fall in the first period. Moore's reaction to a Sasso attack was well-timed and gave us one of the biggest upsets of the weekend.
The first two weeks of Sasso's varsity career have been so spectacular that this loss comes as a surprise to many wrestling fans who believe Sasso could win it all in March. Moore showed how dangerous he is and proved that the Buckeye freshman is not invincible.
---
At 197, #3 Conel, #4 Holschlag Down, But Are They Out?
Sunday brought two big upsets at 197 as Lucas Davison of Northwestern won by injury default over #4 Jacob Holschlag of Northern Iowa and Central Michigan's Aaron Bolo took out Penn State's #3 Kyle Conel, who then defaulted out of the Black Knight Invitational.
Both Holschlag and Conel have battled injuries during their careers, so these early injury defaults may be cause for concern. The health of these two highly ranked 197-pounders will have a major impact on the landscape of 197 moving forward.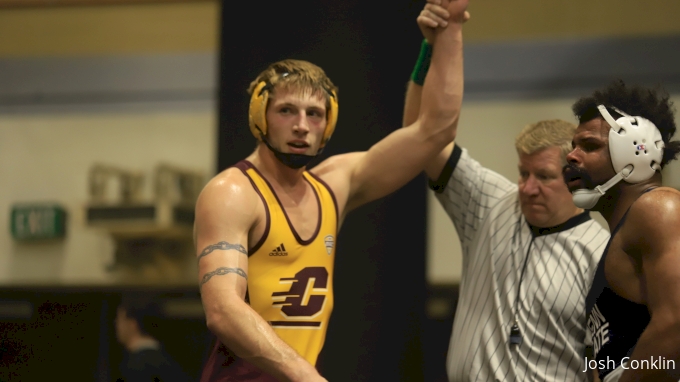 Unlock this video, live events, and more with a subscription!
Get Started
Already a subscriber? Log In
---
Ethan Smith Takes Out Title Contender McFadden
Ever since David McFadden made the move back down to 165 for his senior year, he has been considered a serious NCAA title contender. Ohio State's #21 Ethan Smith handed him his first loss of the season on Sunday.
While the loss for McFadden is immediately significant for the questions it sparks about the title hunt at 165, the Smith win is just as important for our perception of Ohio State's lineup. In the last week, Smith has had losses to both #8 Shane Griffith of Stanford and #18 Jake Wentzel of Pitt. While these are both quality oponents, neither is considered to be on the level of McFadden. While we aren't ready to pencil Smith into the top of this weight class just yet, a win of this caliber offers a reason for Buckeye fans to be optimistic about Smith's upside.
---
Sherry Shocks #7 Skatzka
Rider's Dean Sherry was all over #7 Devin Skatzka of Minnesota in their 174-pound match on Friday night. Sherry earned the fall at the end of the first period but looked better than Skatzka from the opening whistle.
Sherry provided a major spark for Rider in their upset win over #10 Minnesota and helped bring attention to his squad. Rider came into Friday night's dual as a team without much fanfare and only two ranked wrestlers, but their hard-fought upset will force teams to pay attention to them moving forward.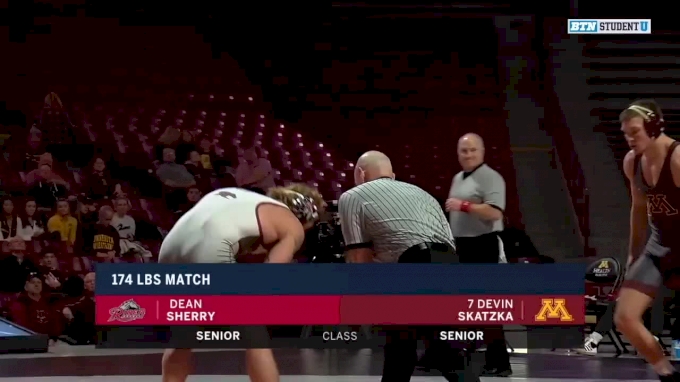 Unlock this video, live events, and more with a subscription!
Get Started
Already a subscriber? Log In
---
Backup Brands Notches Ranked Win
Nelson Brands filled in at 184 for the Iowa Hawkeyes and knocked off #17 Matt Waddell of Chattanooga. Brands has seemed like he'll be a backup for Iowa this year, but he got the nod in the biggest match of the Chattanooga dual, and he capitalized on the opportunity.
While Wilcke remains the go-to 184-pounder for the Hawkeyes, Nelson Brands' big win in Carver-Hawkeye arena may fan the flames of conversation about him being the best option. At the very least, it gives us one more thing to pay attention to when we watch Iowa this year.
---
All The Upsets
Those six stories only scratched the surface of the insanity that went down this weekend. Check out every upset we could find.
*upset over a wrestler ranked in the top 10
125
133
141
Dresden Simon (Central Michigan) over #21 Corey Shie (Army West Point)
149
157
Tyler Eischens (Stanford) over #18 AC Headlee (North Carolina)
Luke Weiland (Army West Point) over #22 Logan Parks (Central Michigan)
Jahi Jones (Maryland) over #22 Logan Parks (Central Michigan)
165
174
184
197
285