Create a free account to unlock this article!
Get Started
Already a subscriber? Log In
The Super 32 quarterfinals start early Sunday morning. Here are the 11 bouts we're telling you that you'll regret missing.
Watch Super 32 LIVE on FloWrestling
October 13 | 8:00 AM Eastern
Wrestlers have their weight class rank attached. Remember that you can find complete brackets and archived matches in FloArena.
106: Mason Gibson, PA vs #14 Mac Church, PA
Gibson is living up to the hype. The nation's top ranked 8th grader, the future Forest Hills star has shown all the skills to win this thing. He's trying to duplicate what Ryan Crookham did a couple years ago and win a Super 32 belt before entering high school. Meanwhile, Church could be the next big thing in the WPIAL. Look for him to be in a lot of finals for Waynesburg before his career's over.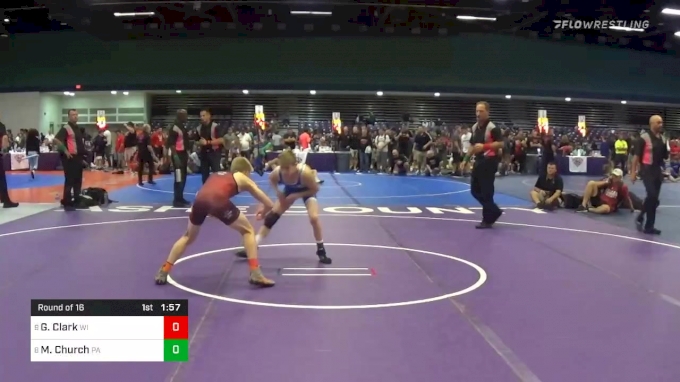 Unlock this video, live events, and more with a subscription!
Get Started
Already a subscriber? Log In
120: #10 Dean Peterson, NJ vs #14 Dustin Norris, OH
Wrestling for Sebastian Rivera's father Steve at the Elite Wrestling NJ club, Peterson looked like an absolute hammer on top on Saturday and is coming off a sterling performance at Journeymen. Still uncommitted, he's facing another junior in Norris who just verballed to Purdue. Their resumes are nearly identical: Peterson was an undefeated state champ for St. John Vianney after finishing second his freshman year, and Norris won D1 Ohio for Cincinnati La Salle after a runner-up placement as a freshman.
132: #6 Wyatt Henson, MO vs #7 Daniel Cardenas, CO
This might be the most intriguing match of the morning. I wasn't terribly shocked when Henson bumped up from 126, the weight where he's ranked, and Cardenas is a Top-10 prospect on the Sophomore Big Board. This one has an 8-7 type of ring to it.
138: #5 Mick Burnett, OH vs #8 Caden McCrary, GA
After back-to-back ultimate tiebreaker losses in the Round of 16 here, Burnett finally got over the hump with a 6-2 win, and did it in front of his future coaches at Pitt. The Woodland High School sent a gang of kids here, and McCrary is one of a couple that pushed through to the quarters as Georgia continues their rise.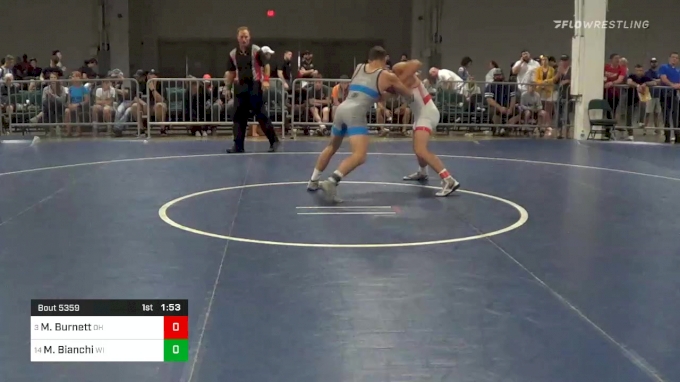 Unlock this video, live events, and more with a subscription!
Get Started
Already a subscriber? Log In
152: #6 Chase Saldate, CA vs Cameron Robinson, PA
Robinson pulled a major upset in the round of 16 by taking out Fargo champ Dean Hamiti. The Iowa State commit will have his hands full with another future Big Ten stud in top seeded Saldate. The Gilroy product has been knocking on the door for a while, but is still searching for his first major national title.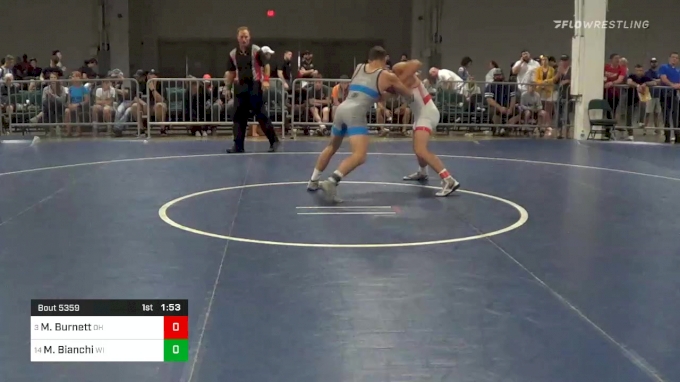 Unlock this video, live events, and more with a subscription!
Get Started
Already a subscriber? Log In
160: #6 Thayne Lawrence, PA vs #16 Jack Blumer, PA
Willie called this District VII battle a potential upset special. Two-time state champ Lawrence has yet to give up a point this weekend, while Blumer has battled through some close decisions. It should be a good prelude to a few regular season battles, and possibly even more at the NCAA level with Lawrence committed to Lehigh and Blumer heading to WVU.
170: #4 Lenny Pinto, PA vs #9 Connor O'Neill, NJ
Pinto shot up on the 2021 Big Board after his amazing run in Fargo, while O'Neill has been floating under the radar. A state runner-up for DePaul, the Rutgers commit looked excellent on his feet with 10 takedowns today, which is the same position where Pinto earns his money. The Stroudsburg junior is still uncommitted out of historic District XI.
170: #8 Greyden Penner, MO vs #10 Trey Kibe, PA
Both of these guys deserve some shine. Penner's going to be a Sooner and has numerous placings at Fargo and Akron, but hopefully the folkstyle fans get a good look at him tomorrow. He's going to have his hands full with Kibe, who comes from the same high school as the Hidlays. Kibe beat Cadet world teamer Clay Ulrey in the PIAA finals, the same Ulrey that won Penner's 80kg Akron bracket.
182: #4 John Poznanski, NJ vs #14 JT Davis, DE
Ask just about anyone in the Flo office who deserves a most improved type of award from the summer, and Poznanski will be right at the top of the list. The two seed cruised to the quarters with a major and two pins. Davis is a Lehigh commit.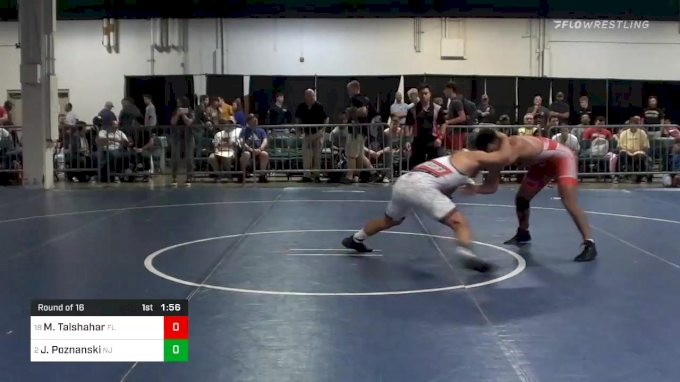 Unlock this video, live events, and more with a subscription!
Get Started
Already a subscriber? Log In
195: #9 Brandon Hoselton, IL vs #10 Isaac Trumble, NE
Our heavyweight guru John Foster said Hoselton showed some resilience early on, with two and one point wins in his first two matches. But he survived and advanced to the quarters, where he'll have to deal with Trumble's tremendous length. Hoselton has always been on the radar since middle school, while Trumble has recently come on to the scene. A double AA in Fargo out of Zac Dominguez's MWC, Trumble is also still available.
285: #8 Garrett Kappes, MD vs Alex Coleman, OH
Trust me, this one will be good. Coleman loves throwing people around and Kappes has something to prove after battling injuries most of his career.