Final X Special Wrestle-off: Dake vs. Dieringer
Final X: Dake vs Dieringer Match Notes
Final X: Dake vs Dieringer Match Notes
Match Notes of the Dake vs Dieringer Final X Special Wrestle-Off from Round Rock, Texas!
Aug 17, 2019
by Andrew Spey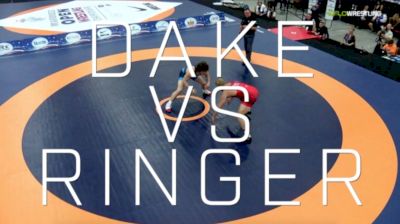 Unlock this article, live events, and more with a subscription!
Get Started
Already a subscriber? Log In
It's going down in Texas! Kyle Dake and Alex Dieringer wrestle a best two-of-three series to determine who will represent the United States in Nur-Sultan, Kazahkstan at the 2019 UWW Senior World Championships at 79kg.
We are an hour away from action and the Round Rock High School gym is filling up. This is also the nicest high school I have ever been to. Not only does it have an outdoor pool, but the outdoor pool has a water slide. It's bigger and nicer than many colleges I have been to, and in fact, graduated from.
Less than 30 minutes to go and I'm going to guesstimate 1,000 people in the gym already. Also shouts to whoever is controlling the playlist, it has been excellent. Alice in Chains heavy in the rotation.
All of the proceeds from the ticket sales and concession stand go to support local Round Rock wrestling. The high school just started a wrestling team, and I imagine this windfall will give them quite a boost in their inaugural season. USA Wrestling Texas did a great job setting this whole event up.
Anthem time. It's nearly time. The crowd is amped.
My blogging perch for the day is superb. The production team hooked me up, and they have my eternal gratitude.
Kyle Dake just ran out to the mat. He will have Rob Koll and Gabe Dean in his corner. Dieringer walks out to very loud applause. He's got Zach Esposito and Chris Perry with him.
Match 1
1st period: We're underway! Dake controlling ties but Dieringer taking ground. Dake pressure in with an underhook. A minute down and no scores. Both wrestlers have passivity warnings. Still no scores with 1:10 on the clock and Dake goes on the 30 second activity clock.
Dake looking for a Metzger, he's got Dieringer by the edge, shot clock expires but Dake gets a push out. It's 1-1, and Dake's corner throws the challenge brick looking for 2. Instead, Dake kicks it back and action resumes. Short time in the period. Dake keeps the pressure on and gets a push out with 3 seconds left. We go to the break, Dake leading 2-1.
2nd period: Dieringer immediately gets warned for hands to the face. Alex says it was above the brow. Regardless, action resumes. Dake don't a masterful job not letting Dieringer get to his set ups. Hanging back when necessary, clearing ties and pressuring in when he needs to.
Dieringer gets put on the activity clock with a little less than 2 minutes to go, still trailing by a point. Dake picks up another point and leads by 2. 1 minute to go. 30 seconds.
Dake continues to frustrate Dieringer. But he's backing away too much for the officials liking and gets hit with a caution for avoiding contact. That cuts the lead in half but there are just 8 seconds left on the clock. Dieringer times a shot right on the whistle but Dake blocks him and circles. A step out would be enough but Alex runs out of time.
Kid Dynamite takes the first match 3-2!
We'll be back in 30 minutes for match number two.
Will be interesting to see what adjustments either wrestler makes. Alex's corner wasn't happy about that second-period shot clock going against him but that's how international matches often go. Dieringer is going to need to find a way through Kyle's defenses but that is, of course, easier said than done. Kyle did go unscored upon at the 2018 World Championships.
Match 2
1st period: Dieringer walks out first, this time in red. Dake is announced but has yet to emerge. And there he is. I'm guessing he just didn't hear his name called the first time. Dake shoots in on a single leg, drives Dieringer out of bounds for a 1 point lead early in match 2. They're locked in collar ties. Dake goading Alex into an attack. On the counter attack, Dake gets another step out and doubles his lead to two.
The hand fighting is picking up as we enter the final minute of the period. Dieringer continues to advance but Dake snaps him out of the way when he threatens too much. We go to the break and Dake still leads 2-0.
2nd period: Alex continues to advance as Dake keeps him at bay. At the edge of the mat its a Dake counter attack that has Dieringer in trouble. Dieringer tries to counter and they go tumbling to the mat. Ringer gets Dake in a headlock and rolls them through. The crowd is on the feet and cheering. Could go a number of different ways and I didn't get a good look at it. The ref holds up 4 for Dake and 2 for Alex. Instead a 1 point step out is awarded to make it 3-0. Alex's corner challenges but the ruling on the mat is confirmed, making it 4-0 Dake with 2:30 left in the match.
90 seconds to go, Dake moving around the mat, keeping Dieringer off balance. Dieringer in deep but Dake slips out of danger. Dieringer gets a step out with 17 seconds on the clock. Dieringer shoots him off the mat again but there is just 2 seconds left in the match. Time runs out on Dieringer. Dake will represent the USA in Kazakhstan! Dake wins 4-2.
Maximum effort by Dieringer but Dake's defense is otherworldly. Dieringer distraught, is slow to take the center of the mat. He shakes hands, but it's Dake's moment. He makes his second consecutive world team and will defend his gold medal in September.
Four points in two matches doesn't sound like a lot but it's four more than any of Dake's opponents managed against him in Budapest.
That was a lot of fun for two matches. The folks of Round Rock showed out and were loud and knowledgable. Many of them will leave disappointed as it was definitely a pro-Dieringer crowd. But any opportunity to see two of the best 79kg wrestlers in the world is one worth taking advantage of.
That'll do it from the blogging station. Thanks so much for following along. We literally can not do our jobs with you! Sorry for the typos and see you next time!