Unlock this article, live events, and more with a subscription!
Get Started
Already a subscriber? Log In
It's been happening for years. Message board posters, media personalities, and wrestling fans of all sorts have been picking against Kyle Dake for nearly a decade now.
Watch Dake vs Dieringer Wrestle-Off Live On Flo
Saturday, August 17 | 2:00 PM Eastern
Dake has been losing hypothetical matchups and proving people wrong since at least he moved into the same weight class as David Taylor. So what's one more fool backing the other horse in the race?
I've tried to make this as much about Alex Dieringer as possible. It shouldn't be terribly unreasonable to pick Ringer to win, and there are more than a few people in the wrestling community, from media to coaches, making that same choice.
So let's start there, why the all-time Cowboy great can win this thing. The three-time NCAA champ has a Hodge trophy, he's been on the national team since 2016, and was a Junior world silver medalist. Those should be the credentials of someone who can a world team spot. America has certainly sent wrestlers to worlds with fewer accolades.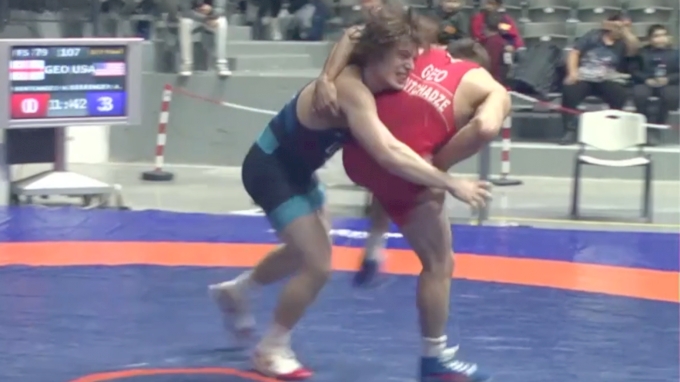 Unlock this video, live events, and more with a subscription!
Get Started
Already a subscriber? Log In
It's not just that Ringer has an impressive trophy case, it's that he has been completely housing people at 79kg. And yes, this is the same trap people fell into with Dake and Taylor, but it seems even more pertinent on the senior level.
Since the weight class was created, Dieringer is 33-4 overall and outscoring opponents 297-41. That means he's winning matches by an average of over seven points per match, notching 22 techs and a pin in that time.
Included in his list of victims: the European titleist (Jabrayil Hasanov), the Asian champ (Bahman Teymouri), and last year's U23 gold medalist (Nike Kentchadze). Considering he's facing the defending world champ, and last year's bronze medalists are either out with injury (Gadzhimagomedov) or up to 86kg (Shabanau), Ringer is probably the best in the world at the weight right now.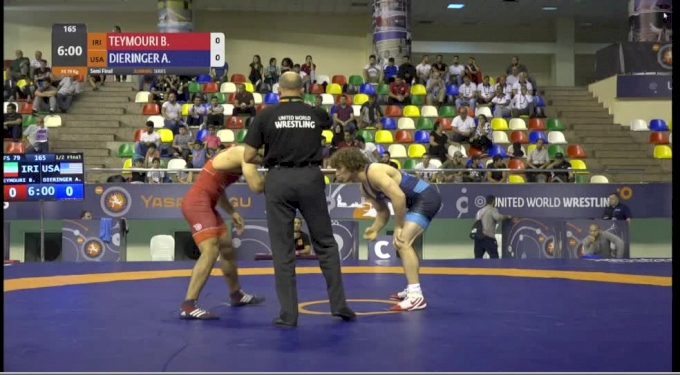 Unlock this video, live events, and more with a subscription!
Get Started
Already a subscriber? Log In
He's already emphatically avenged his losses to Zahid from last year, and we've covered that he keeps making it closer and closer with Dake. Ringer has figured out how to keep the four-time NCAA champ from getting to his offense, and trusts his own gameplan more than basically anyone in the country right now.
Coming back around to Dake, it's never fun or wise to pick against him (unless he's facing Jordan Burroughs). He'll look less impressive on paper against common opponents, and then still go out and get it done.
It seems different this time though. He's got his world title, so is he less hungry now? Seems unlikely, but it happens all too often to rule it out completely. He's got a child now, is his beautiful young daughter making him less selfish and focused on his own wrestling? Again, crazier things have happened.
Then there's the injury. He's always bounced back just fine, and has dealt with time off throughout his senior level career. But at some point, the injuries either add up or you run into someone that can take advantage of the face you've been off the mat for so long.
He certainly didn't look like a world-beater when he wrestled in Spain, his first time wrestling real matches in almost nine months. But that was 40 days out from competition, and he obviously isn't peaking for the Spanish Grand Prix. However, it was just jarring enough to give me pause.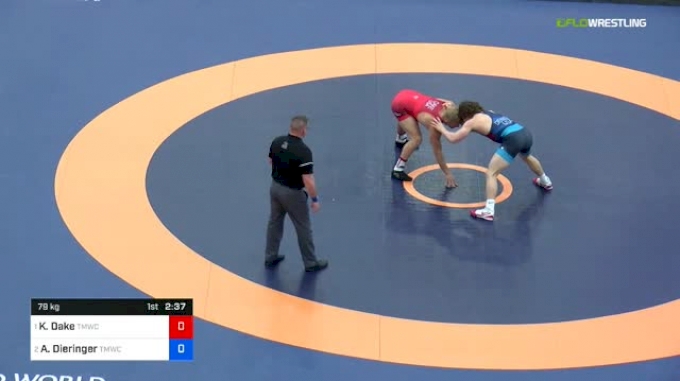 Is Alex Dieringer as good as Kyle Dake? The data suggests otherwise, and Dake will almost assuredly be remembered before Ringer for most wrestling fans. But Saturday isn't about legacy, or their position in the history of wrestling. It's about winning two matches before the other man does.
Is it a foolish pick probably? I don't care. This is Ringer's year, and honestly, whoever wins this special wrestle-off is going to be the favorite to win gold in Kazakhstan at the world championships.
There's one final reason I'm taking Ringer. We know he's going up to 86kg as a necessity for the Olympic year, even though he's been very clear that he feels 79kg is a perfect weight for him. So he's probably very aware that this is his moment, not just from a performance standpoint, but a monetary one.
A gold medal in September means $50,000 from the Living The Dream Medal Fund. It means his performance escalators get activated in contracts with say, APS Wrestle or Titan Mercury. It means he now gets to put "world champ" on his resume for every clinic, speaking engagement, and boosts his value if he chooses to go into coaching. He can add at least six figures to his bank account this year, and who knows how much more down the road.
So mark me down as firmly in the Cowboy camp this weekend.
More Dake/Ringer Content: