Unlock this article, live events, and more with a subscription!
Get Started
Already a subscriber? Log In
Alex Dieringer is one of America's most dominant wrestlers right now, but he has never made a senior world team. His list of victims has quietly grown, and may soon include Kyle Dake.
Watch Dake vs Dieringer Wrestle-Off Live On Flo
Saturday, August 17 | 1:00 PM Central
The three-time NCAA champ has long flown under the radar, coming up through the ranks at the same time that guys like Jordan Burroughs, Kyle Snyder, and yes Kyle Dake were hogging the headlines. But heading into this Saturday's Final X Special Wrestle-off, let's remind you who he's beaten.
Coming into college, Ringer had two Fargo titles under his belt, during which he beat future All-American like Dylan Ness and Alex Meyer. He then made the Junior world team in 2012, beating Isaac Jordan along the way. Starting in 2013, here are some of Ringer's notable wins.
2013
Coming off his redshirt year, Dieringer figured to be an important part of the Cowboy's push toward another national title. He went 35-3 on the year, and finishing third at NCAAs. At the national tournament, he picked up wins over fellow AAs David Bonin (4th), his second win over the UNI Panther that season, and Jedd Moore (6th) of UVA. Oklahoma State finished second as a team, just four points behind Penn State.
2014
Dieringer suffered a single loss en route to his first career national title, starting a winning streak in January that would expand to 82 consecutive matches by the time he graduated. During the regular season, he'd beat Brian Realbuto of Cornell, who placed multiple times and made an NCAA final, as well as returning AA Dylan Alton of Penn State and Kent State star Ian Miller.
Then at the national tournament in Oklahoma City, he beat future NCAA finalist Joey Lavallee, picked up another win over Realbuto, and then had a familiar opponent in the finals: Dylan Ness. The Gopher would go on to close out his career as a four-time AA and two-time finalist, but suffered his second loss to Dieringer, along with the 2010 Fargo finals.
2015
The first of two straight undefeated seasons to finish out his time as a Cowboy, this is the year that Ringer ascended to killer status. It became foolish to pick against him and for good reason. His stats were eye-popping: 28 of his 33 wins were bonus, and he was 11-0 against ranked opponents. That included wins over NCAA fifth placer Nick Sulzer at the All-Star Classic and Southern Scuffle, as well as wins over the second through fourth placers at NCAAs. Ringer took out Jackson Morse in the quarters, Bo Jordan in the semis, and Taylor Walsh in the finals.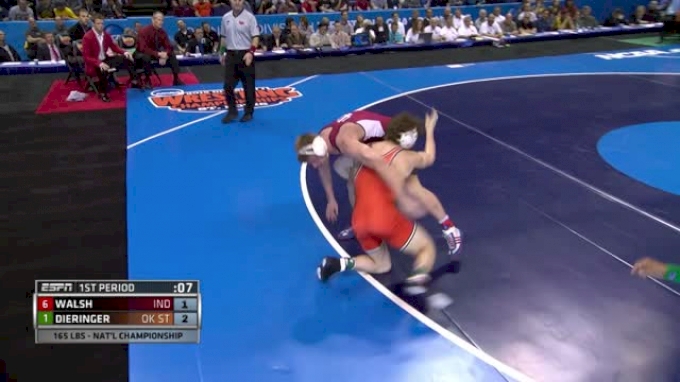 Unlock this video, live events, and more with a subscription!
Get Started
Already a subscriber? Log In
2016
Continuing in a long line of 165 pound Hodge Trophy winners that included Jordan Burroughs, Kyle Dake, and David Taylor, Ringer won wrestling's Heisman as a senior. During the season, he beat future AAs Ryan Preisch and Logan Massa, two of his 33 wins on the year. He closed out his career by running through Daniel Lewis, who would place four times at Mizzou, and four time Badger AA Isaac Jordan of Wisconsin.
Ringer jumped right into his senior level career a few weeks later. At the Olympic Trials, he made his first senior national team, finishing third with wins over two-time AA Adam Hall and 2014 world team member Nick Marable. A couple months later, he beat two Olympians at the World Cup in Ashraf Aliyev of Azerbaijan and Jakob Makarashvili of Georgia.
To finish out the year, Ringer won the Bill Farrell, teching Chance Marsteller in the semis and notching an 8-2 win over Bekzod Abdurakhmonov in the finals, then just a one-time bronze medalist but he has since added a second on the world level. Finally, he went undefeated at the World Clubs Cup, including a 13-0 thrashing of future world silver Avtandil Kentchadze of Georgia.
2017
Now full time on the senior circuit, he picked up a silver at the Paris Grand Prix and bronze in Ukraine. At the U.S. Open, he tallied his first win over an NCAA champ, taking out his now coach in Chris Perry. At the World Team Trials, he picked up a second win over a national champ, as we finally saw his much anticipated match with Isaiah Martinez. That win put him on his second straight national team as he continued to chase Dake and Burroughs.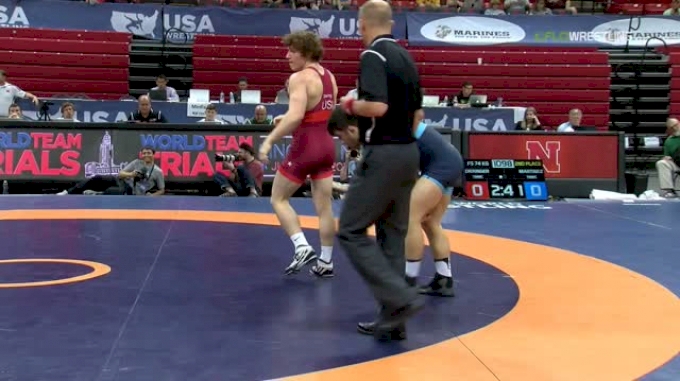 Unlock this video, live events, and more with a subscription!
Get Started
Already a subscriber? Log In
2018
Considering he only lost to Dake and Zahid last year, it's very easy to say Ringer was one of the five best guys in the world. That included a pin over two-time Euro finalist and past world fifth Zelimkhan Khadjiev of France, not to mention a 7-3 win over Jabrail Hasanov of Azerbaijan, the same Hasanov that won Euros this year and faced Dake in the world finals. He also won gold at the Medved.
Back on home soil, Ringer teched 3x AAs Mike Evans and Nate Jackson at the Open in Vegas, and then beat Jackson again at WTT.
2019
Heading into 2019, we knew Ringer was one of the best in the world. He continued to prove he's getting better, twice beating Alan Zaseev at the Yarygin. If you're unfamiliar, that's the Russian who beat Ringer in the 2013 JR world finals.
Then at the Dan Kolov in March, his victims were Muhammet Kotanoglu (2019 Euro bronze) from Turkey, Nika Kentchadze (2018 U23 world champ) from Georgia, and Omarashkhab Nazhmudinov (2018 U23 bronze) of Romania. The Ranking Series event showcased that, for now at least, the future has a ways to go to catch up to the American.
He got revenge on Zahid Valencia in Raleigh, his third time beating an NCAA champ.
Unlock this video, live events, and more with a subscription!
Get Started
Already a subscriber? Log In
Most recently, at the Yasar Dogu last month, he again showed the distance between himself and the next generation, handling Akhsarbek Gulaev (2017 U23 world silver)of Slovakia, Bahman Teymouri (2019 Asian champ) of Iran, and Abubakr Abakarov (2018 JR World silver) of Azerbaijan.
At this point, there's only one more big win he can notch in this country this year, and it's Kyle Dake.