Unlock this article, live events, and more with a subscription!
Get Started
Already a subscriber? Log In
Tim Hands of 5 Point Move provides a complete recap of all the Greco-Roman series at Final X: Rutgers.
Melodrama was not the goal. The declaration that Final X: Rutgers offered "Greco's chance to shine" carried all of the seriousness of a coronary.
Watch Final X: Lincoln Live on Flo
Sat. June 15 | 12PM & 6PM CT
Maybe you have to be a chain-thinker to appropriately comprehend the perceived implications -- while also acknowledging the splendor and magnitude of the Final X Series' presentation and production value.
On a grand stage under a literal spotlight alongside a host of freestyle stars, ten of the country's top Greco-Roman athletes were given the opportunity to reach a much wider audience than is the norm around these parts. The fact that spots on the US World Team were (and are) at stake in the Final X Series served to ramp up the suspense, but the objectives remain on equal footing. Team selection in an Olympic qualifying year may hold unrivaled value; but for the moment, increasing interest in the discipline among youths and parents alike is vital to the discipline's survival.
To put it simply, you don't know who is watching. Greco needs to create more fans and future competitors. And that cannot and will not happen, unfortunately, unless a suitable platform is availed which forces the most jaded of the lot to pay attention.
Given that Saturday welcomed Greco's debut at Final X, the prevailing hope was that there would be five engaging, well-wrestled series to which fans would respond. If you caught the show, you know that it was a success, a verifiable win for the classical style. But if you missed out, don't sweat it so much. For one thing, a synopsis of each series is included below. And better yet, we get to do it all over again on Saturday in Nebraska with five more can't-miss match-ups that have the potential to carry the ball even further.
Final X: Greco Series Recaps
*In order of weight class.
55 KG: Nowry Tested, But Closes Koontz in Emphatic Fashion
Max Nowry (Army/WCAP) had waited a long time to make his first US Senior World Team, and in Brady Koontz (TMWC/Ohio RTC), faced a formidable obstacle . Despite his youth and a wide chasm in regards to experience, Koontz acquitted himself well in a 3-0 Match 1 loss that invited a flicker of doubt. But even in the midst of a dynamic scoring exchange in the first period of Match 2, Nowry's resolve never wavered. Up by a point in the second, he dragged behind Koontz and bombed a five that got the crowd off its feet and never looked back en-route to the 11-5 series-clinching win.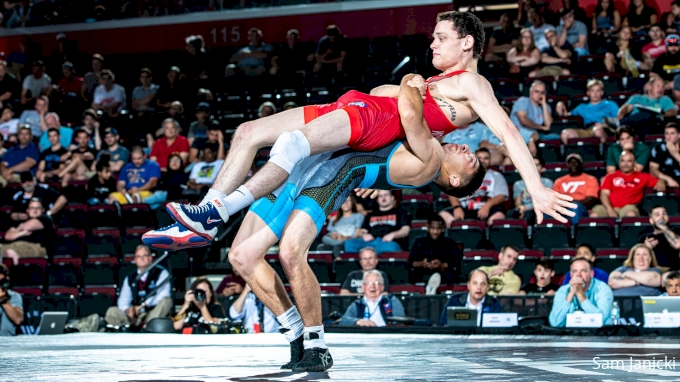 Unlock this video, live events, and more with a subscription!
Get Started
Already a subscriber? Log In
67 KG: Why Ellis Coleman Is US Greco's Pound-for-Pound King
To truly be considered a medal threat at the World level, a consistent and effective top game from par terre is an absolute necessity. Coleman has always had this going for him but his guts and lifts have become even more dependable, thanks in large part to several recent adjustments he has made this quad. It's not that Jamel Johnson (Marines) didn't stand a chance; it is more that Coleman is currently operating at a different level compared to everyone else in his weight class, as evidenced by the technically-clean and no-less vicious manner in which he swept Johnson on Saturday afternoon.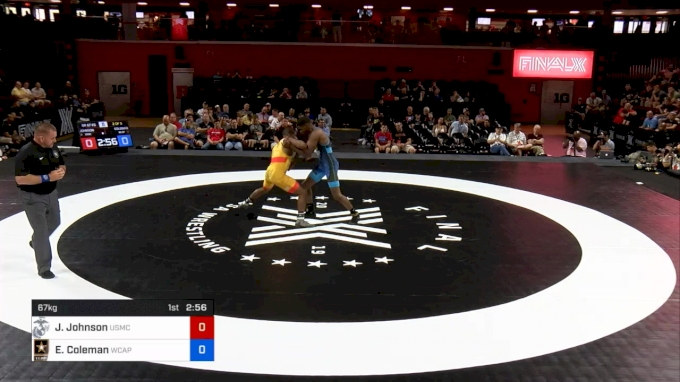 Unlock this video, live events, and more with a subscription!
Get Started
Already a subscriber? Log In
77 KG: Smith Rises from the Deck to Win Classic Over Bey
Greco's de-facto main event lived up to the hype and then some. Smith/Bey had everything fans needed to see. Bey flashed his generational athletic ability and nose for scores by swarming Smith in Match 1 -- and Smith showed why he has been in a Trials final five of the past six years by coming back in Match 2 and bullying Bey around the mat. Two of Smith's most key adjustments centered around keeping Bey locked high and tight on the feet so as to avoid the duck-under (or zooming high dive), and relying more on his huge edge in physicality. Smith stayed with his bread-and-butter in Match 3 and brawled his heart out against Bey, who was worn out but still fought valiantly till the bitter end. Greco is about high-flying throws, gritty in-fighting, and timely scores with everything riding on the outcome. That's what this series was always supposed to deliver and it didn't disappoint.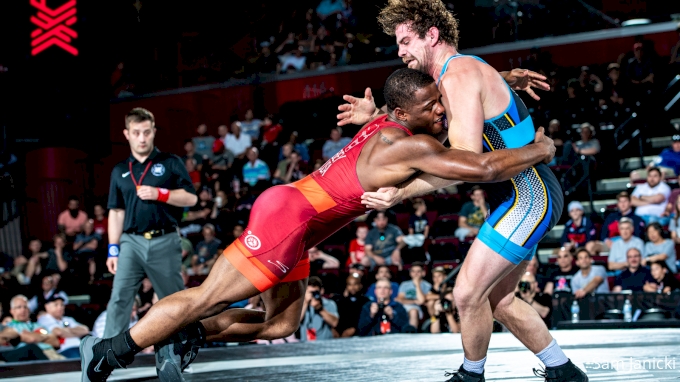 Unlock this video, live events, and more with a subscription!
Get Started
Already a subscriber? Log In
82 KG: Stefanowicz's Hustle Leads to First World Team Spot
Kendrick Sanders' (NYAC/OTS) march to his second US Open title this past April included a semifinal victory over John Stefanowicz (Marines) that caught many by surprise -- except for Sanders, whose talent has never been in question, unlike his work ethic. But that changed. Sanders is a new man, and is also beholden to the best reverse lift in the country. It's a nice advantage to have. But Stefanowicz entered Saturday on a mission and never stopped coming forward. They both had their moments in Match 1, with Stefanowicz countering a headlock for four and Sanders unfurling a tight arm spin. The bout ended with a questionable fleeing caution that gave Stefanowicz some breathing room, but he didn't let it go to waste. The Marine brought more heat against a game Sanders in Match 2, and won a tense, tactical battle that guarantees the Marine Corps at least one World Team member in 2019 with two more (Xavier Johnson, 63 kg and Ray Bunker, 72 kg) still to go in Lincoln.
Unlock this video, live events, and more with a subscription!
Get Started
Already a subscriber? Log In
87 KG: The Two Moments That Led to Rau Defeating Provisor
It didn't matter who'd wind up winning this series, the consensus was that at least one of the three bouts figured to end via criteria. Two-time Olympian Ben Provisor (NYAC/NWC) and Joe Rau (TMWC/Chicago RTC) are evenly-matched, more than intimately familiar with each other's styles, and comprise both halves of the most compelling rivalry in the US. Their first bout on Saturday was going according to script. Provisor led 1-1 on criteria with :05 left following another in a long line of bruising battles when Rau rammed him out of bounds to steal the win. But for Match 2, Rau took matters in his own hands as soon as possible. After receiving the first passivity of the contest, he locked hard around Provisor and gutted him twice in a row to surge ahead 5-0. It wasn't over yet. Provisor entered back into the fight with intensity, and it all came down to his chance from top in the second period. But Rau held firm. He defended Provisor's lock and remained upright the rest of the way to take the series in consecutive nail-biting bouts featuring two of the best upper-weights of their generation.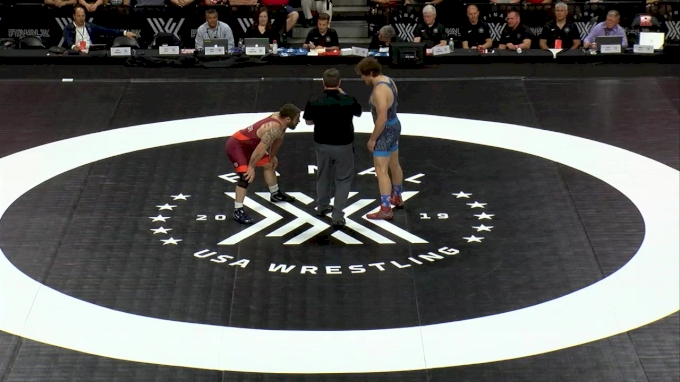 Unlock this video, live events, and more with a subscription!
Get Started
Already a subscriber? Log In