2019 Final X - Rutgers
Final X: Rutgers - Greco's Chance to Shine
Final X: Rutgers - Greco's Chance to Shine
Tim Hands of Five Point Move gives a complete rundown of the Greco-Roman matchups at Final X: Rutgers.
Jun 7, 2019
by Timmy Hands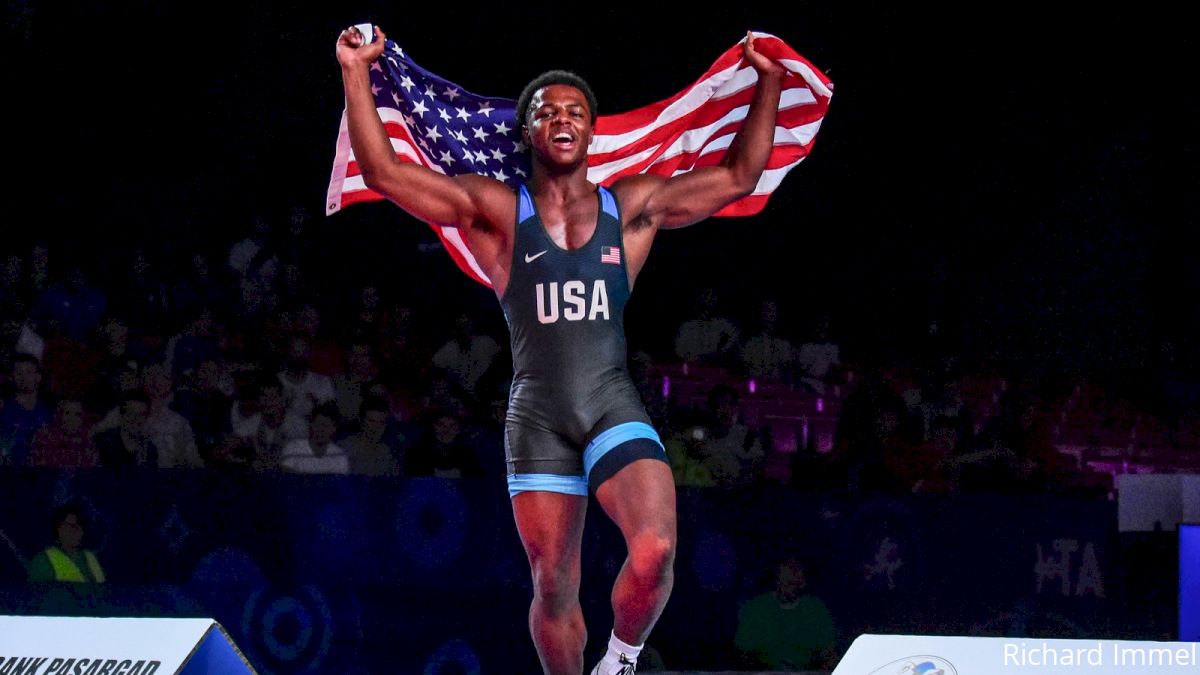 Unlock this article, live events, and more with a subscription!
Get Started
Already a subscriber? Log In
Tim Hands of Five Point Move gives a complete rundown of the Greco-Roman matchups at Final X: Rutgers.
Four of the five Greco match-ups at Final X: Rutgers on Saturday are slated for the first session (12pm ET), with the 77-kilogram showdown between Kamal Bey (77 kg, Sunkist, world no. 5) and Patrick Smith (Minnesota Storm) listed as Bout #2 in the evening. That means the casuals out there who are locked-in for the afternoon card are going to be hit over the head with more Greco than they are likely used to.
And it's wonderful.
But in order for it to mean anything pertaining to fan retention and interest, the Greco-Roman bouts at Final X: Rutgers have to deliver with hard action, and when that's not available, riveting suspense. If you check out how these dudes stack up against one another, there's a great shot that happens.
Key: A Strong Opener
The bout order in general is set up nicely for Greco, which cracks open Final X: Rutgers with the highly-anticipated series pitting two-time Olympian Ben Provisor (NYAC/NLWC) against familiar foe Joe Rau (TMWC/Chicago RTC). It is a rivalry that dates back over half a decade. Provisor and Rau, relative colleagues as much as rivals, have met numerous times throughout the years and have consistently produced the most brutal matches of any other pairing, upper-weight or otherwise.
Their skill-sets are similar; their body types are not. "Big Ben" is compact and powerful, and rakes ferocious underhooks that punch the ribs on arrival. He doesn't just dig in and weave whilst pummeling. Provisor mashes opponents. He punishes them, off-balances them, and is sneaky fast if he senses an opportunity to score a takedown, often by coming around the back.
As for Rau, his first contact is effective and urgent. At the whistle, he likes to ram his lead shoulder in hard before chipping away in the hand-fight. And whereas Provisor is short, Rau is above-average height for the weight class, and he knows how to use his frame to bear down on opponents and beat them senseless with snaps and arm drags.
Whether you're sitting close enough to matside -- or have the volume set to a reasonable level for the broadcast, chances are you will hear the unmistakable thud of their bodies clashing together with eager violence.
After Alivya Fiske takes on Victoria Francis in women's freestyle, next up for Greco-Roman on Saturday afternoon will be Kendrick Sanders (NYAC/OTS) and John Stefanowicz (Marines). Here are two very different approaches. Stefanowicz is all about pressure and dictating the tempo. He likes to move opponents around the tarp and wear them down -- but there is also an arm throw to look out for, and he can zero in on lanes to the body in effort to snag takedowns and step-outs.
Sanders, who earned his second National title in April five years after his first, is not as big on pressure, but he doesn't have to be. His greatest asset on the feet is speed and explosiveness. If called upon to duke it out in the pummel, that's not a problem. He can do that, too. But what he really wants is to score, score, score.
Should opportunities standing cease to avail themselves, Sanders is also beholden to the most prolific go-to in this weight class: a booming reverse lift. It is how he originally made his mark in 2012, and it is how he won the Open just shy of six weeks ago.
They all have something major to offer, each series.
55 kilograms
Max Nowry (Army/WCAP) vs. Brady Koontz (TMWC/Ohio RTC)
Nowry, 29, is set to square off with an opponent ten years his junior in Koontz, who ran the table in Raleigh thanks in large part to a potent gutwrench. Will Nowry be able to defend if the series is on the line? Given that he's a former University World champ and multi-time National Teamer, most seem to think so, but if that situation materializes it will make for can't-miss theater.
67 kilograms
Ellis Coleman (Army/WCAP) vs. Jamel Johnson (Marines)
Ever since Coleman experienced a wrestling epiphany in March of 2017, he has arguably been the most consistent and best all-around Greco athlete in the country. That is not a disqualifying factor for Johnson, however, as he has come on hot after reuniting with Marine coach Jason Loukides two years ago. They have been teammates, training partners, and opponents on and off for years, but the stakes are different this time around.
The Perceived Main Event
The last of the Greco-Roman bouts at Final X: Rutgers is also the only one included in the evening session -- Bey vs. Smith. Not a coincidence it would seem.
Bey has become as much of a household name as Greco can possibly have, and it's not just because he is a generational athlete; it also has a lot to do with his approach. Although in possession of a fiery competitive streak, Bey boasts an equally strong desire to put on a show and electrify the audience with his huge bodylocks and mind-bending scoring transitions that no one else in the US is capable of at the moment (maybe in any style). People on the outside of the Greco bubble know they can depend on a Bey match to provide action. There are expectations which follow the 21-year-old onto the mat for each and every performance, especially on domestic shores, and he never disappoints.
But it is not a burdensome proposition. Perhaps a few years back when he was just entering Senior competition, Bey felt a responsibility to live up to his own hype as a performer. That isn't so much the case any longer. Age and experience have resulted in increased competitive maturity. As one of the highest-ranked Greco wrestlers on Planet Earth, Bey's focus is on the right endgame -- attaining World and Olympic glory.
Smith, 29, offers a very different style. He's not a fast-twitch bolt of lightning the way Bey is. Instead, Smith is a disciplined, high-intensity brawler who breaks opponents down in myriad way during the course of a bout. He is a fighter on the mat who never tires, and that has endeared him to the Greco fanbase ever since he began banging around as a full-time Senior following his collegiate career with the Gophers.
Why is this series wearing the unofficial status of "main event" for Greco on Saturday? Because when you look back at their US Open final in April, simply put, they brought the best out of each other.
Bey ignited enough offense to get his scores -- and Smith ardently deployed momentum-ruining two-on-one's to slow Bey's pace while breathlessly pursuing his own scoring holds. Some have pointed to a pair of inadvertent singlet grabs on the part of Smith as to why Bey was unable to hit paydirt (not completely unfair), but there was plenty of time left for Bey to bomb Smith after the fact, and that obviously didn't happen. Both athletes were jiffed on points in the contest, as well, which further rendered the feeling of unfinished business upon the bout's conclusion.
That business will be settled Saturday night in Jersey with a World Team spot on the line in a qualifying year. Outside of an Olympic Trials best-of-three, it doesn't get much better than this for Greco.
People will be watching. International wrestling has seen an uptick in the US with the cavalcade of medals for men and women's freestyle, but Greco-Roman has remained on the back burner. Final X has evened the playing field for the classical style, providing an enormous opportunity to engage new interest that could wind up making a definitive impact both in the long-term and short. Judging by the match-ups at Rutgers alone, it is an opportunity that won't be wasted.