2019 Final X - Rutgers
Gable vs Gwiz - Youth vs Experience
Gable vs Gwiz - Youth vs Experience
The teenage phenom Gable Steveson takes on the two-time world medalist Nick Gwiazdowski at Final X.
Jun 8, 2019
by Andrew Spey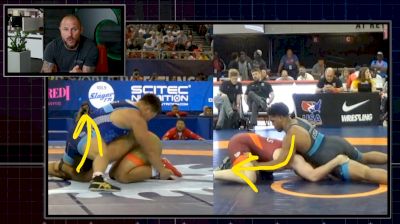 Unlock this video, live events, and more with a subscription!
Get Started
Already a subscriber? Log In
Unlock this article, live events, and more with a subscription!
Get Started
Already a subscriber? Log In
The teenage phenom Gable Steveson takes on the two-time world medalist Nick Gwiazdowski today at Final X. Nomad and Spey tell you what you need to know before it all goes down in New Jersey at the RAC.
Watch Final X: Rutgers Live on Flo
Sat. June 8 | 12:00 PM & 6 PM Eastern
Spey's Take
There are a lot of really good heavyweight wrestlers in America. This is rather obviously evidenced by the two consecutive world bronze medals won by Nick Gwiazdowski, the best freestyle heavyweight in the country the last two years.
By dint of that 2018 bronze medal, Nick earned a bye to Final X: Rutgers. His challenger to the team spot is the young Gable Steveson. As the credentialed incumbent, Gwiz will be the favorite. But can Steveson, who celebrated his 19th birthday less than a week ago, dethrone Gwiazdowski, and furthermore, win a world championship?
I believe so, and will explain why.
Learning Curve
For as good as Steveson is right now, there is every reason to believe he hasn't yet reached his ceiling.
Now, one could bring up the fact that Steveson won a junior level world gold medal in 2017 and then did not place in the 2018 Junior World Championships as evidence that he regressed. But that would be foolish. In the quarterfinals of the 2018 Junior tournament, Steveson was leading 2-0 on Khasanboy Rakhimov of Uzbekistan when Gable went for an ill-advised inside-trip that Rakhimov countered for the pinfall.
Rakhimov was then beaten in the semifinals by Soslan Khinchagov of Russia which eliminated Steveson from medal contention. Such things happen at heavyweight, where one false step can doom a tournament. This was more a learning opportunity for Steveson than any indication that he may have plateaued as a wrestler.
A much better indicator would be to compare Gable's domestic results from 2018 to 2019. There is very little movement of heavyweights to other weight classes for obvious reasons, so the fields stay consistent year over year.
2018
Adam Coon techs Steveson 11-0 (U.S. Open)
Dom Bradley decisions Steveson 4-4 (U.S. Open)
Steveson decisions Bradley 5-4 (WTT Challenge)
Tony Nelson decisions Steveson 4-4 (WTT Challenge)
2019
Steveson decisions Bradley 7-3 (WTT Challenge)
Steveson decisions Nelson 5-1 (WTT Challenge)
Steveson techs Coon 13-3 (WTT Challenge)
Steveson decisions Coon 8-1 (WTT Challenge)
The improvement is dramatic and undeniable. Gable is dang good, but he's also getting better.
Footwork
Gable Steveson has some of the most impressive footwork of any wrestling in the country, heavyweight or not. The nimble steps allow Steveson to maintain better positioning than his opponents, which in turn helps him get to all of his attacks while neutralizing the attacks of his competitor.
While not as noticeable as having heavy hands (although Gable certainly has those too), but if you watch his matches and focus on the lower extremities, the difference becomes clear.
A prime example of Steveson's fancy footwork in action can be seen in his dismantling of eventual NCAA runnerup Derek White in a dual meet back in November of 2018, which you can watch below.
And don't just take my word for it, other leading minds agree.
If you're wondering how Gable does it, it's footwork. All footwork

— Willie Saylor (@WillieAtFLO) May 19, 2019
Precedent
While going from high school senior to teenaged world champion over the course of less than two years is a rare feat, it is not without precedent. It's something we all witnessed Kyle Snyder do between the years of 2014 and 2015.
Like Snyder, Gable took a few losses in his true freshman season at college. Like Snyder, Gable has since avenged some domestic freestyle losses in his first full-time season on the senior freestyle circuit. I wrote more about this precedent in a preview of this year's World Team Trials Challenge Tournament.
The two toughest challenges of Gable's quest to match Snyder's pace remain. He has to beat a world medalist to make the world team and then he has to go out and win the world championships bracket, neither of which are anything close to a sure thing. Still, the parallels between the two prodigies are there.
Freestyle Rules
This point is mainly about freestyle having a penalty for stepping out of bounds, whereas collegiate folkstyle has none. In theory, wrestlers are supposed to be warned for stalling if they back out of bounds in college. But in reality, this is rarely the case.
The result is that Steveson's advantage via footwork is diminished. When your opponent can find refuge by retreating, it makes it harder to cut off angles, which Gable's footwork helps him accomplish.
Gable is also more effective on his feet, which makes him and his dextrous underpinnings a more natural fit for freestyle. I won't try to argue that Anthony Cassar only beat Steveson because he was better at folkstyle, but I would very much like to see Cassar and Steveson in a freestyle match, one that I would in all likelihood pick Steveson to win.
Does all of that evidence mean that I'm picking Gable to beat Gwiz two out of three matches at Final X and then go on to win gold in Nur-Sultan? No, not necessarily. But if that does happen, you better believe I'm going to retweet this article with about a dozen smirking face emojis.
---
Nomad's Take
Despite being a two-time world bronze medalist, Nick Gwiazdowski still has room for improvement. In order to prepare himself for another run at a world title, he needs to use Final X as reps for one of his fatal flaws.
In every match Gwiz lost in 2018, he held a lead in the final minute. Think about that, with less than 60 second to go, he held a lead in every match he didn't win last year. So his ability to manage late match situations is perhaps his biggest potential area of growth, and fending off the leg attacks of a young and hungry Gable Steveson will be excellent practice.
Watch Final X: Rutgers Live on Flo
Sat. June 8 | 12 PM & 6 PM Eastern
The Minnesota freshman took Adam Coon down six times between their two matches in Raleigh. His greatest asset is his footwork, not just the raw speed he has, but how light he is on his feet, the timing, and the precision with his steps, all of which were on display against Coon at World Team Trials.
Coming up through the ranks, Steveson's credentials exceeded his opponent's. Gwiz was a late bloomer, not placing in Fargo until after his junior year of high school, never making an age-level world team, and not making the Trials finals until after Tervel Dlagnev retired. Meanwhile, Gable went basically his entire high school career without losing a match, winning three age level world titles in the process, predicated heavily on his leg attacks and go behinds.
I'm not sure what precisely causes theses losses, but it needs to be a point of emphasis for both athletes, and all of Team USA generally. Holding leads late is such a crucial skill, and perhaps it is one that needs to be developed early on.
Perhaps the most egregious and frustrating of Gwiazdowski's losses was in the quarterfinals against Zhiwei Deng of China. The perception once draws came out was that the two-time NCAA champ had been gifted a ticket to the finals, which was probably presumptuous given how difficult international wrestling is, but the feeling was there.
Now, the way Gwiz lost that one was a chest wrap, something we haven't seen Gable do much of. What we have seen Steveson do is score the way Oleksandr Khotsianivskyi did in Dogu or Jamaladin Magomedov did at World Cup. They both attacked Gwiz's lead leg (right), but the Ukrainian went righty collar tie to shot and the Azeri went under Gwiz's same side tie. The latter also used a secondary tie up from that on his winning takedown late.
Part of what makes Gwiz special is his willingness to stay on the offense, and his ability to get the tree trunk legs of other massive heavyweights off the ground. It's very obvious that heavyweights have gotten more athletic and more leg attack dependent, which also means counter defense and efficient shot counts are more important as well.
This article is also nitpicking, because the New York native is an extremely high level, highly credentialed wrestler in the prime of his career. He does a lot right, which is why he's won two world medals, two Pan Am golds, two NCAA titles, won medals at two Ranking Series events, and helped Titan Mercury win a World Clubs Cup title.
In America, he's beaten all of the top heavyweights since 2017: Zach Rey, Dom Bradley, Adam Coon, Tony Nelson, Bobby Telford, Nathan Butler, and Derek White. Internationally, he was the top seed at last year's world championships and is currently #5 in seeding points with one Ranking Series event to go. He's 7-2 at the world championships and is unquestionably one of the 10 best heavyweights on earth.
The world championships are in September this year in Nur-Sultan, Kazakhstan, and if Gwiz wins he'll probably compete two more times before then. So he'll have plenty of time to practice protecting leads against quality competition. But this Saturday at the RAC will be perhaps his best opportunity to begin prepping himself to hold a late lead against someone trying to steal a world title chance from him.