Unlock this article, live events, and more with a subscription!
Get Started
Already a subscriber? Log In
J'den Cox is going to beat Bo Nickal at Final X.
I'm planting my flag in the ground. I'm digging in and dying on this hill. Bo Nickal will not beat J'den Cox.
Watch Final X: Rutgers Live on Flo
Sat. June 8 | 12:00 PM & 6 PM Eastern
It's not going to go over well. Nickal is one of the most popular athletes in the sport, with 100,000 followers on instagram, a full 66,000 more than Cox. He just won three individual and four team titles for the biggest brand in the sport right now, Penn State. The Texas native was so electrifying that a comment from Ben Askren about being the best pinner of the 21st century nearly broke twitter and facebook.
And look, this goes beyond social media. Nickal won his first national title by knocking off Gabe Dean, who at the time was in position to win the Hodge trophy. Plus he does have a flair for the dramatic, just ask Myles Martin and Kollin Moore. Oh, and I was the one pushing for "Nickal, next topic" when it came to this year's Hodge race.
It's a dangerous proposition of course, point blank stating with no wiggle room that J'den is going to beat Nickal on June 8 at Final X: Rutgers. This has backfired on Flo employees before, remember Bo's father Jason saying, "Pick that, Willie!" after the 2013 Akron finals?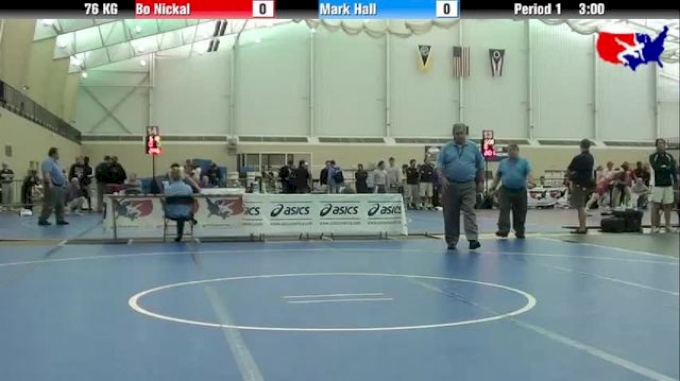 Create a free account to unlock this video!
Get Started
Already a subscriber? Log In
But this isn't about Bo Nickal. This is about J'den Cox, who very well may be the best wrestler in the United States right now. He's one of just nine wrestlers in American history to win a world or Olympic medal in their first three tries, an elite group that includes John Smith, Dave Schultz, Kenny Monday, and Jordan Burroughs.
Cox was one of three world champs for Team USA last year, with the other two being Kyle Dake and David Taylor. Who did Cox beat for his Olympic spot? Kyle Dake. Who did J'den beat for his 2017 world team spot? David Taylor.
PURCHASE FINAL X - RUTGERS TICKETS
Now let's talk about world champs getting knocked off domestically. When's the last time it happened in this country? That would be 2007, when Jared Frayer beat Bill Zadick in the semis of the challenge tournament and Doug Schwab ultimately won the spot. That was before world medalists got the advantage of a bye in the Trials process, so if you only look since that has been implemented, no defending world champ has been successfully defeated the next year and kept off the team.
To expand on that, returning world medalists are 13-0 when they have a bye. So you have a returning world champ, who has historically significant accolades, and oh yeah might be a bad style matchup. We have to go all the way back to 2016 to the last time Nickal really got his butt kicked. Zahid Valencia repeatedly took Bo down in match one of the Junior Trials with a lefty swing single, which also happen's to be J'den's best takedown.
If you want an example of a guy with Bo's body type that J'den took down twice with that, look no further than his first match at worlds last year against Dato Marsagishvili of Georgia. Although the lanky Olympic medalist walked into that match 2-0 against J'den all-time the three-time NCAA champ figured him out.
As for Nickal's style, the only to guys to take J'den down last year were Alireza Karimi and Sharif Sharifov, the latter of whom has given Cox issues multiple times in his career. But the way Karimi got a takedown was a high crotch with his ear on Cox's right hip, the opposite side Nickal was shooting his hi-c too at the Open. And when he did shoot right hip, Mike Macchiavello was able to sprawl hard, though he ultimately gave up a four.
On recent FRLs, we've mentioned that Bo's baseline stuff, particularly his leg attacks, get overlooked because of how often he goes upperbody or some of the high profile pins he's gotten. We've also mentioned why J'den feels overlooked or underappreciated to this point in his career.
Put simply, many people feel Nickal is this unusual wrestler, but Cox is even closer to unique in the way he competes. The Nittany Lion is one of the greatest college wrestler's we've ever seen, but J'den is one of the best American wrestlers of all-time. J'den's done things on a mat I though I'd never see before, and maybe won't see again.
Back before the 2017 Southern Scuffle, I wrote that Brett Pfarr would beat J'den at that tournament. I knew that was a long shot, but I tried to make a compelling case using common opponents and felt if it was going to happen, it would be at the Scuffle and not at NCAAs. But then I got to watch him live, and realized I'd made a big mistake (even though their final was awesome and pretty close).
I often use the term "aliens" to describe a handful of stars in this sport. Those are guys who have cultivated their physical gifts in ways that make you go, "only he could do that." J'den Cox is one of those guys. But he's also much more than that. He can sing, he's an ambassador for Team USA and Beat the Streets, and now he has taken to coaching, playing the role of mentor for the young athletes at the OTC in the EAP.
Bo Nickal is probably going to be a UFC champion one day, and if the tea leaves are correct, this will be the only time we'll ever see these two wrestle. I hope the Penn State fans are out in full effect cheering on one of their favorites, and I know the entire Nickal family will be there, few have more supportive parents than Bo does. The point to all that though is that he's going to need it, because there's no way he dethrones the champ next weekend.
Tune in June 8th at 6:00 pm eastern to find out if I'm right.