Create a free account to unlock this article!
Get Started
Already a subscriber? Log In
Brett Pfarr is taking his wrestling to new heights this year. The Minnesota 197-pound senior has increased his offensive pace, shot efficiency and top game, and his average of 13 points per match is a testament to his improvement heading into the 2017 Southern Scuffle in Chattanooga, Tennessee, this weekend.
On the other side of the mat, Missouri senior J'den Cox is winning matches close and battling injuries and fatigue after his bronze medal run in Rio.
Live On Flo This Week: Dec 29-30: Mt Mat Madness | Dec 29-30: Powerade | Dec 29-30: Prep Slam IX | Jan: 1-2 Southern Scuffle
Cox won both matches between the two last season, accounting for half of Pfarr's losses. The first was a 4-1 decision in the Cliff Keen Las Vegas finals, and then Cox pinned Pfarr in the third period of the NCAA semifinals.
Early in their careers, Pfarr was a 184-pounder, and Cox bumped up to heavyweight for duals. Both are seniors, but Cox is a two-time national champion and has three All-American finishes to Pfarr's one, which was just last season.
Despite all this, the way Pfarr is wrestling has made this the most highly anticipated matchup of the Southern Scuffle. In particular, it is intriguing to use the always fallible transitive property to compare their previous matches with Ohio State's Kollin Moore and Virginia Tech's Jared Haught this season.
Cox vs. Haught in a Nov. 20 dual: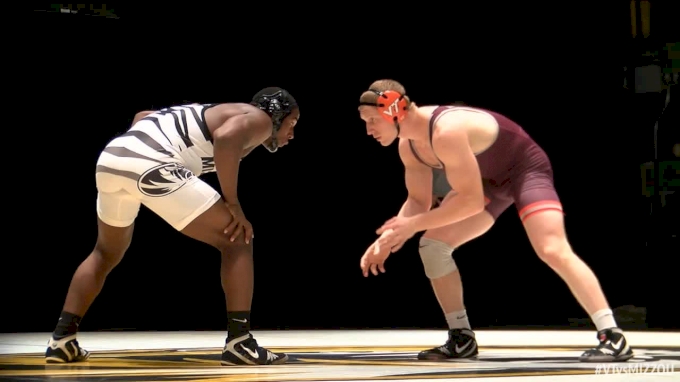 Unlock this video, live events, and more with a subscription!
Get Started
Already a subscriber? Log In
When Cox only beat Haught 2-0 in Columbia, MO, on Nov. 20, he struggled to generate offense on his feet and was nearly taken down early on. Haught was in on legs more than Cox was, and it came down to referee's position. Cox was able to get out in the second and ride out the third.
Compare this to Pfarr's dismantling of Haught in the CKLV finals two weeks later. Both studs were able to fend off the leg attacks of Haught. However, the Hokies junior was in better position to score against Cox three times, as opposed to the single time he got ahold of Pfarr's legs on two high-crotch attempts.
Pfarr vs. Haught in Vegas: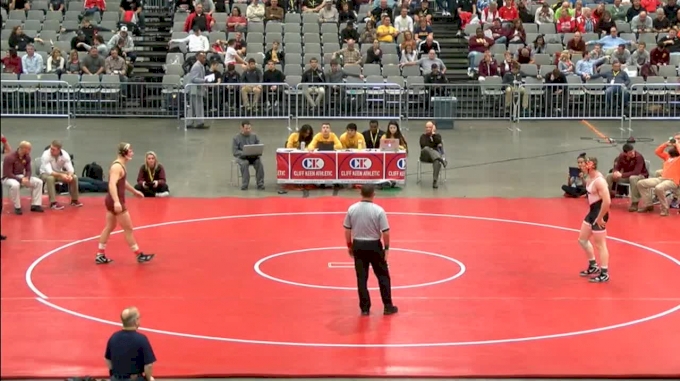 Unlock this video, live events, and more with a subscription!
Get Started
Already a subscriber? Log In
In the same place where a year earlier Pfarr had been knocked off by Cox, the Minnesota captain took down Haught three times and turned him twice. While Cox is unlikely to be turned in a tilt, the threat could add a few seconds each time Pfarr is on top, and a scramble has the potential change the course of this match. More importantly, Pfarr's second takedown on Haught was nearly identical to the one Moore had on Cox -- head inside single, drive forward to an outside trip.
In Pfarr's CKLV semifinal with Moore, Pfarr took down the junior world teamer five times, as compared to the one time Cox took down Moore in Columbus. There is of course a difference between preparing for and wrestling in a tournament as opposed to doing the same for a dual, in which Moore could focus on Cox. But the difference in matches is so stark that one has to start wondering if Pfarr can topple the Olympian.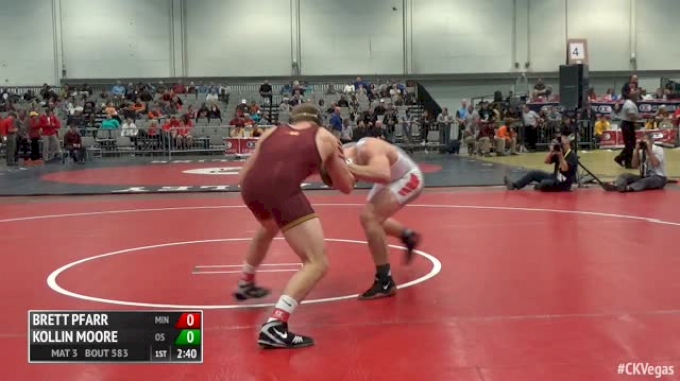 Unlock this video, live events, and more with a subscription!
Get Started
Already a subscriber? Log In
Normally when upsets happen, the underdog wants to play it close and defensive, forcing a sloppy attack to win by a low margin on a cheap counter. But a high pace seems to favor the Pfarr, especially because it will be difficult for him to win the match on the mat.
Pfarr will need to hit that wrap leg takedown at least twice, because there's little chance he gets a go-behind this match. He can't bite on the fakes of Cox, who doesn't just level change but rather shimmys, shakes and slaloms his way across the mat. Minnesota's coaching staff has to get Pfarr ready to use space to his advantage, as Cox used ankle picks and multiple direction changes to win last year.
The NCAA championships are in Missouri this year. In his home state, Cox will be going for his third title. Imagine a situation in which he sings the national anthem, then gets ready to take the mat for the final time in his career. He walks to the center of the mat, shoes tied and headgear strapped, shakes hands and tries to avenge his only loss of the year.
Can't wait for March. Can't wait for Monday night.
Prediction:
Pfarr beats Cox 6-5