2019 Sassari City Matteo Pellicone Memorial
Sassari Greco-Roman Recap: Hancock Scores A Silver
Sassari Greco-Roman Recap: Hancock Scores A Silver
Tim Hands of 5 Point Move recaps all the Greco-Roman action from the Sassari City Ranking Series Event.
May 23, 2019
by Timmy Hands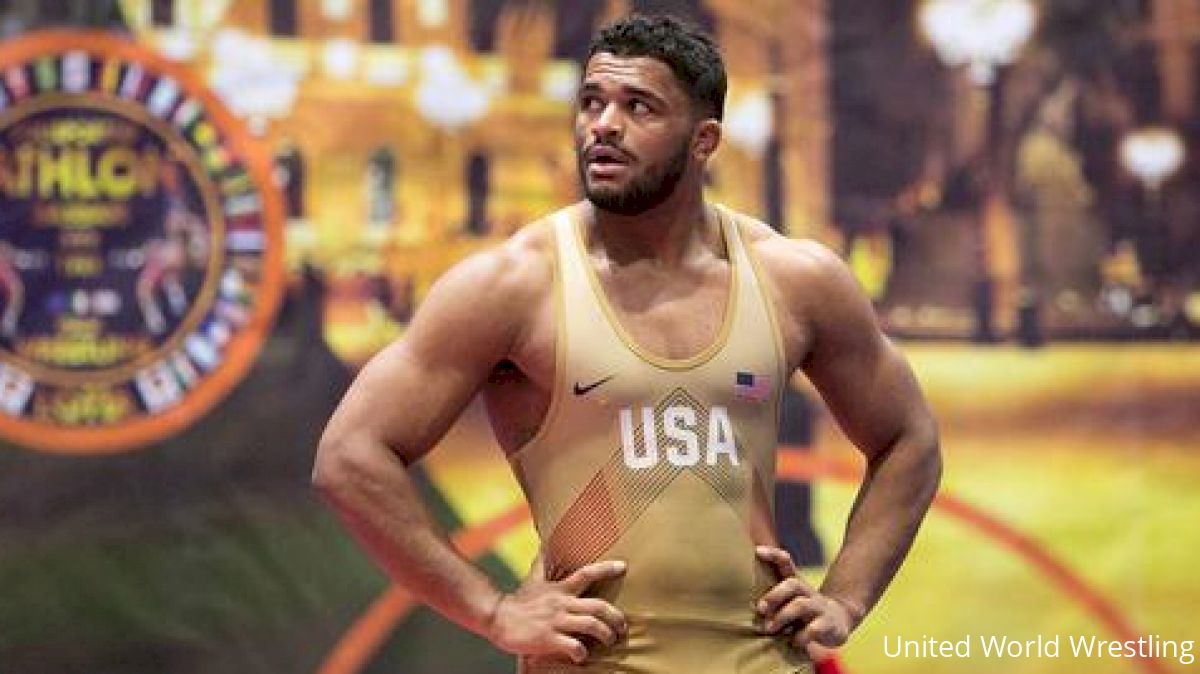 Unlock this article, live events, and more with a subscription!
Get Started
Already a subscriber? Log In
Tim Hands of 5 Point Move recaps all the Greco-Roman action from the Sassari City Ranking Series Event.

It is now three up, three down for G'Angelo Hancock (Sunkist Kids). Even if he's not entirely pleased with the end result just yet.
Earlier on Thursday, Hancock earned silver at the 2019 Matteo Pellicone Memorial, clinching his third medal in three tries at a United World Wrestling "Ranking Series" event this year.
His opponent in the final, Nikoloz Kakhelashvili (ITA), was not unfamiliar; Hancock defeated the native of Georgia last year in Poland to kick off his sizzling march to gold. But that bout against Kakehelashvili had been a tight one. On Thursday, the scoring wasn't too different though the result certainly was.
Kakhelashvili took the bout's first passivity point, and from par terre bottom, Hancock immediately sprung to his feet and escaped. It looked good, didn't appear to be a false start. But the officials made Hancock go back down, and he gave up a subsequent gut to fall behind 3-0 in the first.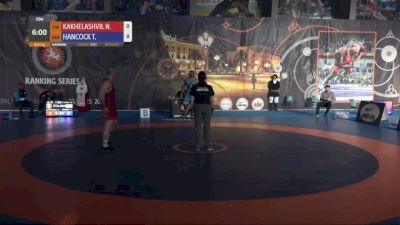 Unlock this video, live events, and more with a subscription!
Get Started
Already a subscriber? Log In
In the second period, Hancock tried hipping Kakhelashvili off the edge while the duo battled from 50/50 hooks. They awarded Kakhelashvili a step-out point for the sequence. The US challenged the call -- and lost -- putting Hancock behind further 5-0. He diligently worked the entire time, did Hancock. His wrists and arms were constantly held, yet no passivity chance entered into the equation. Kakhelashvili didn't do too much -- nor did he need to -- the rest of the way, handing Hancock only his fourth international loss of the season across five events.
The morning began for the OTC resident athlete with a suitable test in the form of Russian Armen Grigoryan. It was rough sledding, but a couple of passive points and some busy pummeling ushered the American to a 3-0 decision. In the semifinal resided a match-up most US Greco fans were looking forward to -- 2009 World champ and multi-time bronze Balazs Kiss (HUN). Right at the opening whistle, Hancock bullied forward and Kiss looked to counter with an arm spin. There was zero hesitation; Hancock covered and immediately went to work on a lift near the edge. However, Hungary had issued a challenged -- and won -- returning the action scoreless. Later in the first is when Hancock really struck. Coming off an exchange with an energized Kiss, Hancock found double underhooks and twisted Kiss right to his back for four.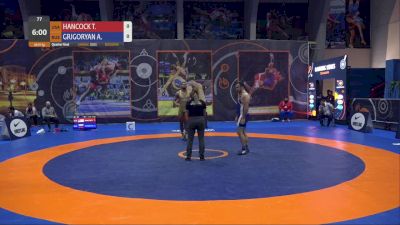 Unlock this video, live events, and more with a subscription!
Get Started
Already a subscriber? Log In
They jousted for much of the second, though the pace remained dictated by Hancock despite the Hungarian's shared eagerness for engagement. Really, it was academic. Hancock owned position and used his legs to repeatedly wear on Kiss in the zone. Eventually, a desperation throw attempt had to make an appearance for Kiss, and it did, but Hancock mercilessly covered for another takedown en-route to the impressive 6-0 blanking that put him in the finals.
Hancock now owns 60 "Ranking Series" points, which should cement his standing as the third-seed at the World Championships in September. Next on the agenda for the 21-year-old is Final X: Lincoln where he will meet Army/WCAP's Lucas Sheridan to decide the 97-kilogram spot on the US World Team.
How Did the Other Ranked Greco Guys Fare?
As pointed out here yesterday, the action in Sassari City played host to a dozen other athletes who claimed a top-20 ranking by UWW.
55 kilograms
2018 World bronze Ekrem Ozturk (TUR) came in ranked #4 but was an apparent late scratch, turning 55 kilos into a three-man round-robin featuring two of his countrymen, Dogus Ayaczi and Hakan Cankaya. Ayaczi has been on the come-up the past year, scoring a pair of golds in Croatia and Bulgaria to go along with silvers from the German GP and Vehbi Emre, respectively.
Although he did get decked by Giovanni Freni (ITA), Ayaczi's tech of teammate Cankaya gives him the top spot from this tournament and 14 RS points, which won't be enough for him to crack the top-20 at 55 kilos anytime soon.
60 kilograms
2017 World bronze Kim Seung-Hak entered Sassari City ranked #6 thanks to his fifth at Zagreb and gold in Hungary. And he earned another gold today, defeating Ahmet Uyar (TUR) 5-0 in the finals.
63 kilograms
#12 Andres Montano Arroyo (ECU) was the only wrestler in this bracket holding a top-20 ranking at 63 kilos, and that was due to his gold at the Pan Ams last month. Montano Arroyo was turned back by Erik Torba (HUN) in the semis and would later finish fifth.
Speaking of Torba, he was holding a 4-1 against Mehmet Ceker (TUR) in the waning seconds of the 63-kilogram final when Ceker wrapped high, lept, and uncorked a "Flying Squirrel" to steal the win just as time expired. There is little doubt that snippet will be making the rounds soon enough.
67 kilograms
One of the best of his generation, two-time World champ Ryu Han-Soo (KOR, #5), was naturally seen as a strong contender in a semi-loaded field at 67, but fell short via criteria in the semis opposite eventual champ Azamat Akhmedov, who beat on Haci Karakus to the tune of a 7-1 decision.
72 kilograms
All you can ask for at a tournament like this one is for the two best guys to somehow make the final, and that's what you got at 72 with '16 World champ Balint Korpasi (HUN, #5) and former World bronze Adam Kurak (RUS) both advancing. In their latest go-round, Kurak emerged victorious 3-0 in what was a tense, sort of lackluster bout. The Russian also now holds a 2-1 record against his Hungarian counterpart.
77 kilograms
The headliner weight class of 2019 Matteo Pellicone Memorial was 77 kilograms, where 2012 Olympic/2013 World Champion Kim Hyeon-Woo of Korea (#1) raced past his Olympic runner-up and on-again/off-again rival Tamas Lorincz (HUN, #4) via tech in the quarters. With Lorincz out of the way, Kim stomped to the final where he took out Lorincz's teammate and recent U23 Euros champ, Zoltan Levai.
82 kilograms
The prevailing consensus leading up to today was that '17 U23 World Champion Burhan Akbudak (TUR, #9) would wind up making a case in the medal rounds one way or the other, and that certainly happened. What did come as a bit of a surprise was the continued rise of Gurpeet Singh, who originally opened some eyes with his run to silver at the Asian Championships last month. His was a most impressive day that included a thorough beatdown of Oldrich Varga (CZE), a solid win over '17 Zagreb gold George Vlad Mariea (ROU), and a dominating tech at the expense of the aforementioned Akbudak in the gold-medal-match. Wow.
87 kilograms
More so than even 77 kilos, 87 is where Hungary is really hedging its bets when it comes to both Ranking Series points and team selection later this summer. Stately Viktor Lorincz, he of the two World bronze medals and countless other placings throughout his career, arrived in Sassari City ranked fifth, with teammate and 2018 U23 World Champion Erik Szilvassy slotted in at #3 thanks in large part to his thirds at both the Hungarian Grand Prix and European Championships.
Both did their jobs to setup a showdown in the quarters, and it was Lorincz who moved on via 4-0 decision before advancing to the final where he got past Dogan Goktas (TUR) 5-1. For his part, Szilvassy persevered through the repechage to earn his second Ranking Series bronze this year.
97 kilograms
American G'Angelo Hancock won't see his #3 ranking change following his silver-medal performance, and while a downer in the short term, his 3-0 loss to Nikoloz Kakhelashvili (ITA) is of little consequence going forward. '09 World champ Balazs Kiss (HUN, #9) recovered from his semifinal defeat to Hancock and placed third, while Serbia's World bronze from 2018, Mihail Kajala, won a tight battle against Daigoro Timoncini (ITA) to do the same.
130 kilograms
2018 World bronze Kim Min-Seok (KOR, #4) -- one Adam Coon's four victims in Budapest last October -- fell to Osman Yildirim (TUR) but won a penalty-decided bout in the bronze round versus Constantin Hutuleac (ROU) to wind up third. As for Yildirim, he ousted weight-class favorite Balint Lam in the heavyweight final 3-0.