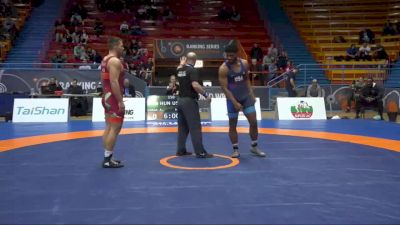 Unlock this article, live events, and more with a subscription!
Get Started
Already a subscriber? Log In
Rankings points are on the line for all three styles in Sassari, Italy, this weekend and Greco kicks off the festivities.
Leading the way is four-time World Medalist and 2012 Olympic Champ Hyeon-Woo Kim (KOR) who is the top-ranked 77 kilo man in the World. A dozen other ranked wrestlers are in the field including the U.S.'s G'Angelo Hancock, who is #3 at 97kg.
Below are the ranked wrestlers and others to watch out for. Wrestling starts at 4:00AM ET with finals at 8:30 AM as each style is one day only.
Watch Sassari City Ranking Event Live on Flo
May 23 -25 | 4:00 AM Eastern Time
55KG
#4 - Ekrem Ozturk, TUR
The winner of University Worlds last year, he also took Bronze in Seniors.
60KG
#6 - Seunghak Kim, KOR
Was Bronze at Yarygin
Andrei Ivanov, RUS
An up-and-comer, Ivanov was 3rd at Euro JR's last year.
Saddyk Lalaev, RUS
Was Bronze at both Russian U23's and Seniors.
63KG
This is the only weight without at least one current Top 10 guy in points.
But watch out for Hungary's Erik Torba, who was 3rd in U23 Euros after winning the Grand Prix of Germany in SR's.
Korea's Kyung-Hoon Kim was a runner-up here last year.
Ravzan Arnaut of Romania was runner-up at Euro U23's.
67KG
#5 - Hansu Ryu, KOR
One of the best in the world for a long time, Ryu's last five years at Worlds/OLY went 1-2-5-1-26, that oddball number being last year. But he just won Asian Championships. He's must watch stuff.
Another really fun guy that could be a star for years to come is Egypt's Mohammed Elsayed, last year's U23 World Champion. Hungary's Otto Losonczi was Bronzze in that bracket but they did not hit. Mihai Mihut (ROU) was Bronze in that tourney at 63kg.
The returning Sassari Champ, Azamat Akhmedov (RUS) is also in the field. He was runner-up at Russian Nationals in '17.
Turkey's Enes Basar was Bronze at Euros last year.
72KG
#3 - Balint Korpasi, HUN
One of my favorite Greco practitioners in the World is Korpasi who won the non-OLY weight of 71kilos at Worlds in 2016, then went Bronze in '17 and Silver last year.
The ageless wonder, Adam Kurak, is in the field. He's been Top 3 at Russian Nationals since they were USSR Nationals.
Fellow Russian, Alexander Paivin was Bronze at Nationals this year. Turkey's Selcuk Can was just Bronze at the GP of Hungary.
77KG
#1 - Hyeon-Woo Kim, KOR
Five-time SR World medalist.
#4 - Tamas Lorincz, HUN
Lorincz wrestled for a World medal seven times. He was runner-up at Worlds the last two years as well as at the Olympics in 2012.
Lorincz' countryman Zoltan Levai comes down from 82kg where he won this year's Euro U23's.
If there's a bracket buster it's Russia's Dimitri Dzhioev, the returning Sassari champ who placed 3rd at Russian Nationals last year.
Turkey's Serkan Akkoyun was Bronze at Euro U23's.
82KG
#9 - Burhan Akbudak, RUS
Back-toback World U23 titles makes him a potential future star at the SR level. He should be the clear frontrunner at a thin weight here.
87KG
#3 - Erik Szilvassy, HUN
Another up-and-comer for Hungary, Szilvassy won U23 World's and then placed Bronze at SR Euro's in April.
#5 - Viktor Lorincz, HUN
It seems odd to have someone from Hungary ranked ahead of Lorincz, who has been doing it at a high level for about a decade. He already won two rankings events in 2019.
Finland's Rami Antero Hietaniemi wrestled for a SR World medal three times in his career.
Gadzhimurad Dzhalalov was 3rd in Russian trials two years ago. Ramon Rainer Betschart (SUI) was last year's JR World Silver medalist. Ali Cengiz (TUR) won a World University title last year after a JR World Silver in '16.
97KG
#3 - G'Angelo Hancock, USA
Hancock has been super active internationally already in 2019. He went Gold and Bronze in two rankings events and took Silver at Pan Ams to achieve his lofty ranking.
#8 - Mihail Kajala, SRB
Was runner-up to Artur Aleksanyan (ARM) at Euro's last year.
#9 - Balasz Kiss, HUN
Another Hungarian with staying power on the Senior circuit, he's medaled at SR World's four times including a title way back in 2009.
An Georgian transplant, Nikoloz Kakhelashvili now reps the Italian flag. He was 3rd at the Hungarian Grand Prix and wona JR World title in 2015. Turkey's Ibrahim Tigci was Bronze at Euro U23's.
130KG
#4 - Minseok Kim, KOR
Was Bronze at the Asian Games.
In a thinner field, watch for Hungary's Balint Lam to play a role; he's still very young but has wrestled in medal matches at several rankings events over the last two years.
Romania's Leonard Berei just went Silver at Euro U23's, where Osman Yildririm (TUR), who's also in the field was Bronze after reaching the finals of U23 World's last year.