2019 EIWA Championships
The Complete 2019 EIWA Championships Preview
The Complete 2019 EIWA Championships Preview
Previewing all 10 weights at the 2019 EIWA Championships and who will fill the 47 automatic qualifying bids the conference has received.
Mar 7, 2019
by Wrestling Nomad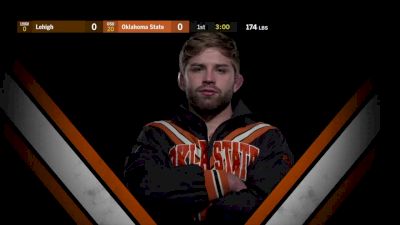 Unlock this article, live events, and more with a subscription!
Get Started
Already a subscriber? Log In
The 115th edition of the Eastern Intercollegiate Wrestling Association goes down this weekend on the campus of Binghamton University.
The nation's oldest conference tournament will once again be streamed live on FloWrestling, and brackets will be on FloArena. In total, 47 automatic qualifier allocations are available to send placewinners to the NCAA championships in Pittsburgh.
Watch the 2019 EIWA Championships Live on Flo
March 8-9 | 11:00 AM Eastern
The pre-seeds have been released, though those may be changed at the coaches meeting on Thursday afternoon. The event starts at 11 eastern on Friday, with the semis being set that night. Day two starts at 10 eastern on Saturday.
Lehigh is the defending champs, ending Cornell's 11 year reign atop the Easterns. A rock/paper/scissors at the top was set up during the dual season, as Princeton beat Lehigh while Cornell beat Princeton, and the Big Red lost to the Mountain Hawks.
Our final conference rankings can be found here. The allocations will be listed at the top for each weight before previewing that bracket.
125lbs: 4 Allocations
Vitali Arujau, Cornell
Patrick Glory, Princeton
Carmen Ferrante, Penn
Trey Chalifoux, Army West Point
Audey Ashkar, Binghamton
Dylan Ryder, Hofstra
Gage Curry, American
Trey Keeley, Brown
Jakob Campbell, Bucknell
Joe Manchio, Columbia
Jacob Allen, Navy
While the conference may have lost 2017 NCAA champion Darian Cruz due to graduation, the depth of this weight has improved from one auto bid last year to four this season. That can largely be attributed to an influx of three highly talented freshmen: Vito Arujau, Pat Glory, and Carmen Ferrante.
The real juice is in Sunday's finals, where we should a rematch between #7 Arujau and #9 Glory. Vito completely dominated when they met in the dual, scoring twice off Glory's attacks from neutral in the first period, then reversing Glory in the second. He would ultimately cradle and pin him to ensure the top seed here.
While I don't think the Big Red star dominates the Tiger so thoroughly again, it does seem like Vito might have Glory's number. A comfortable decision is how I see it going. Glory took Ferrante down four times in the dual, so he shouldn't have any problems making the finals. Ferrante/Ryder could be an intriguing quarter between two true freshman. Chalifoux is the highest returning placer and beat Ashkar 7-1 in the dual this year.
Nomad's Picks
1) Arujau 2) Glory 3) Ferrante 4) Chalifoux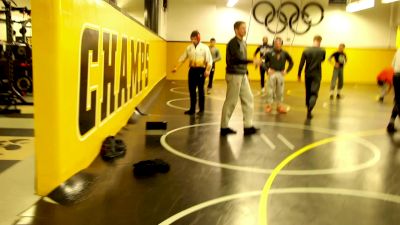 Unlock this video, live events, and more with a subscription!
Get Started
Already a subscriber? Log In
133lbs: 4 Allocations
Chas Tucker, Cornell
Josh Terao, American
Brandon Paetzell, Lehigh
Casey Cobb, Navy
Lane Peters, Army West Point
Zack Trampe, Binghamton
Matt Kazimir, Columbia
Doug Zapf, Penn
Lukus Stricker, Harvard
Chandler Olson, Drexel
Jacob Martin, Hofstra
David Campbell, Bucknell
After last season's tournament, you'd excuse for being really intrigued about the top five placers coming back. But then Austin DeSanto transferred to Iowa and injuries ended Scotty Parker's senior season before it even started, not to mention Jonathan Gomez struggled this year and didn't crack a Top-12 seed.
However, that very cleanly sets up a finals match we've never seen before: Chas Tucker against Josh Terao. Tucker is one of the most patient wrestlers in the country and has no problems winning one point matches that feature one or zero takedowns. Meanwhile, Terao prefers a higher pace, has a judo background and go upperbody.
With four auto bids, just like at 125, 165, and 285, the most interesting rounds will be the semifinals and consi semis. To get to the semis, Casey Cobb will have to avenge a 7-4 loss to Lane Peters in the final dual of the year. Looking at consi semis, Paetzell squeaked by Cobb in the dual thanks to a late takedown in the first, which I think gets reversed. On the other side, Peters pinned Trampe in the dual, and I think he can replicate a win.
Nomad's Picks
1) Tucker 2) Terao 3) Peters 4) Cobb
---
141lbs: 3 Allocations
Yianni Diakomihalis, Cornell
Nicholas Gil, Navy
Ryan Pomrinca, Lehigh
Jack Mutchnik, American
Anthony Sparacio, Binghamton
Corey Shie, Army West Point
Marshall Keller, Princeton
Wil Gil, F&M
Theo Powers, Brown
AJ Vindici, Penn
Danny Fongaro, Columbia
Ryan Friedman, Harvard
Garrett Lambert, Hofstra
Just like we learned with Darian Cruz last year, having an undefeated defending national champ in your weight cannot, by itself, carry a weight to a greater number of qualifiers. Yianni's dominance was not enough to get this weight as many auto bids as 125 or 133.
Yianni is an incredible talent and we'll write about him plenty when it comes time for NCAAs. Nick Gil is a steady senior who has been grinding away for four years and now is in position to make the EIWA finals. Luke Karam and Tyler Smith have graduated, the two main roadblocks for him in conference during his career. He beat both Ryan Pomrinca and Corey Shie this year, so there's little to hold him back from getting his spot at the national tournament.
That third and final spot will be a fun battle. Ryan Pomrinca is in his first postseason after waiting his turn behind Randy Cruz and Luke Karam. He's had two absurd battles with Jack Mutchnik and won both, a tiebreaker match this season in the dual and a pin in final period of overtime last year at the Wilkes Open. Mutchnik has never qualified for NCAAs but I think this is the year he breaks through. However, he'll have a difficult consi semi against Army freshman Corey Shie, who's had a good season and actually looks good to get a wildcard as he earned one of the three AQs for the conference. Mutchnik beat Shie in sudden victory just after the first of the year.
Nomad's Picks
1) Yianni 2) Gil 3) Mutchnik
---
149lbs: 5 Allocations
Matt Kolodzik, Princeton
Anthony Artalona, Penn
Cortlandt Schuyler, Lehigh
Jared Prince, Navy
Michael Sprague, American
Parker Kropman, Drexel
Jonathan Furnas, Cornell
Cole Corrigan, Columbia
Holden Heller, Hofstra
Frank Garcia, Binghamton
Matthew Kolonia, Bucknell
Brock Wilson, Harvard
There are two wrestlers in the field who have beaten Matt Kolodzik: unseeded Zach Krause of Brown and 6 seed Parker Kropman of Drexel. We're not sure where Krause will fall in the bracket, but Kropman could only see him in the finals. Even so, those seem more like outliers and I think Kolo improves to 12-0 at EIWAs and wins his third conference title.
Five is the most fun number of allocations in my opinion, because it allows more some margin of error if a favorite falters and also signifies the weight is fairly deep on the national level. Beyond that though, it prevents guys from forfeiting out after making the semis and means there is a high stakes placing match, which is always a good thing. Any EIWA nerd should consider this weight a must watch.
Will lightning strike twice? Is it easier to do so if the lightning has a homefield advantage? That's a roundabout way of asking if Frank Garcia can make the finals again, like he did from the same 10-seed position last year. Not likely, but at some point this preview I should probably pick a Bearcat to overperform his seed. So let's roll the dice.
True freshman Anthony Artalona is the two seed and his only loss was to Kolodzik. He beat Cortlandt Schuyler in tiebreakers at Lehigh. The returning national qualifier did not face four seed Jared Prince this year, but had the unusual circumstance of sandwiching close wins over Prince in the dual and at NCAAs with a 16-1 shellacking he suffered in the third place match here last year. The Midshipmen is a two-time qualifier whose only losses at EIWAs are to Kolodzik, a fate he'll probably suffer once again.
Schuyler is 5-0 all-time against Michael Sprague, and I think win #6 comes in the all important fifth place match. Sprague has an interesting wildcard case, as he earned an AQ for the EIWA with a .720 win percentage and an RPI of 24. He got majored by Prince at this tournament last year but avenged that loss on Valentine's Day.
Two fun wildcards are six seed Kropman and seven seed Furnas. Aside from beating Kolodzik, Kropman also took Artalona into overtime; he's never faced his quarterfinal opponent Schuyler. Kropman redshirted last season, but was seventh at the tournament two years ago, losing to Jon Furnas in the consi quarters. Furnas took Artalona into overtime (noticing a pattern here with the Quaker freshman?) at the Friedman center last month. His only matches against Sprague and Schuyler were also overtime losses.
Nomad's Picks
1) Kolodzik 2) Garcia 3) Prince 4) Artalona 5) Schuyler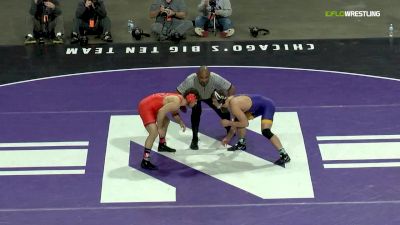 Unlock this video, live events, and more with a subscription!
Get Started
Already a subscriber? Log In
157lbs: 6 Allocations
Zach Hartman, Bucknell
Josh Humphreys, Lehigh
Quincy Monday, Princeton
Lucas Weiland, Army West Point
Dan Reed, Columbia
Adam Santoro, Cornell
Hunter Ladnier, Harvard
Kizhan Clarke, American
Evan Barczak, Drexel
Joe Oliva, Penn
Emmett LiCastri, F&M
Another weight dominated by freshman, as Luke Weiland is the only returning placer and is seeded where he finished last year. Zach Hartman has been the man all year, aside from giving up a last second takedon to Dan Reed in Bucknell's final conference dual of the season. He pinned two seed Josh Humphreys and majored Weiland.
Reed is clearly the potential bracket buster. He actually beat Weiland in their only meeting of the year and spent a portion of the season in the national rankings. I'm not sure which one avenges their loss, but I feel one will send Reed to the consolations. However, Reed is a senior who gets to roll with Frank Chamizo and Lavion Mayes at RTC practice, so he's a perfect candidate to be a surprise champ.
Another true freshman of note is Josh Humphreys. He eked out a 5-4 win over Monday in his first dual after having his redshirt pulled, though that did not prevent the Tigers from earning their first dual meet win over Lehigh since 1968. He pinned seven seed Hunter Ladnier in 45 seconds, so he seems like a safe bet to make the finals.
Despite being the three seed, Monday somehow did not earn an AQ for the conference. He majored six seed Santoro so he should get another crack at Humphreys. I think Ladnier nabs the final qualifying spot, one in fact earned by Kizhan Clarke of American.
Nomad's Picks
1) Hartman 2) Humphreys 3) Monday 4) Reed 5) Weiland 6) Ladnier
---
165lbs: 4 Allocations
Ebed Jarrell, Drexel
Jon Viruet, Brown
Tanner Skidgel, Navy
Cael McCormick, Army West Point
Gordon Wolf, Lehigh
Laurence Kosoy, Columbia
Andrew Berreyesa, Cornell
Brandon Levesque, Sacred Heart
DJ Hollingshead, Bucknell
Leonard Merkin, Princeton
Tyler Tarsi, Harvard
Evan DeLuise, Penn
Ebed Jarrell nabbed the top seed despite missing a good portion of the year and was seventh at last year's EIWAs. Viruet has been sixth two years in a row, but based on an admittedly small sample size of performances against Chandler Rogers and Alex Marinelli, he's my pick to win this weight. He pinned Berreyesa and majored Skidgel 14-0, so his road to the finals is pretty clear.
I'm taking two-time NCAA qualifier Gordon Wolf in the rubber match against Cael McCormick, having lost to him in this year's dual and beating him in the dual in 2018. The Lehigh senior teched Jarrell on the backside a year ago and should beat him once again.
There's a hodgepodge of tough choices to make, but I'm going with Junior world Greco silver Andrew Berreyesa for the final AQ spot. He's replacing another Greco star in Jon Jay Chavez (last year's champ at this weight), is in a weight that's ripe for upsets, has big move potential, and wrestles for perpetually over achieving Cornell.
Nomad's Picks
1) Viruet 2) Wolf 3) Jarrell 4) Berreyesa
---
174lbs: 5 Allocations
Jordan Kutler, Lehigh
Brandon Womack, Cornell
Ben Harvey, Army West Point
Spencer Carey, Navy
Vincent DePrez, Binghamton
Travis Stefanik, Princeton
Frankie Guida, Bucknell
Max Elling, Columbia
Ricky Stamm, Hofstra
Bryan McLaughlin, Drexel
AJ Pedro, Brown
Anthony Falbo, Sacred Heart
Joshua Kim, Harvard
After Yianni and Kolodzik, the biggest name is probably Jordan Kutler. The best wrestler in the Mountain Hawk room, he should cruise to another conference title.
Womack was an All-American as a freshman at 165 and was third at this tournament a year ago, pinning Ben Harvey in the bronze match. While I think Harvey, and Army as a whole, is underrated, his quarterfinal match is not a gimme. Travis Stefanik has an excellent pedigree and has impressed all season, even in losses. Princeton as a whole is trending upward, and I think Stefanik outperforming his seed is going to be part of that.
Vincent DePrez beat Spencer Carey during the year and I think the home crowd will boost him to place high enough to qualify.
Nomad's Picks
1) Kutler 2) Womack 3) Stefanik 4) Harvey 5) DePrez
---
184lbs: 6 Allocations
Max Dean, Cornell
Lou DePrez, Binghamton
Ryan Preisch, Lehigh
CJ LaFragola, Brown
Noah Stewart, Army West Point
Tanner Harvey, American
Kevin Parker, Princeton
Kyle Inlander, Bucknell
Anthony Cable, Navy
Brian Bonino, Columbia
Anthony Walters, Drexel
Kyle Davis, Sacred Heart
Ryan Preisch is the defending champ but only wrestled in three conference duals, with his best win being a 10-1 major over 5 seed Noah Stewart. Max Dean is a returning All-American who went 6-0 in conference duals. But it was Louie DePrez who beat Dean in sudden victory in the fifth place match at CKLV, avenging two losses to Dean from DePrez's redshirt year.
So the question is, can DePrez beat both Preisch and Dean on Saturday? I think he can, in part because it's in his home gym and in part because he's fantastic on top. Had Preisch wrestled this whole year, I might say otherwise. And we know Cornell is always on their A game for the conference tournament. But I've felt all year that DePrez would place in March and it starts now by improving his seed for nationals.
LaFragola and Stewart's only meeting was a 3-2 win for the Brown senior in Vegas last season. LaFragola was fifth at the conference tournament as a junior and should place higher than that this weekend to qualify for NCAAs. Kevin Parker has never wrestled Tanner Harvey, but he was 2-0 against Stewart last season.
Nomad's Picks
1) DePrez 2) Dean 3) Preisch 4) LaFragola 5) Parker 6) Stewart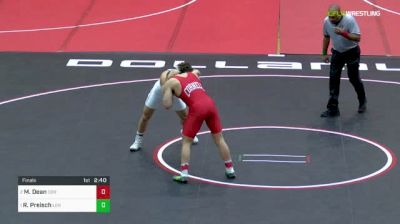 Unlock this video, live events, and more with a subscription!
Get Started
Already a subscriber? Log In
197lbs: 6 Allocations
Patrick Brucki, Princeton
Ben Honis, Cornell
Rocco Caywood, Army West Point
Stephen Loiseau, Drexel
Josh Roetman, Navy
Drew Phipps, Bucknell
John Jakobsen, Lehigh
Philip Robilotto, F&M
Nezar Haddad, Hofstra
Anthony DePrez, Binghamton
Tucker Ziegler, Brown
Yet another goofy weight in which the 2 seed beat the 1 seed in a dual. Honis also has a win over Caywood, but the Army senior has the last two wins over Honis. I think that sets up a Caywood/Brucki final, and either way I think Brucki has been the best guy at this weight all year, even despite the loss.
Loiseau has never wrestled Honis, is 0-1 against Brucki, and has split with Caywood, beating him in last season's dual and losing in this year's dual. He's also never wrestled Roetman of Navy. All four are nationally ranked in what is the best weight in the conference.
I usually trust Lehigh's staff and think Jakobsen is under the radar nationally, but splitting time with Weiler this season gives me pause about his ability to qualify for Pittsburgh. Roetman shut out Phipps twice this season.
Nomad's Picks
1) Brucki 2) Caywood 3) Honis 4) Loiseau 5) Roetman 6) Phipps
---
285lbs: 4 Allocations
Jordan Wood, Lehigh
Joey Goodhart, Drexel
Jeramy Sweany, Cornell
Ben Sullivan, Army West Point
Niko Camacho, American
Ian Butterbrodt, Brown
Antonio Pelusi, F&M
Joe Doyle, Binghamton
Omar Haddad, Hofstra
Daniel Herman, Columbia
Thomas Ott, Navy
Ben Goldin, Penn
Jordan Wood put up 10 on Ben Sullivan and 12 on Niko Camacho, so making the semis should be of no concern. He's never wrestled Goodhart, perhaps a concern, and had an absurd 17-12 win over Sweany in the dual. But this is what we have been waiting to see out of Jordan Wood for years: a high scoring, leg attacking, heavyweight who is a bit small on size but with excellent talent who wins conference titles and places at the national tournament.
It was three seasons ago, but Pelusi gave Goodhart problems once upon a time. They wrestled three times in the 2015-16 season, with Goodhart winning in overtime and then by one before losing the last one, in overtime, at EIWAs. Sweany has never wrestled Ian Butterbrodt, but that one seems less in the balance than Goodhart's quarter.
Sweany's win against Goodhart came all the way back in November of 2015, and then lost to him 11-6 at the dual in January of 2017. Goodhart is a senior who has been knocking on the door for years, but again, it's Cornell at EIWAs. Though he has a losing record this season as a whole, I think Camacho repeats his win over Sullivan and nabs the final qualifying slot.
Nomad's Picks
1) Wood 2) Sweany 3) Goodhart 4) Camacho