2019 EIWA Championships
Pre-Seeds Released For 115th EIWA Championships
Pre-Seeds Released For 115th EIWA Championships
The pre-seeds have been announced for the 2019 EIWA Championships this weekend in Binghamton.
Mar 5, 2019
by Wrestling Nomad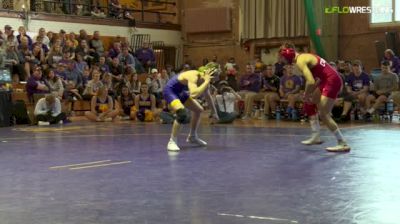 Pre-seeds are out for the 2019 EIWA championships, check them out for all 10 weights below.
Watch the 2019 EIWA Championships Live on Flo
March 8-9 | 11:00 AM Eastern
Unlike most conferences where the coaches do the pre-seeds, the EIWA has an independent committee that does them. The committee votes using a set of criteria approved by the EIWA coaches before the season, and then the seeds are confirmed or changed at the coaches meeting on Thursday.
The allocations for automatic qualifiers have already been released. Check out our latest conference rankings also.
125 pounds
Vitali Arujau, Cornell
Patrick Glory, Princeton
Carmen Ferrante, Penn
Trey Chalifoux, Army West Point
Audey Ashkar, Binghamton
Dylan Ryder, Hofstra
Gage Curry, American
Trey Keeley, Brown
Jakob Campbell, Bucknell
Joe Manchio, Columbia
---
133 pounds
Chas Tucker, Cornell
Josh Terao, American
Brandon Paetzell, Lehigh
Casey Cobb, Navy
Lane Peters, Army West Point
Matt Kazimir, Columbia
Zack Trampe, Binghamton
Doug Zapf, Penn
Lukus Stricker, Harvard
Jacob Martin, Hofstra
---
141 pounds
Yianni Diakomihalis, Cornell
Nicholas Gil, Navy
Ryan Pomrinca, Lehigh
Jack Mutchnik, American
Anthony Sparacio, Binghamton
Corey Shie, Army West Point
Marshall Keller, Princeton
Wil Gil, F&M
Theo Powers, Brown
AJ Vindici, Penn
---
149 pounds
Matt Kolodzik, Princeton
Anthony Artalona, Penn
Cortlandt Schuyler, Lehigh
Jared Prince, Navy
Michael Sprague, American
Parker Kropman, Drexel
Jonathan Furnas, Cornell
Cole Corrigan, Columbia
Holden Heller, Hofstra
Brock Wilson, Harvard
---
157 pounds
Zach Hartman, Bucknell
Josh Humphreys, Lehigh
Quincy Monday, Princeton
Dan Reed, Columbia
Lucas Weiland, Army West Point
Hunter Ladnier, Harvard
Adam Santoro, Cornell
Kizhan Clarke, American
Evan Barczak, Drexel
Joe Oliva, Penn
---
165 pounds
Ebed Jarrell, Drexel
Jon Viruet, Brown
Tanner Skidgel, Navy
Cael McCormick, Army West Point
Gordon Wolf, Lehigh
Laurence Kosoy, Columbia
Brandon Levesque, Sacred Heart
DJ Hollingshead, Bucknell
Andrew Berreyesa, Cornell
Leonard Merkin, Princeton
---
174 pounds
Jordan Kutler, Lehigh
Brandon Womack, Cornell
Ben Harvey, Army West Point
Spencer Carey, Navy
Vincent DePrez, Binghamton
Travis Stefanik, Princeton
Frankie Guida, Bucknell
Max Elling, Columbia
Ricky Stamm, Hofstra
Bryan McLaughlin, Drexel
---
184 pounds
Max Dean, Cornell
Lou DePrez, Binghamton
Ryan Preisch, Lehigh
CJ LaFragola, Brown
Noah Stewart, Army West Point
Tanner Harvey, American
Kevin Parker, Princeton
Kyle Inlander, Bucknell
Anthony Cable, Navy
Brian Bonino, Columbia
---
197 pounds
Patrick Brucki, Princeton
Ben Honis, Cornell
Rocco Caywood, Army West Point
Stephen Loiseau, Drexel
Josh Roetman, Navy
Drew Phipps, Bucknell
John Jakobsen, Lehigh
Philip Robilotto, F&M
Nezar Haddad, Hofstra
Tucker Ziegler, Brown
---
285 pounds
Jordan Wood, Lehigh
Joey Goodhart, Drexel
Jeramy Sweany, Cornell
Ben Sullivan, Army West Point
Niko Camacho, American
Ian Butterbrodt, Brown
Antonio Pelusi, F&M
Omar Haddad, Hofstra
Joe Doyle, Binghamton
Thomas Ott, Navy