Gavin Teasdale To Leave Penn State
Gavin Teasdale To Leave Penn State
Blue chip recruit Gavin Teasdale will transfer out of Penn State according to head coach Cael Sanderson.
Jan 22, 2019
by Andrew Spey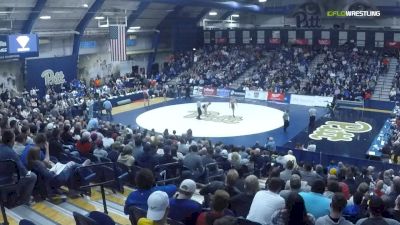 Gavin Teasdale will be leaving the Penn State wrestling program according to head coach Cael Sanderson.
The big news was dropped today in Sanderson's weekly media availability. Sanderson is quoted in the Daily Collegian saying:
Gavin is not gonna be on our team, he's being removed the roster probably right now or today, so don't expect to see Gavin. We obviously wish him well and expect him to transfer.
Video of the announcement was captured by Onward State, posted in the tweet below:
JUST IN: @pennstateWREST freshman Gavin Teasdale is leaving the program for the second time this season. pic.twitter.com/WhhAqVPZde

— Onward State (@OnwardState) January 22, 2019
A four-time Pennsylvanian state champion, Gavin Teasdale originally verballed to the University of Iowa before changing his mind and eventually signing with the Nittany Lions. Teasdale never took the mat for Penn State this season, either attached or unattached.
Teasdale's time in Happy Valley has been anything but smooth. In November of 2018, Gavin tweeted that he had left the program for health reasons. Only a few weeks later it appeared Gavin could be back competing for the Nittany Lions in the Southern Scuffle. And indeed, at one point Teasdale was registered to wrestle in the Scuffle, although he ultimately did not participate in the New Year's Day tournament.
Teasdale is no longer listed on Penn State's roster.