2018 Iowa State vs Iowa | Big Ten Wrestling
Iowa State at #3 Iowa: Intrastate Rivalry Live On Flo This Saturday
Iowa State at #3 Iowa: Intrastate Rivalry Live On Flo This Saturday
Dual preview for this Saturday's renewal of the Cy-Hawk series as Iowa State wrestles #3 Iowa at Carver-Hawkeye Arena.
Nov 29, 2018
by Wrestling Nomad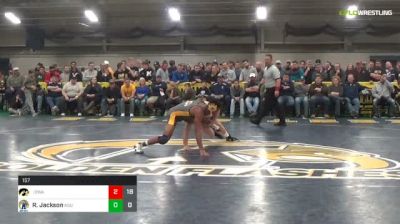 Unlock this article, live events, and more with a subscription!
Get Started
Already a subscriber? Log In
This Saturday in Iowa City, the Hawkeyes meet the Cyclones for the 83rd time. For your viewing pleasure, it will be live on Flo starting at 2:00pm central time.
Iowa leads the all time series 64-16-2 over Iowa State, having won the last 14 in a row dating back to the 2005-06 season. A baker's dozen of those have come under Tom Brands, standing at 13-0 against ISU during his tenure. His counterpart Kevin Dresser will be head coach for the second time in the Cy-Hawk series.
Watch Iowa State at Iowa Live on Flo
Sat. Dec. 1 | 2:00PM Central
The last time Iowa State beat Iowa was December 5, 2004. The #1 song in the country at the time was "My Boo" by Usher and Alicia Keys, and the highest-grossing movie that week was "National Treasure." Wonder if Nicolas Cage is a wrestling fan?
After a lengthy discussion on FRL 334 about what Iowa's lineup could look like, they threw us a bit of a curveball on their usual media Tuesday with the projected starters for the dual.
Iowa's Projected Starters
125: #1 Spencer Lee OR Perez Perez
133: #9 Austin DeSanto
141: #17 Max Murin
149: #7 Pat Lugo OR Carter Happel
157: #15 Kaleb Young
165: #4 Alex Marinelli
174: Myles Wilson
184: #12 Cash Wilcke OR Mitch Bowman
197: #11 Jacob Warner
285: Aaron Costello
In his usual Tuesday press conference, coach Brands made it sound like the Hawkeyes would feature a similar lineup to the one we saw in the Purdue match. But he also didn't offer specifics, likely wanting to leave open the possibility that several of his charges would wrestle. That means Spencer Lee and Pat Lugo are listed as "or" possibilities, but Jacob Warner is listed as the only option at 197.
One thing's for sure, Michael Kemerer is done for the year. That means Myles Wilson for now, but Mitch Bowman is certified at 174 and based on what he weighed last week appears to be on the descent down there. Since he is listed as an "or" option at 184, it's still possible he or Wilcke bumps and Warner delays the start to his season. Aaron Costello was again listed as the starter at heavyweight, so still not sure when we'll see #1 Sam Stoll.
The new Iowa State staff has a better looking team in year two than they had in year one, but right now only two of their starters are ranked. However, both Austin Gomez and Ian Parker could very well work their way into the rankings, and it's not hard to find people who are optimistic about Marcus Coleman. Let's look at their probable starters and then break down the matchups.
Iowa State Projected Lineup
125: Alex Mackall
133: Austin Gomez
141: Ian Parker
149: #14 Jarrett Degen
157: Chase Straw
165: Brady Jennings or Skyler St. John
174: Marcus Coleman
184: Sam Colbray or Danny Bush or Joel Shapiro
197: #5 Willie Miklus
285: Gannon Gremmel or Francis Duggan
Look, a lot of Iowa State's ability to win this dual depends on if Spencer Lee wrestles. Based on Perez Perez being listed as an option, plus what Brands said in his presser, it's maybe 50/50 that he does. If not, Mackall is favored to win over Perez, possibly even by major. If it's Lee, tack on 5 or 6 for the home team.
While Gomez isn't ranked right now, that's got much more to do with the quality of competition he's faced than anything to do with his talent level. He was a higher rated prospect than DeSanto coming out of high school, and won the Junior world team spot this summer. That being said, it's the first high level guy he's faced in college, and it's in Carver-Hawkeye. What's perhaps most fascinating about this match is that Gomez has fallen behind early a few times, something that DeSanto thrives on, putting guys in a big hole in the first period.
Heading into 141, it's honestly a coin flip what the team score looks like. One team taking the first two matches or them being split all seem like equal possibilities. Murin is the favorite, and I feel like gets a little boost for being in CHA, but Parker also knocked off Dean Heil, so he could pull an upset.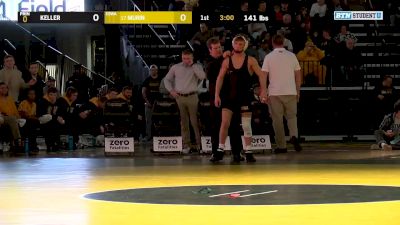 Unlock this video, live events, and more with a subscription!
Get Started
Already a subscriber? Log In
Just like at the first weight, 149 is largely dependent on who Iowa sends out. If it's Lugo, the Hawkeyes are favored. If it's Happel, Jarrett Degen will be expected to win. That means Iowa State has a chance at taking the first four weights. An off chance, unlikely because of how many variables there are, but there's a path for ISU to be up.
At 157 and 165, the Black & Gold very clearly are favored, probably even to the tune of bonus points. Getting double digits from Young and Marinelli might put Iowa in position to put the dual out of reach.
If Lugo and Lee are the biggest personnel decisions, then 133 is the biggest swing match and 174 is the Cyclones' best chance at bonus. Myles Wilson was majored by unranked Travis Stefanik but only lost 7-3 to #15 Dylan Lydy of Purdue. Coleman is clearly favored, and there's always the concern of Carver Magic for an upset, but more likely the crowd will have to help Wilson keep it close.
It's hard to talk about 184 without simultaneously speaking about 197. Despite being on his way down to 174, Mitch Bowman beat then #10 Christian Brunner 7-5 in the Purdue dual. That doesn't mean he'll beat Willie Miklus, but it might make you feel more comfortable about bumping him. Now, Warner beat Miklus 16-7 at last year's Lindenwood Open, and he's listed as the only probable starter at 197, but he hasn't wrestled yet, so I'm leaving open the option that Wilcke goes 184 and Bowman bumps to face Miklus.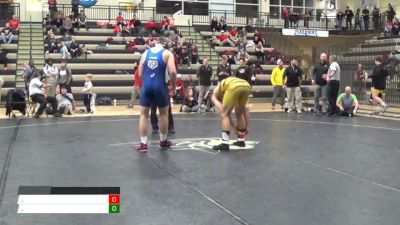 Unlock this video, live events, and more with a subscription!
Get Started
Already a subscriber? Log In
Lastly will be Gannon Gremmel against Aaron Costello. The two met three times during Gremmel's senior season in 2016; the Cyclone won twice by pin and also got a 12-0 major. That doesn't guarantee bonus points now, but it certainly shouldn't make Hawkeye fans feel good heading into heavyweight.
With several starters out for the Hawkeyes, this one could end up being a 5-5 match split, but Iowa should get more bonus. More likely it'll fall 6-4 or even 7-3, but the Cyclones are going to make the CHA crowd sweat this one out. The average Iowa State dual in the Brands era has been roughly 25-10, though this one should wind up a bit closer than that.