2018 Iowa State vs Iowa | Big Ten Wrestling
What's Going On With Iowa's Lineup?
What's Going On With Iowa's Lineup?
Iowa head coach Tom Brands says to expect half their lineup out for the near term, so what's going on with the Hawkeye lineup?
Nov 26, 2018
by Wrestling Nomad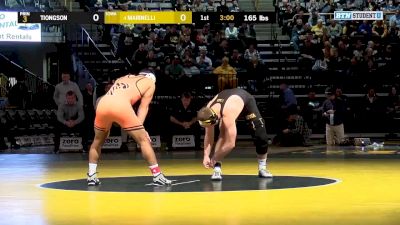 Unlock this article, live events, and more with a subscription!
Get Started
Already a subscriber? Log In
Every single one of Iowa's starters are ranked, an impressive feat that is rarely seen in college wrestling. All 10 guys, up and down the roster, in the Top-20 of their weight class.
But what's it look like when half of the lineup is out? It looks like the squad the Hawkeyes rolled out against Purdue, which still cruised to a 26-9 victory.
In the post-match press conference, head coach Tom Brands seemed to indicate this wouldn't be a one-time deal, either:
We're gonna rely on these guys for the near term. I mean, that's the lineup you're gonna see. And we gotta be making hay with that lineup.
So, what's going on with Iowa's lineup?
Looking at our team rankings, which is just taking the individual rankings, applying team points for NCAAs (minus bonus) and adding them up, the Hawkeyes are third with 76 points. Take out the five starters who didn't wrestle against Purdue though, and that number falls to 18.5, dropping them out of the Top-20. Let's take a look at who makes up those 57.5 points.
Their top-ranked heavyweight has yet to wrestle this season after suffering a gunshot wound to his knee in September. There's no timetable for when Sam Stoll will make his return, likely an area of concern as he is the highest returning placer at 285lbs, and a senior.
Likewise, #6 Michael Kemerer has not appeared in a match, which should worry some fans as he has to adjust to competing up two weight classes. There's nothing to suggest he won't be successful at 174, but plenty of guys need time to get their bodies used to the new weight, something that becomes increasingly hard the more time he misses.
Watch Iowa State vs Iowa Live on Flo
Sat. Dec. 1 | 2:00PM Central
Fans are still waiting for stud freshman Jacob Warner to make his varsity debut after redshirting last season. Coach Brands said on multiple occasions Warner would for sure be going against Purdue, but he was once again held out in favor of Mitch Bowman. It's unclear if we'll see him this week against Iowa State.
Spencer Lee didn't have his redshirt pulled until January last season, so the Black & Gold faithful may be more lenient if he's missing some time, given that he'll be expected to score at least 25 points at NCAAs. But then again, season ticket holders and Carver faithful will be upset at two consecutive home duals without the most popular wrestler in Iowa City since Brent Metcalf.
Lastly is Pat Lugo, the Edinboro transfer who currently stands at 1-2. Like the rest of the starters who missed the dual against the Boilermakers, the reasons given were vague and there's a lot of hearsay floating around. College coaches are not required to disclose why their athletes miss competition, especially if it is medical related, but there's only two duals left before the meatgrinder that is Midlands. That means only two more opportunities to get wins of any kind and possibly pick up some momentum before the annual trip to Illinois after Christmas.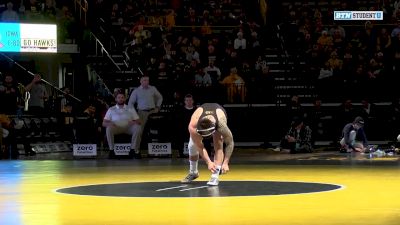 Iowa will have its usual media day on Tuesday, after which we'll have comments from coach Brands and a lineup of probable starters. Coming shortly after will be a breakdown of the dual and how they stack up against the Cyclones if five starters are once again expected to be out.