2018 Super 32 Challenge
Revenge Matches That Can Happen At Super 32
Revenge Matches That Can Happen At Super 32
High profile evenge matches that can happen at Super 32, some from last year's tournament and a few from different events since then.
Oct 24, 2018
by Oliver Astone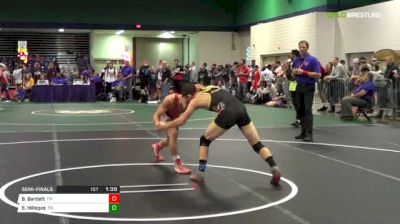 Out here looking for revenge… all Super 32 (Drake voice)
Each year, hundreds of wrestlers come to Greensboro, NC chasing the dream of winning a Super 32 belt. Only one wrestler per weight accomplishes that goal, leaving everyone else wishing for another chance next year. Well "next year" is finally here, and these guys now have an opportunity to get revenge over the guy who crushed their Super 32 dreams.
Oct. 27-28 | 8:00 AM Eastern
Below are four wrestlers seeking to avenge a loss from deep in last year's tournament, as well as a few looking to score back a win from events besides Super 32.
126: #3 Adam Busiello, NY vs #4 Travis Ford-Melton, IL
Adam Busiello is Mr. Super 32. If Worlds were held in the Greensboro Coliseum I might pick Busiello because all he he does is win in that building. If you count middle school Super 32 titles, Busiello has brought the belt back to Long Island six straight times. With that being said, Travis Ford-Melton pushed Busiello to the brink last year when they went into overtime in the 120lb finals. In sudden victory, when it mattered the most, Mr. Super 32 showed up, and hit a beautiful super duck to win 4-2. Tune in this weekend to see if Busiello can make history and win his 4th straight high school Super 32 title, or if Ford-Melton repeats his performance from the Fargo 2016 semis and spoils Busiello's last trip to Greensboro.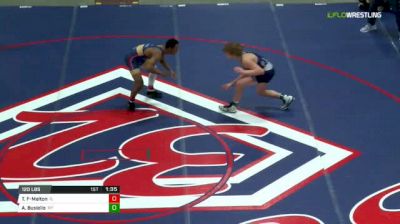 132: #4 Beau Bartlett, AZ vs #7 Sam Hillegas, PA
These two met in the 126lb semi-finals at Super 32 last year and it was Beau the pro coming out on top to punch his ticket to the finals. Hillegas had his shot at redemption when they met again in the semifinals at Powerade, but this match was almost identical to their meeting at Super 32. Beau was able to use great movement on bottom to nullify Hillegas' strong riding ability and get reversals. While on top, Beau was able to put in tough rides of his own to get the wins at both major tournaments. If these two meet again it will be interesting to see if Hillegas will be able to escape from bottom, and if either guy can finally get a takedown against the other.
170: #5 Patrick Kennedy, MN vs #9 Christopher Foca, NJ
The returning finalists at 170 are back at the same weight and in this case, it's the Red Nose Wrestler, Christopher Foca, who's going to be looking for revenge if these two cross paths again at Super 32. Not only did Kennedy come out on top in the Super 32 finals, but Kennedy was able to get the win again when they battled it out in the Round of 16 in Akron. Foca better be in good shape if he's looking for redemption, in both these matches, Foca comes out firing but couldn't keep up with Kennedy's pace. Will Foca get his shot for revenge, or is it going to be Kennedy cooking up another Super 32 title?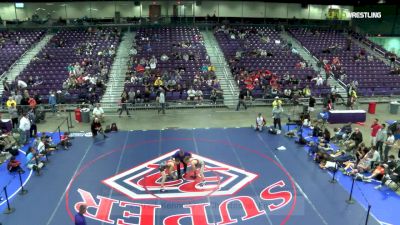 Unlock this video, live events, and more with a subscription!
Get Started
Already a subscriber? Log In
120: #17 Anthony Clark, NJ vs #20 Dylan Cedeno, NJ
These two jersey boys collided in the consolation bracket last year. The loss had some extra sting in it since it was the placement round with the winner getting a spot on the podium and the loser going home empty handed. It was a tightly contested bout but it was Clark who was able to seal the deal with a takedown and rideout to get the win and go on to take 5th. Clark is Willie's pick to take third in his Super 32 preview, but I bet Cedeno has his eye on Clark and would love to return the favor of spoiling his Super 32 dreams.
Some other high profile matches that didn't happen at Super 32, but still burn in the mind of the person who lost are below (winner on the left).
106: #9 Jordan Williams, OK vs #10 Stevo Poulin, NY (Akron R16 & Fargo Semis)
113: #1 Greg Diakomihalis, NY vs #3 Cullan Schriever, IA (Akron consi semis)
120: #10 Nic Bouzakis, FL vs #11 Ryan Sullivan, PA (Powerade Semis & Journeymen Finals)
152: #3 Connor Brady, OH vs #5 Thayne Lawrence, PA (Journeymen Fall Classic)
220: Yaraslau Slavikouski, MA vs #1 Braxton Amos, WV (Journeymen World Classic)