Daniel Gregory Kerkvliet Will Not Wrestle At Junior Worlds
Daniel Gregory Kerkvliet Will Not Wrestle At Junior Worlds
Daniel Gregory Kerkvliet will not be competing at the upcoming junior world championships.
Sep 10, 2018
by Wrestling Nomad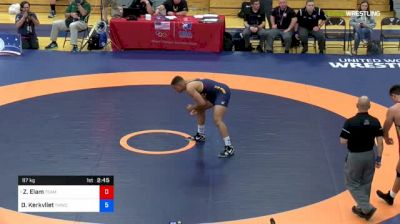 The nation's top-ranked senior will not compete at the upcoming Junior world championships. Daniel Gregory Kerkvliet will be replaced by Zach Elam at 97kg for team USA.
This is the second replacement on this year's men's freestyle team, as Josh Saunders has already been slotted in for the injured Austin Gomez.
Below is the release from USA Wrestling.
COLORADO SPRINGS, Colo. – 2017 Cadet World champion Daniel Greg Kerkvliet will miss the 2018 Junior World Championships after sustaining a recent injury. Kerkvliet was slated to suit up for the U.S. at 97 kg/213 lbs.
After winning a gold medal on the Cadet World stage last summer, Kerkvliet recently represented the United States once again at the 2018 Cadet World Championships in Zagreb, Croatia, in July, where he finished with a silver medal.
Taking Kerkvliet's place at Junior World is World Team Trials runner-up Zach Elam. A freshman at Mizzou, Elam is a 2017 Junior Freestyle national champion and finished second at the UWW Junior Freestyle Nationals in Las Vegas in April.
The Junior World Championships are set for Sept. 17-22 in Trnava, Slovakia.