2018 NCAA Championships
What Does Penn State Have To Do To Win?
What Does Penn State Have To Do To Win?
Does Penn State have the 2018 NCAA wrestling tournament sewn up, or can Ohio State still win?
Mar 17, 2018
by Wrestling Nomad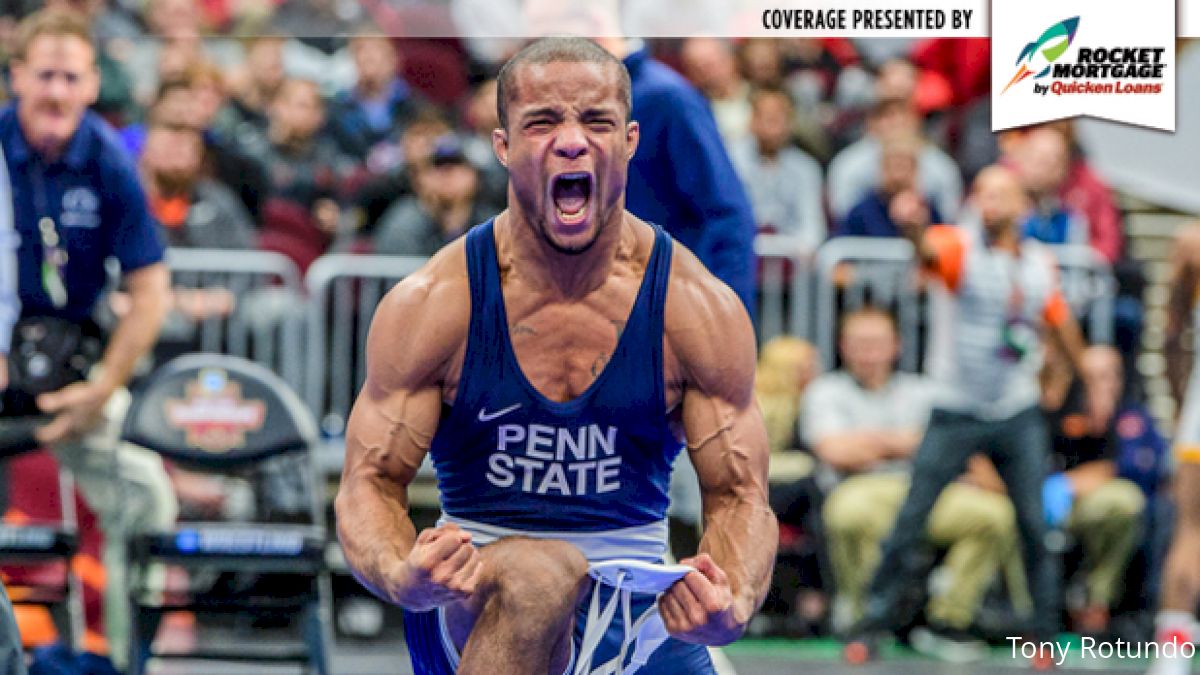 Heading into the finals of the 2018 NCAA championships, Ohio State holds a 130.5 to 124.5 lead over Penn State in the team race. Ohio State has two finalists to Penn State's five, with one head-to-head at 184 pounds.
The six point lead for the Buckeyes does not mean they control their own destiny. Even if the Nittany Lions lose at 184, they can still decide their own fate. That win at 184 would put tOSU between 134.5 and 136.5 points. PSU could still hit 148.5 if their first four finalists get pins.
Maximum Potential Points
Penn State 154.5
Ohio State 140.5
Likely, neither of those totals will be reached, but it does give us a good idea that both teams can win the title. Every win in the finals is worth four team points, plus any bonus.
There are a myriad different options, but let's focus on just a few scenarios. If Ohio State wins by decision at 184 and 285, they'd hit 138.5 points. If Penn State were to win by decisions at the other four weights, they'd hit 140.5 points.
Obviously, no Penn State wins means Ohio State is your champ. But they're favored at 149, 157, and 184, and both 165 and 174 beat their opponents in last year's NCAA tournament. A single Penn State win puts them between 128.5 and 130.5 points. So realistically, Penn State needs two wins at the minimum, and likely three with bonus would do it.
The finals are starting at 125, so the worst case scenario for the Buckeyes is that the Nittany Lions max out Ohio State before Myles Martin even wrestles. They need 143 to win, so three pins gives them 142.5 points. That would force the Buckeyes to have to pin in both of their finals. Additionally, if all four Penn Staters win from 149 to 174, that means Ohio State has to bonus in their two finals.
The most compelling scenario involves Martin winning by decision over Nickal after two decisions and a major by Penn State. That gives Ohio State 134.5 heading into Kyle Snyder's final career match, needing a win to overtake PSU's 137.5.
Tonight's finals begin at 8pm eastern time.
Finals Order
125: #1 Nick Suriano (Rutgers) vs #3 Spencer Lee (Iowa)
133: #1 Seth Gross (South Dakota State) vs #2 Stevan Micic (Michigan)
141: #1 Bryce Meredith (Wyoming) vs #3 Yianni Diakomihalis (Cornell)
149: #1 Zain Retherford (Penn State) vs #15 Ronnie Perry (Lock Haven)
157: #1 Jason Nolf (Penn State) vs #2 Hayden Hidlay (NC State)
165: #1 Isaiah Martinez (Illinois) vs #2 Vincenzo Joseph (Penn State)
174: #1 Zahid Valencia (Arizona State) vs #2 Mark Hall (Penn State)
184: #1 Bo Nickal (Penn State) vs #2 Myles Martin (Ohio State)
197: #3 Jared Haught (Virginia Tech) vs #4 Michael Macchiavello (NC State)
285: #1 Kyle Snyder (Ohio State) vs #2 Adam Coon (Michigan)