New look, same ol' dominance.
Gone are the days of Gabe Dean rocking the red singlet with the Cornell "C" on it. However, the new-look Big Red are still crushing opponents and eyeing another EIWA title behind their dynamic trio of Yianni Diakomihalis, Ben Darmstadt, and Max Dean at next weekend's conference tournament at Hofstra University in Hempstead, New York.
DATE: March 3-4 | TIME: 11 AM ET | WHERE: Hofstra University
A true freshman, Diakomihalis came into his first NCAA season with big expectations, and so far the two-time Cadet world champ and #3-ranked wrestler at 141 pounds has lived up to the hype.
In just his first year, his resume already includes some big-time wins, most notably a CKLV semifinal triumph over current #1 Bryce Meredith. That victory propelled Diakomihalis to the finals, where he took out Josh Albert to win it all.
Watch Yianni D and Bryce Meredith in a wild semifinal at CKLV: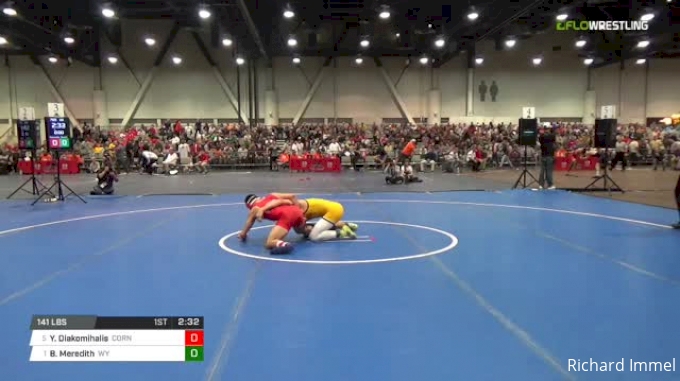 Unlock this video, live events, and more with a subscription

! Get Started

Already a subscriber? Log In
Yianni D's one blemish of the season came against returning All-American and the dominantly unpredictable Jaydin Eierman, whom Diakomihalis was beating until very late in the match. In a stacked weight class, the youngster is a serious title contender and has powered Cornell to the top of the conference once again.
But obviously he hasn't done it alone. Darmstadt, the top-ranked wrestler at 197 pounds, also brings a slew of bonus points. Behind his deadly combination of an assassin and a crossface cradle, the redshirt freshman enters the EIWA tournament at 27-1 with 16 pins this season. His lone loss came in November and has since been avenged. Darmstadt has recorded bonus points in 24 of his 27 wins and has gone over two months without dropping a match.
Cornell's third conference contender is the man ruling the 184-pound spot for the Big Red. It might not be Gabe, but it is still being run by Dean — Max, that is. With 26 wins against just two losses, Max is hoping to keep the EIWA title in the family for another year.
At a collective 75-4, these three young guys all average over a 93 percent winning percentage and are looking to make sure Cornell's firm grasp on the conference doesn't start slipping away. With Lehigh returning to full strength, the Mountain Hawks are a threat to stop the Big Red's multi-year streak.
So the law firm of Dean, Darmstadt, and Diakomihalis better keep their love for bonus points burning if their team is going to claim another title.