Featuring three wrestlers ranked in the top 10, the 133-pound weight class is set to be one of the most hotly contested brackets at next month's EIWA Championships.
Drexel true freshman Austin DeSanto should come in as the top seed, with NCAA qualifiers Josh Terao of American and Lehigh's Scott Parker checking in at the two and three spots for the conference tournament, which runs takes place March 3-4 at Hofstra University in Hempstead, New York.
DATE: March 3-4 | TIME: 11 AM ET | WHERE: Hofstra University
DeSanto, ranked fifth in the country, has some seriously wild stats this season. The Pennsylvania state champion has 10 technical falls, with six coming in the first-period, four of those are under two minutes and one in just 58 seconds.
DeSanto's 58-second tech: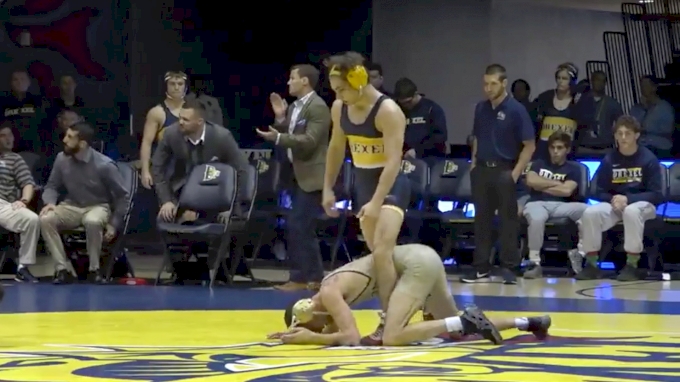 DeSanto and Terao, who is currently ranked 10th, met recently in a 22-point overtime thriller that was ultimately won by DeSanto, 12-10.
However, the big story here is the match that has yet to happen. When Lehigh visited Drexel for a dual meet, the ninth-ranked Parker didn't wrestle and DeSanto took out his frustration on Nick Farro to the tune of a 22-6 first-period tech. As DeSanto left the mat he shot a stare at Parker sitting on the Mountain Hawks' bench.
Check out highlights from the match below. Go to the 11-second mark for the clip of DeSanto's staredown.
Thank you for everyone who came out this evening! The atmosphere was amazing! pic.twitter.com/4WmiOAoMPz

— DrexelWrestling (@DrexelWrestling) December 11, 2017
Between Desanto's high-octane pace, Terao unorthodox style, and Parker's battle-tested grit, this weight class is going to have some heat at EIWAs.