The second event on our phenomenal slate of October events is Night of Conflict 3. This Friday at legendary Carver-Hawkeye Arena in Iowa City, Iowa, fans will get to see 11 excellent matchups.

While we firmly believe the card as a whole is solid, we wanted to highlight a few matches that stick out to to us.

Wrestling starts at 7 PM CST, and you can watch live HERE.


160: No. 3 Peyton Robb (MN) vs. No. 5 Andrew Merola (NJ)
It should be noted Robb is coming up a weight, as he is ranked third at 152 pounds, the same weight in which he was third in Fargo in freestyle and first in Greco. This is a match
we didn't think we'd see
two years ago, when Robb was a 120lb sophomore and Merola was 145lbs.
There's certainly a difference in Merola's offensive output between folkstyle and freestyle, and like most Blair wrestlers, makes it just about impossible to get out when he's on top. That may have to be the game plan for Merola, as we have seen Robb get ridden out before, for example against Quinn Kinner last year at Super 32.

Merola may have trouble finishing his double against Robb. Being trained by Brandon Paulson and Jared Lawrence gives Robb a leg up on most when it comes to two-on-ones and underhooks, but slowing down the pace plays into Merola's hands. I think Merola will want a scoreless first or a late takedown so that he can try to force Robb to shoot in volume and work his go behind. I really like Robb as a prospect and think he's going to be an absolute stud in college, but Merola is built for these types of matches. Merola 4-3.
113: No. 3 Matthew Ramos (IL) vs. No. 13 Caleb Rathjen (IA)
Much like Larry Early against Joe Smith a few years ago at Who's #1, Ramos is looking to
complete a sweep
of Rathjen in all three styles. It's hard to take much from their Greco match, but their Fargo quarterfinal in cadet freestyle should give us a better idea of how this match will play out.
Rathjen is built similarly to Julian Tagg, tall and skinny for a 113-pounder. His cleanest finish was a low single that he brought up to his feet against Ramos. As for the Illinois junior, he seems to be a little stronger and more positionally sound, and will need to run through his doubles like he did for his first four points at Fargo, and finish his singles to the mat to keep the freshman on his heels.
Rathjen is No. 17 on the
freshman big board
, and Ramos has been a Fargo runner-up in cadet freestyle the past two years. In the second match of the night, I like Rathjen to pull the upset, two takedowns to one, 6-5 final.
106: No. 5 Jeremiah Reno (MO) vs. No. 9 Cullan Schriever (IA)
A pair of Fargo champs square off right after the Merola/Robb match. Reno did a great job of getting to Schriever's legs in their
semifinal match
in Akron. Reno has always been a little bigger, but Schriever appears to be a full-sized 106 now in his sophomore year.
The undefeated Missouri state champ is more the brawler of the two, a hard hand fighter who likes a heavy pace. That may have been a bigger concern earlier in the summer, when Schriever was battling some injuries that clearly seemed to impact him as he took losses at Folkstyle Nationals and Fargo. However, a third two-minute period may give Reno the edge he needs.

Schriever likes to play the edge sometimes, which gets him in trouble often in freestyle, and will come into play tomorrow night, as they have a stepout rule at NOC. Although Schriever has a slick swing single and is quick with go behinds, Reno should once again be able to fight through his head hands defense and get the 5-2 win.
195: No. 4 Brandon Whitman (MI) vs. No. 5 Joel Shapiro (IA)
The
final match of the night
pits UNC commit Whitman against future Iowa State Cyclone Joel Shapiro. These two
met in Fargo
back in July, and there's not a lot of tape that favors Shapiro from it.
Whitman finishes three takedowns very cleanly, and uses three different techniques. The first is a snapdown go-behind, the second is an underhook to a knee pick, and the anklepick to sweep single you can see below.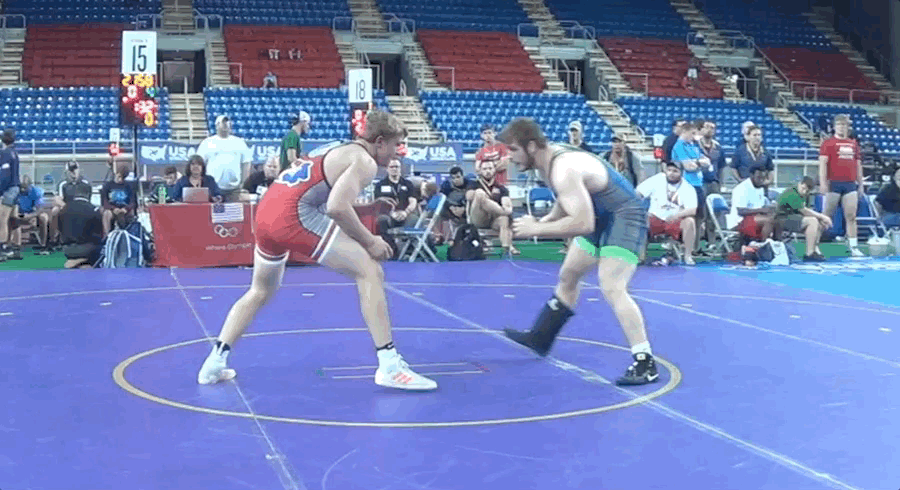 With home state advantage though, and after a few months off with rest, Shapiro should be able to keep this one closer. Give me Whitman 8-5.
Night Of Conflict 3 Match Order
138:
No. 18 Luke Kemerer (PA) vs Cade DeVos (IA)
113:
No. 3 Matt Ramos (IL) vs No. 13 Caleb Rathjen (IA)
132:
No. 7 Malik Johnson (MO) vs Drew Bennett (IA)
115:
No. 5 Carly Valleroy (MO) vs No. 7 Felicity Taylor (IA)
126:
No. 10 Jace Koelzer (KS) vs No. 18 Kyle Biscoglia (IA)
142:
No. 3 Malcolm Robinson (NJ) vs No. 20 Michael Blockhus (IA)
106:
No. 5 Jeremiah Reno (MO) vs No. 9 Cullan Schriever (IA)
160:
No. 3 Peyton Robb (MN) vs No. 5 Andrew Merola (NJ)
122:
No. 8 Cody Phippen (MO) vs No. 18 Aden Reeves (IA)
285:
No. 3 Anthony Cassioppi (IL) vs Ronald Tucker (IL)
195:
No. 4 Brandon Whitman(MI) vs No. 5 Joel Shapiro (IA)
Get all of the hottest FloWrestling content!
Sign up for the FloWrestling newsletter for instant access to: breaking news, live events, results, rankings, archived matches and more!