Penn State: Life After Suriano
Penn State: Life After Suriano
Now that Penn State granted Nick Suriano a full transfer release, his chance of returning to Happy Valley are vanishingly small, and it's time to start speculating about what Penn State's 125 pound contingency plan.
Aug 9, 2017
by Andrew Spey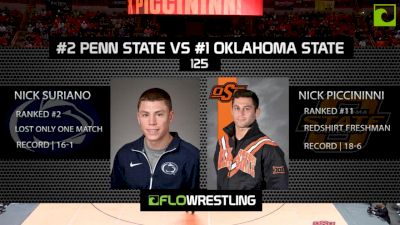 Now that Penn State has granted
Nick Suriano
a full transfer release
, his chance of returning to Happy Valley is vanishingly small. Given that it's nearly certain that
the Nittany Lions will be without the services of Suriano next year
, it's time to start speculating about PSU's 125-pound contingency plan.
Penn State has four 125-pounders currently listed on its roster: junior
Kenneth Yanovich
, sophomore
Patrick Higgins
, and two redshirt freshmen in
Justin Lopez
and
Devin Schnupp
.
Yanovich has the best credentials of the quartet, sporting the only winning career record of the bunch with 17 wins against 15 losses. Combined, Higgins, Lopez, and Schnupp have just a 12-23 record in four seasons.
Yanovich also has the most experience, with more total matches and seasons in a Division I wrestling room. Yanovich didn't wrestle any matches in the 2016-17 season, however, so it remains to be seen if he will be healthy and ready to go when the fall rolls around.
Penn State also has two 133-pounders on its roster who have wrestled down at 125 during their true freshman years in junior
George Carpenter
and senior
Corey Keener
, the latter having recently transfered from Central Michigan.
Keener has more accolades, coming off back-to-back NCAA tournament-qualifying, 20-win seasons, whereas Carpenter has yet to wrestle at the NCAAs and has a lifetime record of 10-31 in three seasons of competition. The cut down to 125 may be out of reach for either or both wrestlers, however. The last time Keener made 125 was in March 2014, while Carpenter's last match at 125 was in January 2015.
Head coach Cael Sanderson and company could also make a late addition to the roster, through either a transfer or from recruiting within the campus student body as they did when
Jan Johnson
was drafted from the football team to fill in for a injured
Nick Nevills
at heavyweight.
Though they won't be on the team in time to assist this season, incoming recruits
Gavin Teasdale
​and
Roman Bravo-Young
could be options for the 2018-19 season and beyond. While
both recruits currently project
as 133-pounders (or higher), Teasdale recently tweeted that the team and the Nittany Lions faithful need not be concerned no matter what roster changes occur.
No matter who leaves @RomanBravoYoung and I will get the job done

— Gavin Teasdale (@Teasdale_Gavin) August 8, 2017
Looking at the bigger picture, Suriano's departure potentially frees up some scholarship money to land more blue-chippers. Though Penn State has proved more adept at reeling in highly rated commitments than perhaps any school in recent memory, those extra scholarship dollars could come in handy with a talent such as
Joey McKenna
currently still looking for a new home.
Ultimately, it's doubtful the reigning NCAA team champion is going to lose its juggernaut status anytime soon. With five returning individual champions, the Nittany Lions still have more than enough
returning points
to be considered the heavy favorites next season, with or without Suriano.
Get all of the hottest FloWrestling content!
Sign up for the FloWrestling newsletter for instant access to: breaking news, live events, results, rankings, archived matches and more!