2017 Last Chance Trials Qualifier
Looking Back And Forward At 86kg
Looking Back And Forward At 86kg
Looking back at the U.S. Open at 86kg and ahead to the World Team Trials in Lincoln
May 14, 2017
by Wrestling Nomad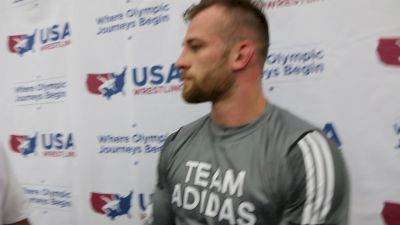 It was nearly impossible to fully process every aspect of the
2017 U.S. Open
as it was happening in Las Vegas. There were so many upsets and incredible matches, fascinating storylines playing out, and goals being accomplished.
A couple weeks later and with a clear head, it's time to glance back at the Open, what it meant for each weight, and also look forward to
World Team Trials
in Lincoln, Nebraska, on June 10th.
The Series So Far:
57kg
|
61kg
|
65kg
|
70kg
|
74kg
We're now up to 86kg, going over Open
results
, listing current trials
qualifiers
, and projecting the seeds. Complete brackets and archived matches for the Open can be found on
FloArena
.
86kg Trials Qualifiers
J'Den Cox - Bye to finals
David Taylor - Open champ
Richard Perry - Open runner-up
Nick Heflin - Open 3rd
Bo Nickal - Open 4th
Pat Downey - Open 5th
Kyle Crutchmer - Open 6th
Gabe Dean - Open 7th
Austin Trotman - Bill Farrell champ
Josh Asper - Dave Schultz placer
There are few wrestlers in the world, let alone stateside, wrestling as well as
David Taylor
right now. He has been picking up wins over Olympic, world and continental medalists left and right, but still has one final hurdle to make his first senior world team: beating
J'Den Cox
.
An argument could be made that the Cox/Taylor series may be even more highly anticipated than another Dake/Burroughs final, since we've already seen that one. Last year, Cox shocked the world by winning the Olympic Team Trials as the 9 seed, and then went on to win a bronze medal in Rio.
It took him about a year, but it appears Taylor is finally strong enough to compete at 86kg, and perhaps even more importantly, his cardio caught up with where it was when he was in college. His ability to continue attacking and wrestle through positions has allowed him to overwhelm his recent competition. If he can do the same to Cox remains to be seen.

Last year,
J'Den
wrestled at Beat the Streets. This Wednesday, we'll get one more look at David Taylor. This will be Taylor's fourth time wresting in a BTS event, and he has yet to lose so far.
Two guys hoping to spoil to Cox/Taylor show are Rich Perry and Nick Heflin. Both are massive for the weight and are not afraid to go for big upperbody throws. Perry will be the two seed behind Taylor, with Heflin slotting in as the three, setting up one of the more entertaining semis of the challenge tournament.
Heflin will of course try to force Perry into double overs, which means Perry may have to force some quick shots to keep Heflin on the defensive. If Helfin shoots a high crotch, he'll need to drive through because Perry has some of the quickest counters of any wrestler in this field. It seems destined that whichever wrestlers gets a four first will be in the finals.

NCAA champ Bo Nickal will come in as the four seed, having lost to both Perry and Heflin but earning wins over Timmy McCall and Pat Downey. No longer junior eligible and coming up from being a 174 last year in college, Nickal has room to grow both physically and in cleaning up his attacks for freestyle.
Pat Downey came in unseeded but wound up beating five All Americans on his way to fifth place and the likely five seed in Lincoln. His 7-6 win over Gabe Dean was one of the most talked about matches of the weekend. He did run into some trouble against the Nittany Lion WC, getting teched by both David Taylor and Bo Nickal. He will need to make adjustments from his consi semi match against Bo Nickal, as it seems this will be a first round match at WTT.
Kyle Crutchmer looked surprisingly big for this weight considering he was a 174 this season at Oklahoma State. He nearly sent Gabe Dean through a table with a blast double at the start of their match, and beat a pair of All Americans in Tim Dudley and Vic Avery. In his first round match with Perry at the trials, he'll need to avoid the same lat drop that got him pinned in Vegas against Heflin.
Rounding out the placers from Vegas is Gabe Dean, who hadn't wrestled freestyle in three years. Perhaps his most impressive win was over Austin Trotman, who came in as the three seed. He'll have to start off Nick Heflin, who he lost to 6-3 at the Open. Trotman had a strong season coming into Vegas, but greatly hurt his seed by not placing at the Open.
Josh Asper already qualified for the trials, but took a loss to TJ Dudley in Vegas. Looking towards the last chance qualifier, Dudley is the favorite to qualify, as he already has a win over Asper, and Timmy McCall appears ready to bump to 97kg in Minnesota. Also in the mix are Vic Avery and Pete Renda.

WTT Projected Seeds
J'Den Cox - bye to finals
David Taylor

Rich Perry

Nick Heflin

Bo Nickal

Pat Downey III

Gabe Dean

Kyle Crutchmer

Austin Trotman

Josh Asper

TJ Dudley