Iowa Hawkeyes Bracket And Draws Breakdown
Iowa Hawkeyes Bracket And Draws Breakdown
The Iowa Hawkeyes are looking to get back on the top of the heap at the NCAA Championships for the first time since 2010. Iowa brings nine to St. Louis on Thursday.
Mar 14, 2017
by Christian Pyles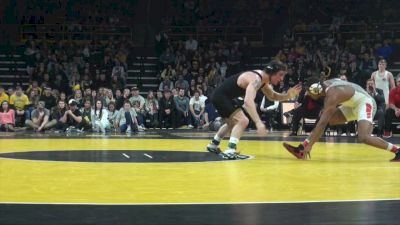 Penn State Bracket Breakdown
|
Oklahoma State Bracket Breakdown
|
Ohio State Bracket Breakdown
|
Ranked Higher In College Than In High School
|
Updated Hodge Rankings

The Iowa Hawkeyes are looking to get back on the top of the heap at the NCAA Championships for the first time since 2010. Iowa brings nine to St. Louis on Thursday, and the Hawkeyes will be leaning heavily on their big guns: Thomas Gilman, Cory Clark, Brandon Sorensen, Michael Kemerer, and Sammy Brooks.
2017 NCAA Wrestling Brackets

125 - #1 Thomas Gilman

With 125 being a little thinner than usual, I think Gilman is set to cruise to the finals, no questions asked. Darian Cruz is tough, but I don't know if he can put the requisite ride together that would challenge TG.
In the finals, Gilman is looking at a combination of Joey Dance, Ethan Lizak, or Nick Suriano (health permitting). Dance I believe is the toughest of those matchups. His athleticism and top work (specifically double leg riding) would make life difficult for Gilman. Still, Gilman is the safe pick to win.
133 - #4 Cory Clark

I've said it a few times about this weight already: Seed is more or less irrelevant. It's a deep and even weight. Clark has a fair draw. He'll have Earl Hall in round two, a match that has happened many times and Clark has never faltered. Then he'll have a coin-flip match with Stevan Micic, who is wrestling exceptionally well. If Clark wins there, he will have a coin flip with NATO and then another in the finals. The field is all that close to one another.
If Clark loses in the quarter to Micic, he should be fine against John Erneste in the round of 12 followed by Zane Richards. Honestly, I don't even know the point of going through this. The 133 weight class is nuts 1-8. Clark will need to win three tough matches in a row at some point to win it all, and if he loses, he'll have a long path paved with more coin-flip matches to get third.
141 - Topher Carton

Carton will have a winnable pigtail over Josh Heil then a tough one against George DiCamillo. Assuming the loss there, Carton will likely see a tough Cole Martin and then likely will be eliminated by Luke Pletcher. There's a chance he could get hot and make the round of 12, but Carton's track record says that won't be the case.
149 - #5 Brandon Sorensen

Tough spot for Sorensen out of the five seed. He should have little issue making the quarter, though Sam Speno is no pushover for NC State. Speno's ACC struggles make me think this won't be a potential upset, however. Then we'll have another coin-flip match with Micah Jordan. I think Sorensen wins this one before falling to Zain Retherford in the semis. The loss there will put him against Solomon Chishko or Max Thomsen in the consi semi, then likely Lavion Mayes or Micah for third.
If Sorensen lost in his quarter, he'd need to beat Mayes a round earlier, which could potentially put him in the fifth/sixth match. So getting to the semis will create a much more favorable path to third for Sorensen.
157 - #2 Michael Kemerer

Nobody is feeling great about that Michael Kemerer/Dylan Palacio quarter in Hawkeye land. I think that is set up to be an absolute classic, personally. Palacio has the scrambling ability to make things interesting, but Kemerer's pace and consistent offense should enable him to get the nod.
If he loses to Palacio, Kemerer's path to the consolation semis won't be a huge issue, but he'd likely see either Joe Smith or Tyler Berger in the consolation semis.
Ultimately, I think Palacio is the biggest challenge for Kemerer on that side. I think he makes the NCAA finals before falling to Jason Nolf.
165 - Joey Gunther

The freshman has a winnable first-round bout against Brandon Womack, but it's likely Gunther is not the favorite in this one. If he wins, he'll be sent to the consolations bracket by Isaac Jordan.
Lorenzo De La Riva and Branson Ashworth will likely be Gunther's next opponents before running into Bryce Steiert, who will likely end Gunther's tournament. If Gunther beats Womack, he could have a better draw to the round of 12, but Austin Matthews will likely end that bid as well
174 - #11 Alex Meyer

What does draw analysis mean when it comes to Alex Meyer? I do feel very confident in him beating Austin Dewey, but Ryan Preisch is going to be a real tough customer. All things considered, there could be worse draws for Meyer, as he'd likely see Kyle Crutchmer (whom he has beaten in his career, though not recently) if he somehow beat Preisch.
Ultimately, you have to expect Preisch to beat him. Once in the wrestlebacks, Meyer could find his way to All-American status very reasonably. He'll see Kocer (whom he's beaten), Weatherspoon (whom he's beaten), and then Amine or Ramos in the round of 12.
Meyer is frustrating at times, but remember he lost in round one last year and clawed his way back through a difficult backside to place. He could do it again.
184 - #3 Sammy Brooks

As far as draws at 184 go, Brooks isn't too bad off. He has some really talented guys on the way to the quarters, but I think he beats Nicholas Gravina and Dakota Geer once again. Brooks will then see Myles Martin, whom he's knocked off twice. As good as Martin is, it seems that matchup simply favors Brooks. That said, I'm feeling pretty strong that there's potential for Martin to upset him again Assuming Brooks wins, however, things get even more difficult with Bo Nickal in the semis.
Nickal will likely put him against Zacahry Zavatsky or Nolan Boyd in the consolation semi. From this point on, Brooks is in dog fights as he battles for third or sixth place.
If Brooks were to lose to Martin in that quarter, he'd likely have a round-of-12 bout against Nathan Jackson. That's not fun for anyone. So that quarterfinal victory will be paramount for Brooks.
197 - Cash Wilcke

Wilcke opens with Tom Sleigh of Bucknell. It could be worse for the Iowa freshman, but even a win there will likely see Wilcke sent to the consolations by Jared Haught. Wilcke is looking like an 0-2 candidate, though his first consolation match against Matt Williams is absolutely winnable.
This bracket is weak, and Wilcke's path to round-of-12 status would likely go through Williams, Corey Griego, Malik McDonald, and then Ryan Wolfe. Wilcke is probably not ready to win those matches yet, but that's not a bad path to have.