Olympic Freestyle Weight Classes:
55 KG 60 KG 66 KG 74 KG 84 KG 96 KG 120 KG


From Golden State to London Gold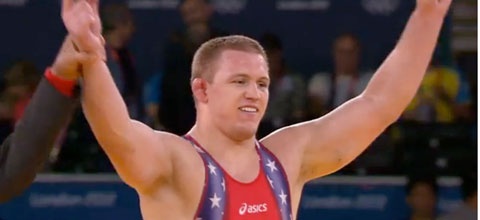 In what was billed as the deepest weight class at the Olympics, American 96kg Freestyler, Jake Varner did the unthinkable.
He won the whole darn thing.
In the last match of the 2012 Olympic Games, Varner dominated Ukrainian Valerii Andretsiiv 1-0, 1-0, using moves that have become familiar to his game: a sweet cross-body ankle pick, and a collar-tie shuck. Varner used the former to score in the first period, and the latter to set up a second period pushout.
In the semi's, Varner beat 3x World Bronze medalist, George Gogshelidze (GEO), who was largely considered the top bracket favorite.
That set up the finals with a young and talented, although unlikely opponent.
Coming up through the ranks, Andretsiiv has been successful at every level. He's won Junior World's and twice been Runner-Up at University World's. In March, he was a European Runner-Up to Gadisov (RUS) and in June won the German Grand Prix.
Andrestiiv navigated an absolutely brutal bracket; one that featured both finalists reigning World finalists, Rezi Yazdani (IRI) and Serhat Balci (TUR), and 2010 World Champ Kehtag Gazyumov (AZE).
Varner capped off a spectular showing by the US Men's Freestyle Team, who won three medals, and placed 5 of 7 in the Top 7. In unofficial team standings, the US finished 3rd with 38pts just behind Russia and Georgia who tied with 40.
On behalf of Flowrestling, congratulations to 2012 Olympic Champion, Jake Varner, Iowa State, the Nittany Lion Wrestling Club, and the Bakersfield, CA wrestling communities.

VARNER GOING FOR GOLD!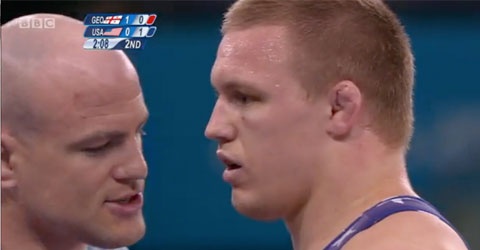 Jake Varner, the 2011 World Bronze medalist, knocked off George Gogshelidze (GEO), who was 3rd in the world the three prior years, in the Olympic semifinals.
In the first period, Gogshelidze was awarded an appreciate point for a correct throw even though he didn't establish control nor did he gain exposure. Varner forced a shot late which Gogshelidze counter for a 2-0 final first period.
The second period went to the clinch with Jake drawing his color and earning the takedown.
Varner was stuck in front head position in the third, and when Gogshelidze attempted an inside trip, Varner countered, established position, and forced a push out.
Final score was 0-2, 1-0, 1-0.
Varner will now wrestle Valerii Andretsiitsev of the Ukraine, a surprise finalist from the absolutely stacked bottom bracket. He was a Silver medalist at both the 2010 Junior World's and this year's European Championships.

Varner To Olympic Semi's !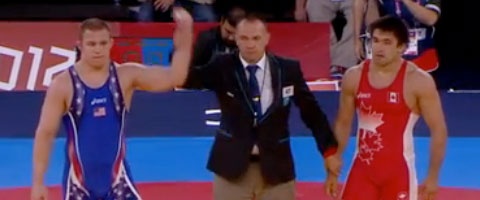 Iowa State National Champion, Jake Varner defeated Canadian Khetag Pliev 1-0, 1-0 to advance to the semifinals Sunday.
Now training at the Nittany Lion Wrestling Club, Varner was in control throughout the bout. In the first period he scored on a sweet ankle pick. In the second he hit a head shuck from standing.
He'll now face Georgian, George Gogshelidze, a Bronze medalist in the 2008 Beijing Olympics, and at both 2009 and 2010 Worlds.


Varner Pushes On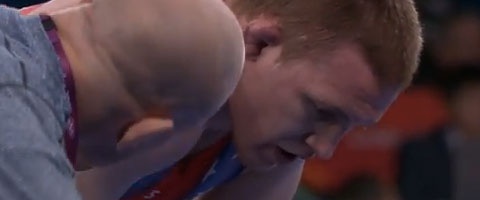 Jake Varner pushed, pulled, and dragged his opponent for six minutes. His Uzbek opponent, Kurban Kurbanov didn't attempt anything the entire bout.
Varner won the first period in the clinch. In the second period, with Kurbanov constantly backing up, Varner nearly had a push out, but Kurbanov turned the tables and was awarded the point. USA didn't challenge, but the replay clearly showed Kurbanov stepped out first.
In the third, Varner continued to apply pressure and got rear standing when Kurbanov broke. Final score 1-0, 0-1, 1-0.
Up next for Varner is Canadian Heytag Pliev.

96 breakdown: By Craig "The Guru Vitagliano"

@Ascendwc
Top bracket former World Champ Georgi Gogshelidze of Georgia should make the semi final. Bottom half of top bracket, USA's Jake Varner draws 2007 World Bronze Kurban Kurbanov of Uzbekistan in the first round. If Varner gets past Kurbanov, he should reach the semis.
ok bottom bracket is freaking insane!!!
Russia's Gadisov has the returning Olympic silver medalist Taimuraz Tigiev, returning world champ Yazdani, then possibly last year's silver medalist Balci from Turkey, then prob 2010 World Champ Gazyumov from AZE. Gazyumov has Sheikov (3rd 2011, 2010, 2006 Worlds) first round. Sheikov beat Gazyumov first round last year!
Absolutely brutal bracket!!
I can't even begin to make picks here. Whoever wins will be unofficial OW though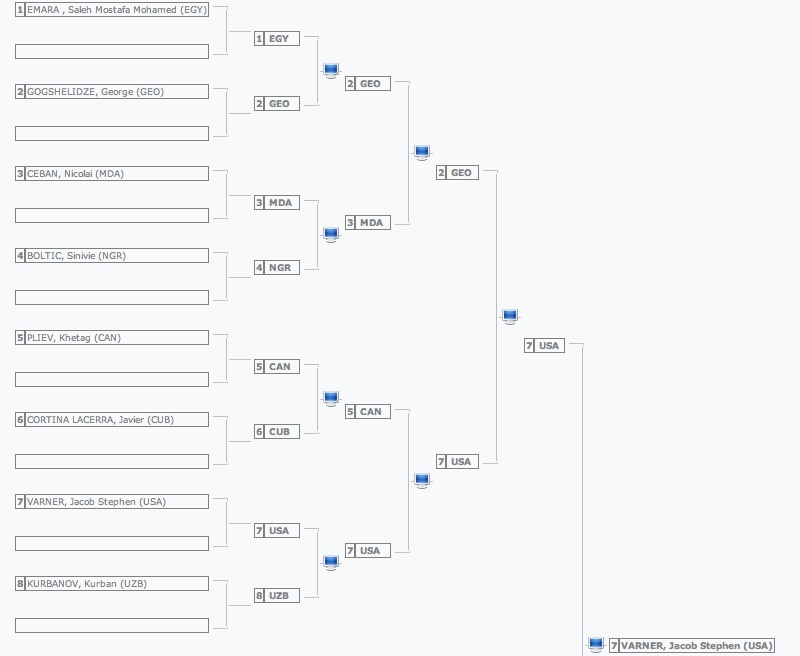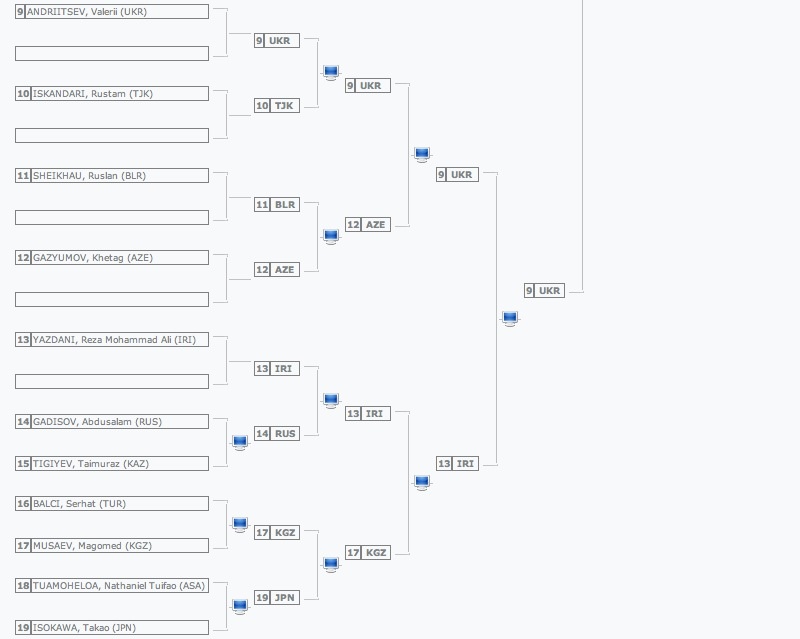 96 KG Freestyle
U.S. Representative: Jake Varner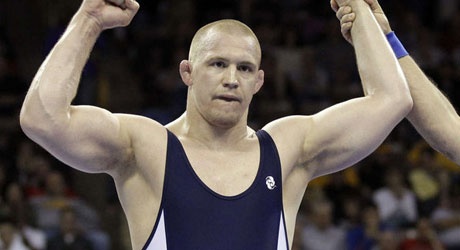 Club:Nittany Lion
2012 Ivan Yarygin 3rd Place
2011 World Bronze
2011 Pan AMs Champion
2011 World Team Champion
2011 US Open Champion
4 X NCAA Finalist
2 X NCAA Champion (Iowa State)
Event Schedule For Men's 96 kg. All 96kg rounds take place August 12th.

2:30 AM CST-----Qualification
3:00 AM CST-----Round of 16
4:00 AM CST-----Quarterfinals
4:30 AM CST-----Semifinals
6:45 AM CST-----Bronze Medal
7:25 AM CST-----Finals


Here is a list of the World Finishes dating back to 2008 Olympics in Beijing

2011 Worlds- Istanbul, Turkey

1st- Reza Yazdani (IRI)
2nd- Serhat Balci (TUR)
3rd- Ruslan Sheikhau (BLR)

3rd-Jake Varner (USA)

2010 Worlds- Moscow, Russia

1st- Khetag Gazyumov (AZE)
2nd- Khadzimurad Gatsalov (RUS)
3rd- Ruslan Sheikhau (BLR)
3rd- Giorgi Gogshelidze (GEO)


2009 Worlds- Herning, Denmark

1st- Khadzimurad Gatsalov (RUS)
2nd- Khetag Gazyumov (AZE)
3rd- Serhat Balci (TUR)
3rd- Giorgi Gogshelidze (GEO)


2008 Olympics- Bijing, China

1st- Shirvani Muradov (RUS)
2nd- Taimuraz Tigiyev (KAZ)
3rd- Giorgi Gogshelidze (GEO)
3rd- Khetag Gazyumov (AZE)
B