Olympic Freestyle Weight Classes:
55 KG 60 KG 66 KG 74 KG 84 KG 96 KG 120 KG

Greco
Womens
Haze Eliminated
U.S. 55kg Freestyler, Sam Hazewinkle was eliminated from competition on Friday.
Hazewinkle was defeated in opening round action by 2011 World Bronze medalist Daulet Niyazbekov (AZE) 1-3, 0-1.
He was eliminated later when Niyazbekov lost in the semifinals to Russian Jamal Oltarsultanov.

Quotes from Sam Hazewinkel after his match:
On why he lost the bout:
"He (NIYAZBEKOV, KAZ) got the offensive attack in early, and the point. It's very upsetting because I feel like I should have beaten him. I needed to get myself going after the first period. He was tired and I had him on the ropes."
On his experience of the London 2012 Olympic Games:
"I've loved every minute of it, but I came here to win so that (his loss) has put a dampener on it. I've got a taste for it now that - I'll keep training. I'm coming back."
On how he felt before the fight:
"I felt really good, I was ready for it. I felt like I was in better shape and had more in me than he did. I thought I had him, but a little bit of indecision makes the difference. You can't take it to a ball grab. Fact is, I put myself in that position."
Sammy Drops Opening Bout
U.S. 55kg Freestyler, Sam Hazewinkle lost his first match Friday morning to last year's World Bronze medalist, Daulet Niyazbekov (KAZ).
Haze was caught underneath from front head position and turned for two exposure in the first minute. Sam countered for a 1-pt. score. When Sam tried to high gut, he got reversed for a final first period score of 3-1.
The second period went to clinch where blue (Niyazbekov) won the draw. He drove Sam out for the deciding score.
Niyazbekov now wrestles JR. World Champ Ahmet Peker of Turkey.


Brackets are below the breakdowns

Craig "The Guru" Vitagliano

@AscendWC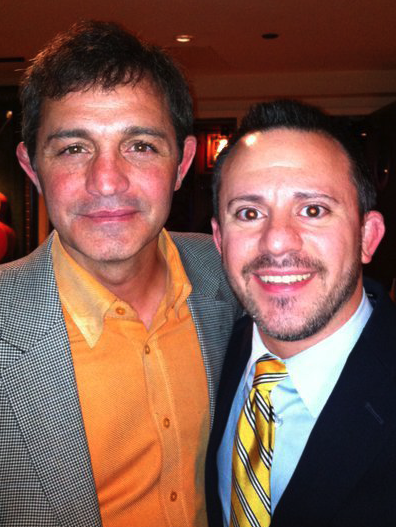 From the top down USA's Sam Hazewinkel draws 2011 World Bronze Medalist Daulet Niazbekov of Kazakhstan right off the bat. Niazbekov is lanky with good short offense and a strong gutwrench on top. This will be a strong test for Hazewinkel and if he wins this bout will draw the winner of 3x Junior World Champ Ahmet Peker from Turkey and Canada's David Tremblay. Hazwinkel dropped a close bout to Peker at the
Ziolkowski Memorial back in June. Peker is very small for the weight, having won his 3 Junior World titles at 50 kg. Hazewinkel appears to be in a good spot and I see no reason why he shouldn't make the semi-finals. @AscendWC
Moving down to the bottom half of this top bracket we see 2 former World Champions & Russia. 2009 World Champion Kyong Il Yang of North Korea will face former 2x World Champ Dilshod Mansurov of Uzbekistan. These two have met several times over the last few years and have exchanged victories. Mansurov defeated Yang at the 2010 Asian Games, but Yang has 2 recent wins over Mansurov, one at last year's World Championships and one at the Olympic Qualifier in Taiwan. Below that, 2012 Russian National Champ & 3x European Champ Jamal Otarsultanov will face Naatele Sem Shilimela of Namibia. Remember that Otarsultanov defeated 2x World Champ Viktor Lebedev to make the Russian team this year.
Moving down to the top half of the bottom bracket, relative newcomer Jin-Cheol Kim of Korea will face Japan's Shinichi Yumoto. Kim has not won any major International competitions while Yumoto's only International tournament wins came in 2010 at the Golden Grand Prix & Dave Schultz. Below that, Brandon Escobar of Honduras will face Armenia's Mirhan Jaburyan. Escobar is young and relatively inexperienced while Jarburyan has been on the International scene for quite some time and placed 5th in last year's World Championships.
Moving to the bottom half of the bracket, India's Amit Kumar has a bye and will face the winner of World Silver Medalist Bayaraa Naranbaatar of Mongolia and last year's World Bronze Medalist Hassan Rahimi of Iran. We then see veteran Radoslav Velikov of Bulgaria take on Nikolai Noev of Tajikistan and 2x Junior World Champ Vladimir Khinchegashvili of Georgia will face Egypt's Ibrahim Mohamed Farag.
Good Quarter Final bouts:
Hazewinkel v. Peker
Yang v. Otarsultanov
Rahimi v. Velikov
Semi Finals:
Sam Hazwinkel, USA v. Jamal Otarsultanov, Russia
Mihran Jaburyan, Armenia v. Radoslav Velikov, Bulgaria
Finals: Otarsultanov v. Velikov
Gold Medal: Jamal Otarsultanov, Russia
55 KG Freestyle
U.S. Representative: Sam Hazewinkel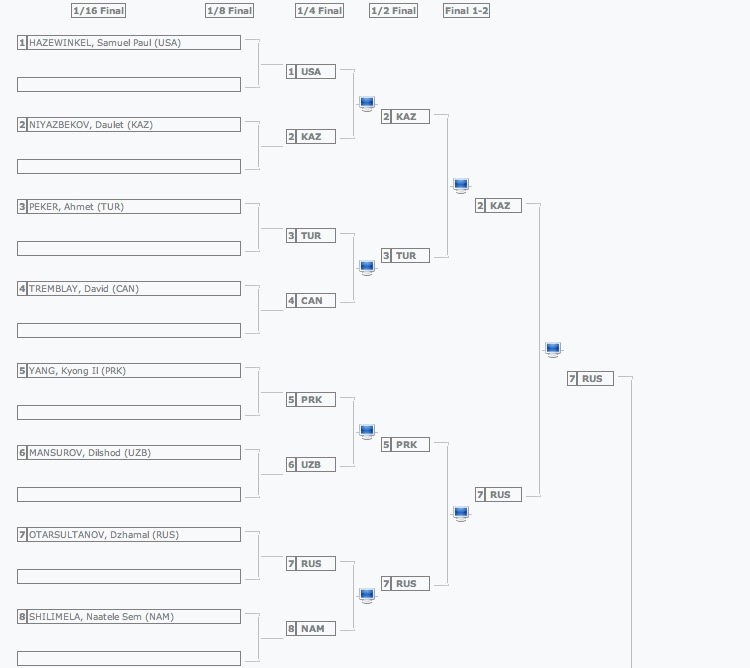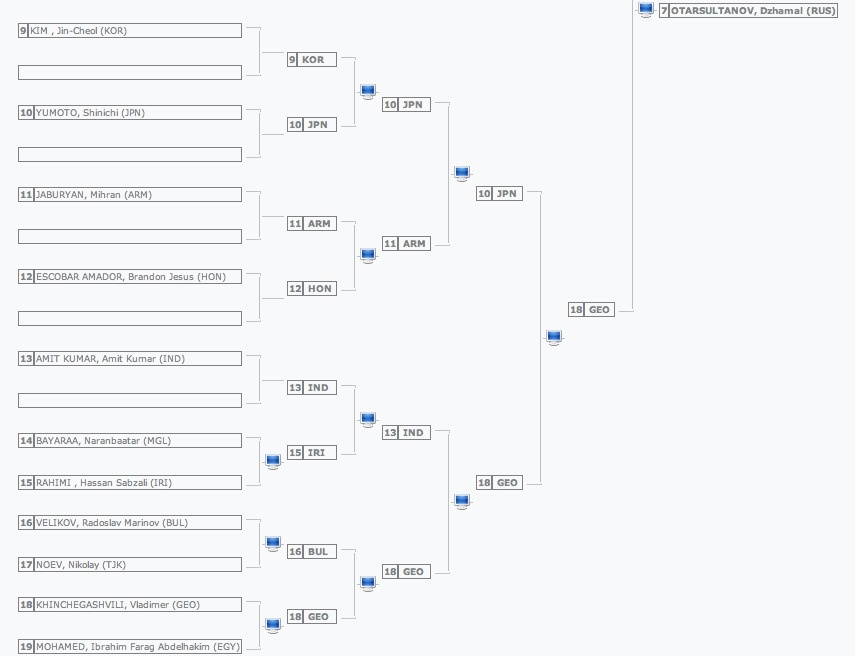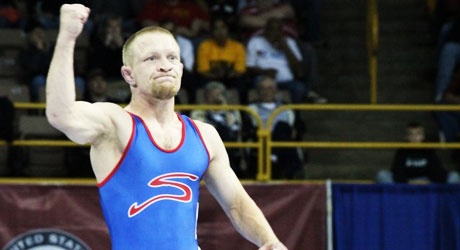 Club: Gator
2012 Pan Am Champion
2011 2nd Place Hargobind
2011 US Open Champion
2009 Sunkist Kids International Champion
4 X NCAA All American (Oklahoma)
Event Schedule For Men's 55kg. All 55kg rounds take place August 10th.

7:00 AM CST-----Qualification
7:30 AM CST-----Round of 16
8:30 AM CST-----Quarterfinals
9:00 AM CST-----Semifinals
11:45 AM CST---Bronze Medal
12:25 PM CST---Finals
Here is a list of the World Finishes dating back to 2008 Olympics in Beijing
2011 Worlds- Istanbul, Turkey

1st-
Viktor Lebedev (RUS)
2nd-
Radoslav Velikov (BUL)
3rd-
Daulet Niyazbekov (KAZ)
3rd-
Hassan Rahimi (IRI)

2010 Worlds- Moscow, Russia

1st-
Viktor Lebedev (RUS)
2nd-
Toghrul Asgarov (AZE)
3rd-
Frank Chamizo (CUB)
3rd-
Yasuhiro Inaba (JPN)

2009 Worlds -Herning Denmark

1st-
Kyong-Il Yang (PRK)
2nd-
Sezar Akgul (TUR)
3rd-
Rizvan Gadzhiev (BLR)
3rd-
Viktor Lebedev (RUS)
2008 Olympics- Beijing China
1st-
Henry Cejudo (USA)
2nd-
Tomohiro Matsunaga (JPN)
3rd-
Radoslav Velikov (BUL)
3rd-
Besik Kudukhov (RUS)

Updated on May 15, 2013, 8:07pm