Olympic Freestyle Weight Classes:
55 KG 60 KG 66 KG 74 KG 84 KG 96 KG 120 KG
Coleman Scott, Olympic Bronze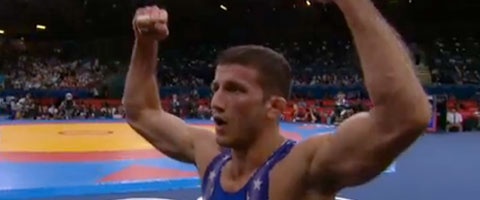 In his first Olympic Games, Coleman Scott (60kg) will bring home a medal.
Scott defeated Japan's Kenechi Yumoto in an 0-1, 3-0, 3-1 thriller.
Scott lost in the clinch in the first period. In the second Scott hit a takedown and exposure and tacked on a point due to an unsuccessful challenge from Japan.
The third period stayed scoreless until late when Yumoto got a takedown with :25 left. Scott put a couple shots together and converted a low leg attack and exposure points for a 3-1 win and a Bronze medal.
It was US Freestyle's second medal of these games, going along with Jordan Burroughs' 74kg Gold. Additionally, it was the 16th medal in the history of Oklahoma State Cowboy wrestling, the first since Jamil Kelly (Athens, '04).
Scott's medal performance in London capped off a grueling process. He had to qualify for the team by not only winning the Olympic Trials, but then by defeating both Shawn Bunch and Reece Humphrey in Times Square in one of the most circuitous routes to the Olympics you'll ever see.
On behalf of Flowrestling, congratulations to Coleman Scott, Oklahoma State, USAWrestling, and the Waynesburg, Pa wrestling communities!
Asgarov Takes Kudukhov and Olympic Title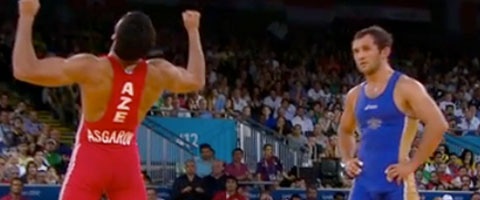 Asgarov of Aze. was able to take out 3x world champion Besik Kudukhov in just 2 periods. During the second period Asgarov was able to hit a feet to back 3 pointer to put it out of reach for Besik.
Gomez Eliminated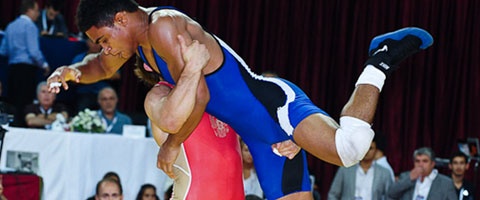 Nittany Lion Wrestling Club Member, Franklin Gomez was eliminated from competition in his first repechage match Saturday.
An NCAA Champion for Michigan State, Gomez is the 60kg rep for Puerto Rico. His first lost came to 3-Time World Champion Besik Khudakov of Russia.
In the repechage, Gomez lost 0-1, 0-1 after having to defend the clinch on both ball draws.


Coleman Goes Down In Semis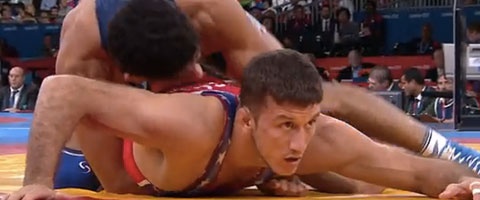 Coleman Scott will wrestle for Bronze later this today after dropping his semifinal bout to Azerbaijani Toghrul Asgarov 1-0, 4-0.
Asgarov hit a shrug on Coleman for the lone first period score. In the second, he scored on a leg attack early. In the waning moments, Scott was in deep on a shot but wasn't awarded a point as time expired. The US challenged and the referees awarded 2 for Asgarov and 1 for the lost challenge.


Great Scott! Coleman To Semis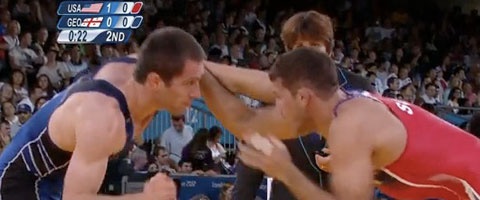 Coleman Scott posted a fall to get himself into the Olympic semifinals, a feat that will guarantee him, at the very least, a Bronze medal bout.
Wrestling Malkhaz Zarkua (GEO), Scott won the first on his trademark low single, 1-0.
In the second, he opened up. Scott blasted a nose-in-the-chest double. And when Zarkua unsuccessfully challenged the call, the score was 4-0 Scott. But he wasn't done yet. In the next exchange Scott planted Zarkua feet-to-back and got the fall.
Scott will now face the winner of Japan and Azerbaijan in the semi's.
His win kept USA undefeated on the day with a perfect 5-0 mark.

Coleman In a Close One
The name of the game is to move on. And US 60kg wrestler, Coleman Scott did just that in his first Olympic bout on Saturday.
Wrestling Seung-Chul Lee of Korea, Coleman went to the clinch in each period. In the first, Coleman drew his color and converted a three-point score.
In the second, he had to defend the clinch, and he did just that. Lee got to rear standing and Coleman went into a tripod. When Lee tried to gut, Coleman stepped over for the winning score and a final 3-0, 3-0 victory.
Scott's next match will be against Malkhaz Zarkua of Georgia, who just knocked off 2010 World Silver medalist, Vasyl Fedorshyn (UZB).
Khudakov-Gomez
Former Michigan State National Champion, and current Nittany Lion Wrestling Club member, Franklin Gomez (PR) had a huge first round match up with 3-Time defending World Champion, Besik Khudakov.
Khudakov was up 2-0 in the first before Gomez scored two takedowns to take the period.
Khudakov won the second and the third periods in similar fashion: with takedowns with mere seconds remaining.
Gomez had just recently beaten Khudakov at the German Grand Prix.


Brackets are below the breakdown

Craig "The Guru" Vitagliano 60 KG Bracket Breakdown
@Ascendwc
60 kg:
From the top down Seung Chul Lee of Korea takes on USA's Coleman Scott. Lee has been around for a few years but his best finish was 8th at the 2010 Worlds. Scott should win this one with his speed and endurance. Malkhaz Zarkua, 5th in last year's World Championships will take on Ukraine's Vasyl Fedoryshin. Fedoryshin was the 2008 Olympic Silver medalist and 2010 World Silver Medalist. This will most likely be the last run for Fedoryshin who is 31 years old. He is a tough competitor who takes little risks and has a great arm throw to the right side. Below that we will see Cuba's Yowlys Bonne take on Japan's Kenichi Yumoto. Yumoto was 3rd in 2008 Olympics & 3rd in last year's World Championships. Bonne is real tough. Not too technical, but has a great fireman's and is probably the strongest guy in the weight. To close the top half of the bracket, Azerbaijan's Togrul Asgarov will take on Germany's Tim Schleicher. Asgarov was 2nd in the 2010 Worlds at 55 kg when he was just 17 years old. He is extremely tall of the weight and with that creates amazing leverage and angles. He has a powerful shrug to his right side and a strong reshot due to his length. He can also wrap guys up in par terre as well with his long arms.
Moving down to the bottom half of the bracket, Hassan Ibrahim of Egypt will take on Didier Pais of France. Pais has been 5th in the World & 2nd in the European Championships. Australia's Farshad Tarhash will take on North Korea's Jong Myong Ri. Ri's recent big win came at the Olympic Qualifier in Taiwan amongst a field of accomplished wrestlers. Dauren Zhumgaziev, last year's World Bronze Medalist has a bye and will face the winner Iran's Masoud Esmailpourjouybari and Mexico's Guillermo Cervantes. Esmailpourjouybari is a Junior World Champ and won the Olympic Qualifier in Kazakhstan. Former World Silver Medalist Anatoli Guidea will face India's Yogeshwar Dutt. And finally 2011 World Silver Medalist Franklin Gomez of Puerto Rico will take on 4x World Champ Besik Kudukhov of Russia. This is a rematch of last year's World Championships. So much for random draw.
Ok I see Scott getting past Korea & Fedoryshin. He will then have to face Asgarov who was my early favorite. Not going to lie. I like Scott's chances. As long as he moves and stutter steps he'll take Asgarov out of position as Asgarov likes to slow the tempo and control the tie and look for his shrugs. Scott will need to finish on Asgarov's hips as anything lower might be countered by the spider-like Asgarov.
Gomez recently defeated Kudukhov overseas. In the match Kudukhov looked tired and somewhat distracted. That was then though. This is the Olympic stage. I believe we will see a different Kudukhov tomorrow. Gomez definitely has the tools for another win. Will it happen?
Semi Finals:
Coleman Scott, USA v. Togrul Asgarov, Azerbaijan
Jong Myong Ri, North Korea v. Besik Kudukhov, Russia
Finals:
Sorry, too close to call v. Kudukhov
Gold Medal: ??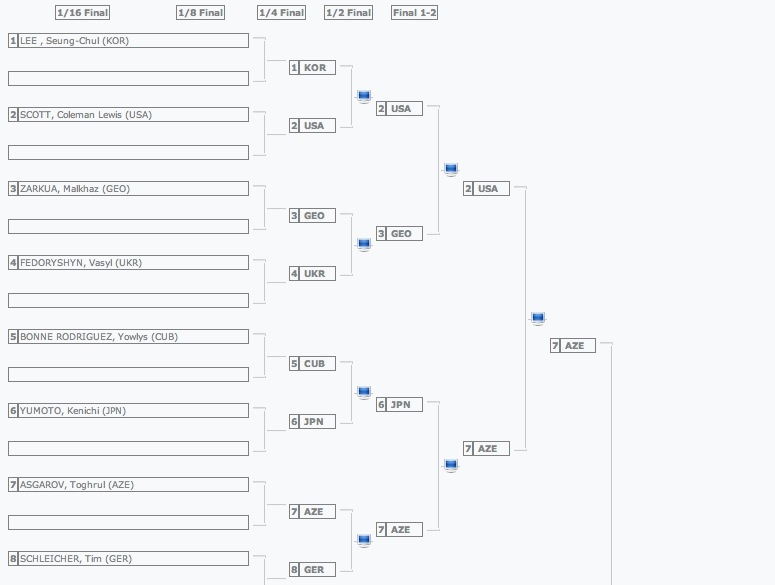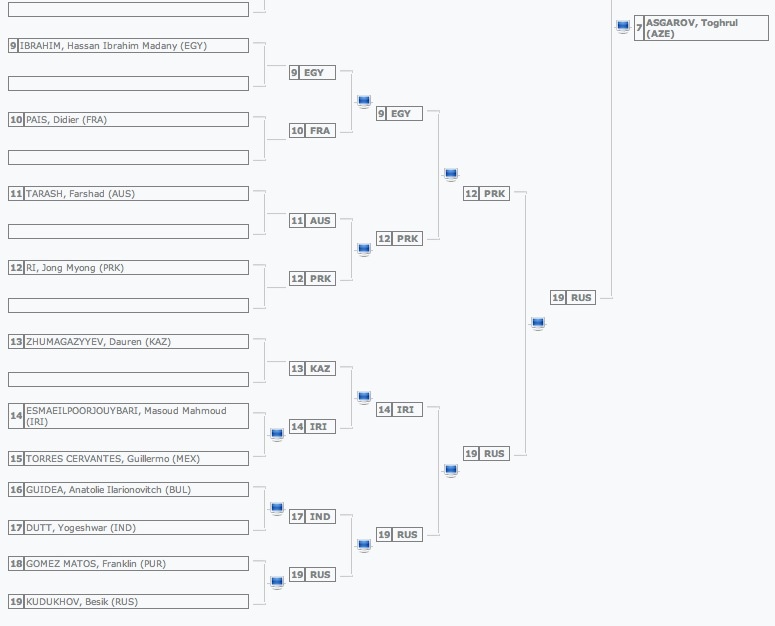 60 KG Freestyle
U.S. Representative: Coleman Scott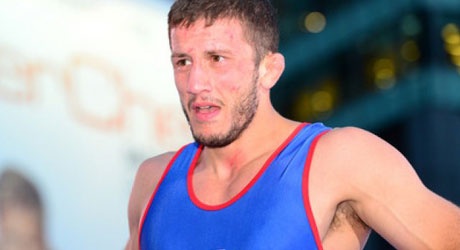 Club: Gator
2012 Dave Shultz International Champion
2009 Hargobind Champion
NCAA Champion 4 X All American


Event Schedule For Men's 60 kg. All 60kg rounds take place august 11th.

7:00 AM CST-----Qualification
7:30 AM CST-----Round of 16
8:30 AM CST-----Quarterfinals
9:00 AM CST-----Semifinals
11:45 AM CST---Bronze Medal
12:25 PM CST---Finals
Here is a list of the World Finishes dating back to 2008 Olympis in Beijing


2011 Worlds- Istanbul, Turkey
1st- Besik Kudukhov (RUS)
2nd- Franklin Gomez (PUR)
3rd- Kenichi Yumoto (JPN)
3rd- Dauren Zhmagaziyev (KAZ)

2010 Worlds- Moscow, Russia
1st- Besik Kudukhov (RUS)
2nd-
Vasyl Fedoryshyn (UKR)
3rd- Morad Mohammadi (IRI)
3rd- Zelimkhan Huseynov (AZE)

2009 Worlds- Herning, Denmark
1st- Besik Kudukhov (RUS)
2nd- Zelimkhan Huseynov (AZE)
3rd- Dilshod Mansurov (UZB)
3rd- Vasyl Fedoryshyn (UKR)

2008 Olympics- Beijing, China
1st- Mavlet Batirov (RUS)
2nd- Vasyl Fedoryshyn (UKR)
3rd- Kenichi Yumoto (JPN)
3rd- Morad Mohammadi (IRI)