2023 NWCA All-Star Classic
2023 NWCA All-Star Classic Wrestling College Fan Guide
2023 NWCA All-Star Classic Wrestling College Fan Guide
The 2023 NWCA All-Star Classic goes down on Tuesday, November 21. Here's what college wrestling fans need to know.
Nov 20, 2023
by David Bray
The NWCA All-Star classic welcomes 28 elite wrestlers from 21 universities to Penn State for the premier college wrestling showcase event of the year. Below is a breakdown of the wrestlers in the event by team.
The complete matchup list for the event is available here.
A preview of this year's women's matches is available here.
For ticket information, click here.
General information about the event is available here.
Men's Teams Represented
Air Force
Heavyweight #2 Wyatt Hendrickson will represent the Air Force wrestling program. He's coming off a 3rd place finish at the 2023 NCAA Wrestling Championships, the first All-American finish for an Air Force Falcon since 2003. If Hendrickson can overcome #1 Greg Kerkvliet of Penn State in the All-Star Classic, he'll be considered the favorite at heavyweight this year.
Arizona State
The Sun Devils are represented at 149 lbs by #3 Kyle Parco. The 3x All-American is looking to avenge a 7-2 loss to #2 Shayne Van Ness of Penn State. Parco is 3-0 so far at the start of the 2023-24 season.
Video preview of the rematch between Van Ness & Parco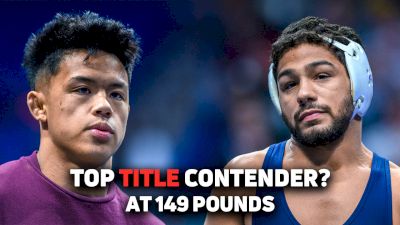 Lehigh
The Mountain Hawks will be represented by 133-pounder Connor McGonagle. Lehigh's lightweight started the year ranked #6 at the weight. After NCAA qualifications in 2021 and 2022, McGonagle was on an All-American level trajectory during the 2022-23 season before injury derailed his plans. Now he'll face Virginia Tech American Sam Latona at the All-Star Classic.
Lock Haven
Lock Haven's #1 Anthony Noto became the latest All-American for the Bald Eagles at the 2022-23 NCAA Championships with a 4th place finish. He'll compete against NCAA finalist Matt Ramos of Purdue at 125 lbs. Noto, who started his college career at NC State, has since become the face of Lock Haven's program.
Navy
141-pounder Josh Koderhandt is a last-minute addition to the NWCA All-Star Classic lineup. He's replacing Clay Carlson and will square off with North Carolina All-American #3 Lachlan McNeil. This will be the first meeting between the two.
North Carolina
Not only is #3 Lachlan McNeil an All-American for North Carolina at 141 lbs, he's a senior World Team member for Canada as well. He was set to face All-American Clay Carlson of SDSU but will now compete against #9 Josh Koderhandt of Navy.
Northern Iowa
Returning NCAA finalist Parker Keckeisen is currently ranked #1 at 184 lbs. He'll renew his series with Bernie Truax, formerly of Cal Poly but now at Penn State. Truax and Keckeisen split matches at the 2022 NCAA Championships. Now they're set for a rubber-match that will determine the #1 ranking in the country.
Oklahoma State
Northern Illinois transfer Izzak Olejnik is now representing Oklahoma State. He's ranked #6 in the country and has a 5-0 record, but #4 DJ Hamiti will be his toughest test of the season. The Wisconsin Badger is 3-0 against Olejnik, but Olejnik has narrowed the gap each time they've competed. Hamiti won by fall at the Cougar Clash two seasons ago, then by 6-0 decision at Midlands in 2022, and finally by 7-3 decision at NCAAs. Olejnik will look to notch his first victory in the series.
Penn State
The Penn State wrestling program will be well-represented at the NWCA All-Star Classic. 5 different Nittany Lions will toe the line on the Penn State campus at Rec Hall.
At 149 lbs, #2 Shayne Van Ness will face #3 Kyle Parco of Arizona State. Three-time NCAA champion #1 Carter Starocci will have a rematch with NCAA champ #3 Mekhi Lewis of Virginia Tech at 174 lbs. At 184 lbs, recent Cal Poly transfer #2 Bernie Truax will face #1 Parker Keckeisen in a rubber-match for the nation's top spot.
Starocci & Lewis' previous All-Star Classic matchup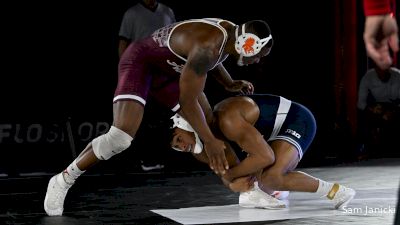 Unlock this video, live events, and more with a subscription!
Get Started
Already a subscriber? Log In
Three-time NCAA champ #1 Aaron Brooks has moved up to 197 lbs this season. He'll see #2 Tanner Sloan of SDSU, a returning NCAA finalist at the weight. Heavyweights #1 Greg Kerkvliet and #2 Wyatt Hendreckson are set to tangle for the top spot at heavyweight. Kerkvliet won their only previous meeting at NCAAs last season.
Penn State will be favored in four of their five matchups. The only exception comes at 184 lbs between Keckeisen and Truax. The Nittany Lions are a combined 4-1 against their All-Star Classic opponents. Brooks and Sloan have yet to face one another.
Video preview of #1 Kerkvliet vs #2 Hendrickson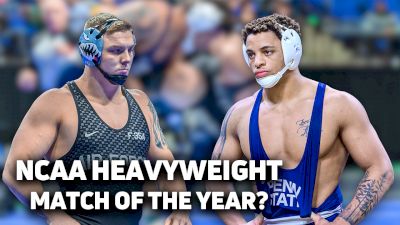 Purdue
The Boilermakers' #4 Matt Ramos has been elite since high school, but he shocked the wrestling world in March when he pinned three-time NCAA champion Spencer Lee in the NCAA semifinals. The NCAA finalist will wrestle #1 Anthony Noto of Lock Haven for the first time at the All-Star Classic.
South Dakota State
The Jackrabbits originally had two entries in the All-Star Classic, 141-pounder Clay Carlson, and 197-pounder Tanner Sloan. Carlson is out due to injury, but NCAA finalist #2 Sloan is set to face #1 Aaron Brooks, a three-time NCAA champ from Penn State. Brooks is new to 197 lbs, so he and Sloan have yet to meet.
St. Cloud State
Returning NCAA DII champion Nick Novak is set to represent the Huskies against returning NCAA DIII champion Nolan Hertel of Wisconsin-LaCrosse at 157 lbs. Novak is 5-0 on the season and currently has a 32-match winning streak. He has yet to face Hertel in college competition.
Virginia Tech
Other than Penn State, the Hokies are the only team on the Men's side of this event with multiple entries. #4 Sam Latona at 133 lbs and #3 Mekhi Lewis at 174 lbs will each represent VT.
Two-time All-American Latona will square off against Lehigh's Connor McGonagle, a tough Mountain Hawk who was ranked #6 to start the season. Lewis, a 2019 NCAA champ and a three-time All-American, will wrestle three-time NCAA champ Carter Starocci of Penn State in a rematch of a tight contest that Starocci won a year ago.
Wisconsin
165-pounder Dean Hamiti returns to the All-Star Classic for the second straight year. He'll face a familiar opponent, Izzak Olejnik, formerly of Northern Illinois but now of Oklahoma State. Olejnik has narrowed the margins in their three meetings, but Hamiti has won every time.
Wisconsin-LaCrosse
Returning NCAA DIII champion, 157-pounder, Nolan Hertel, will meet in a champ vs champ battle against NCAA DII winner Nick Novak of St. Cloud State. Hertel is a two-time All-American. Like Novak, Hertel is 5-0 on the season. He's riding an 18-match winning streak coming into this event.
Women's Teams Represented
Aurora
Alexis Janiak is ranked 2nd in the NCAA. She'll represent Aurora against Sarah Savidge, the top ranked wrestler in the NAIA. She and Savidge have a long history. Janiak leads the series 3-2. Most recently, she beat Savidge in the best of three series at the U20 World Team Trials for the opportunity to represent the United States at the U20 World Championships.
Iowa
Augsburg transfer Marlynne Deede is representing the Hawkeyes for the first time this season. She's coming off a NCWWC national title and holds the #1 ranking in NCAA women's wrestling. She'll face Latifah McBryde, the top-ranked wrestler in the NAIA. The two met once in 2021 in a bout that Deede won 10-4.
King
Samara Chavez represents the Tornados at 116 lbs. She is a four-time All-American and was a national runner up last year. Her opponent is #3 Sydney Petzinger of North Central. Originally, she was slated to compete against Petzingter's teammate, Jaslynn Gallegos before Gallegos suffered an injury.
Life
The Life Running Eagles are one of two women's programs with two entrants into this event. At 130 lbs, it's #1 Sarah Savidge, and at 160 lbs, it's #1 Latifah McBryde. Both Savidge and McBryde are the favorites to win their weight classes at NAIA nationals which makes their matchups against NCAA opponents especially intriguing. Savidge will see #2 Alexis Janiak of Aurora, and McBryde will see #1 Marlynne Deede of Iowa.
North Central
Like Life University, the North Central Cardinal have two wrestlers competing in the All-Star Classic. #3 Sydney Petzinger will get a crack at last year's national runner up, Samara Chavez of King. #1 Yele Aycock is a returning national finalist who will see the #1 NAIA wrestler in the country, Adaugo Nwachukwu of William Penn.
William Penn
#1 Adaugo Nwachukwu is representing William Penn for the first time this year. She transferred after Iowa Wesleyan's campus was closed during the off season. She's coming off two NAIA national titles and is 1-0 against Aycock in their only meeting.