2023 Black Knight Invite
Top Potential Matches at the 2023 Black Knight Invitational
Top Potential Matches at the 2023 Black Knight Invitational
The 2023 Black Knight Invitational is going down on Sunday, November 19th.
Nov 17, 2023
by Mason Lindenmuth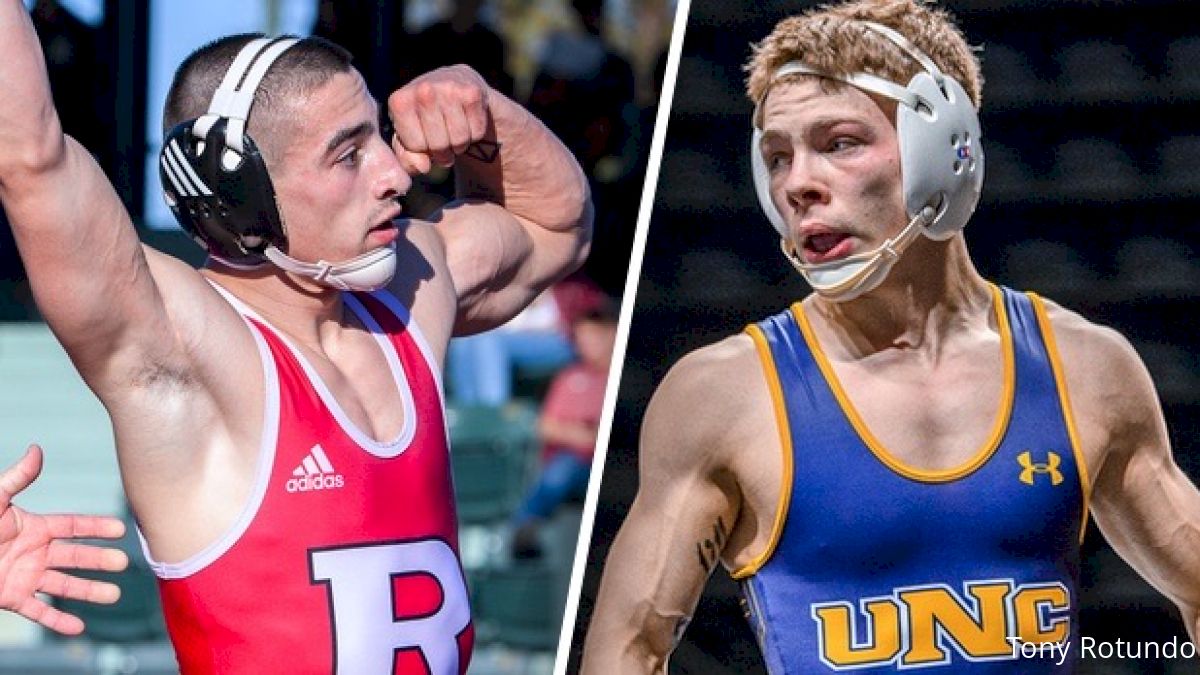 The 2023 Black Knight Invitational features elite NCAA DI action this weekend. Between the host team Army West Point, the defending National Champions Penn State, and several other strong teams making the trip to West Point, there are plenty of reasons to tune in. Before the action goes down, check out some of the top potential matchups that could happen at the Black Knight Invitational.
Black Knight Invitational
Location: West Point, NY
Date: 11/19/23 Start Time: 10:00 AM ET
Teams Participating: Army West Point, Binghamton, Brown, Buffalo, Gardner-Webb, LIU, Michigan State, Northern Colorado, Penn State, Rutgers
Top Potential Matchups
125 lbs: #6 Stevo Poulin, Northern Colorado vs. #8 Dean Peterson, Rutgers
A potential top-10 battle at the lightest weight class. Both of these sophomores were round of 12 finishers last year at NCAAs and are off to 2-0 starts to the season. We have not seen Poulin and Peterson hit yet in their young careers, but this is a match that could decide who gets to stand on the podium in March. However, with guys like #23 Ethan Berginc, Braeden Davis, Robert Howard, and Tristan Lujan in the bracket, there's no guarantee we see this matchup.
133 lbs: #4 Aaron Nagao, Penn State vs. #18 Dylan Shawver, Rutgers
This will be the Nittany Lion debut for Aaron Nagao. Nagao went on a heater last year at both the Big Tens and NCAAs where he finished second and fifth, respectively, while competing for Minnesota. Nagao announced he was transferring to Penn State back in April and was rumored to have sustained an injury that kept him out of the Journeyman Collegiate Classic last weekend where we saw most of Penn State's roster compete. It will be very interesting to see Nagao here, especially against a stud in #18 Dylan Shawver, who was a round of 16 finisher at NCAAs back in 2022 down at 125 pounds before redshirting last season.
141 lbs: #2 Beau Bartlett, Penn State vs. David Evans, Penn State
It may be strange to see an all-Penn State matchup mentioned here, especially with Bartlett being the returning third-place finisher from NCAAs. However, these two met a year ago in the finals of the Black Knight Invitational in a tight battle that Bartlett came out on top of 3-1 in sudden victory. Evans also proved himself last weekend as he defeated #12 and returning All-American CJ Composto 4-1 in sudden victory at the Journeyman Collegiate Classic. I expect this matchup to be very much within the margins if we see it but do not be surprised if another young Nittany Lion, Tyler Kasak, is able to spoil the party here.
157 lbs: #11 Chase Saldate, Michigan State vs. #13 Vincent Zerban, Northern Colorado
This will be the season debut for Chase Saldate. Saldate is a three-time NCAA qualifier and finished in the round of 12 last season. Saldate has had many high-level wins in his career but has struggled at times to be consistent from match to match. He will need to bring his A-game against #13 Vincent Zerban. Zerban was a round of 12 finisher last year at NCAAs and is off to a hot 2-0 start to his sophomore campaign with two technical falls. Another interesting note here: Zerban was the only guy to defeat #1 Levi Haines last season up until the NCAA finals where Austin O'Connor bested Haines for his second NCAA crown.
165 lbs: #8 Caleb Fish, Michigan State vs. Mitchell Mesenbrink, Penn State
Caleb Fish is a seasoned veteran who went on a hot streak late last season and made the quarterfinals of the NCAA tournament after taking out the #4 seed Julian Ramirez in the first round. Fish would go on to finish in the round of 12. It was announced that Alex Facundo will be taking an Olympic redshirt this season and we saw Junior World Champion Mitchell Mesenbrink make his debut for Penn State last week at the Journeyman Collegiate Classic where he finished 3-0, but not without a scare in his opening match against Nicco Ruiz that he ended up winning 14-10. This will be a great early test for both Fish and Mesenbrink and will show where Mesenbrink stacks up in the 165-pound landscape.
184 lbs: #9 Jacob Nolan, Binghamton vs. #10 Layne Malczewski, Michigan State
This is a matchup between two seasoned seniors who have not been able to find their way onto the podium yet in their careers. Nolan is a three-time NCAA qualifier and finished in the round of 16 last season while Malczewski is a four-time NCAA qualifier. This will also be the opening competition for both Nolan and Malczewski and could set the tone for how their seasons play out.
285 lbs: #7 Yaraslau Slavikouski, Rutgers vs. #20 Cory Day, Binghamton
Yaraslau Slavikouski is off to a dominant 2-0 start to the season for Rutgers. Slavikouski was competing for Harvard prior to this season and went into the NCAA tournament as the #6 seed before falling in the round of 12 and transferring to Rutgers over the off-season. He could face off with a fellow returning national qualifier and top 20 ranked foe in Cory Day this weekend. These two met last season with Slavikouski coming out on top 6-1. Can Day make the necessary adjustments to tighten this match-up? Or will Big Slav open it up? Tune in to find out this weekend!
Tune in for all of these matchups and much more at the 2023 Black Knight Invitational LIVE on FloWrestling this Sunday!