2023 Senior World Championships
20-year-old Akhmed Tazhudinov Takes Out Legends Snyder And Sadulaev
20-year-old Akhmed Tazhudinov Takes Out Legends Snyder And Sadulaev
Bahrain's Akhmed Tazhudinov toppled two all-time greats Monday when he defeated Kyle Snyder and Abdulrashid Sadulaev at the World Championships.
Sep 18, 2023
by Andy Hamilton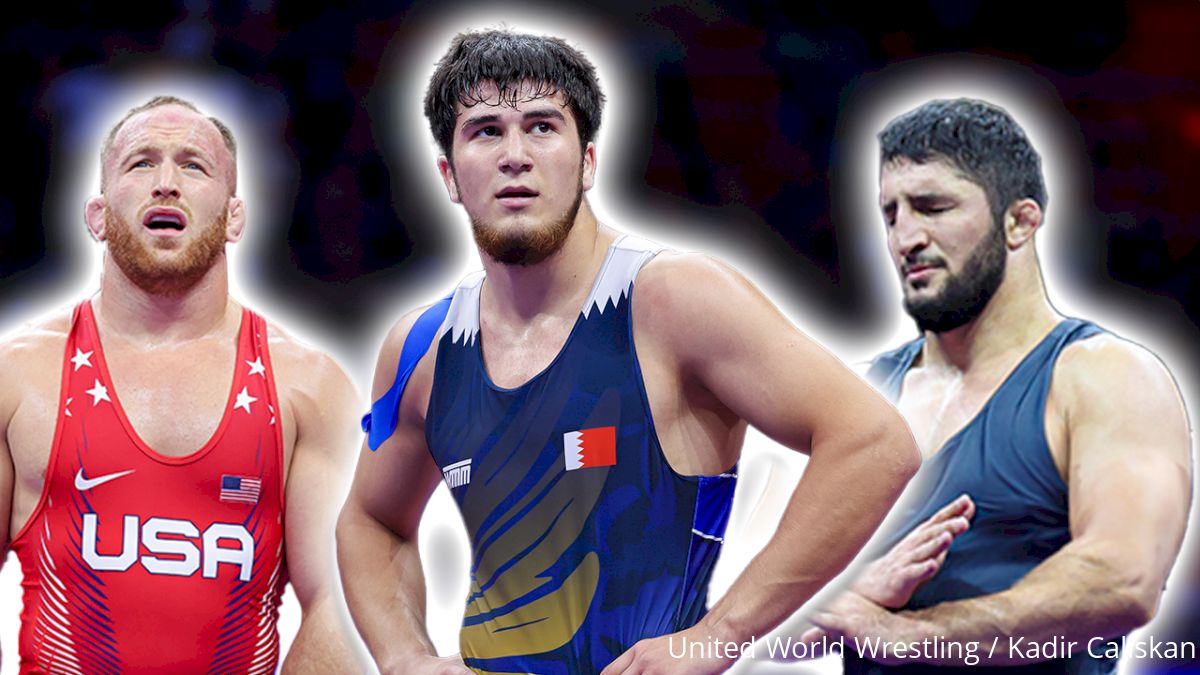 In a span of a couple hours Monday, a 20-year-old competing for a country with one World wrestling medal in its existence managed to take down two of the sport's all-time giants.
Get to know Akhmed Tazhudinov. You're going to be hearing a lot about him in the years ahead.
According to Wikipedia, he was born in Dagestan and trained in the Abdulrashid Sadulaev Wrestling Club before transferring to compete for Bahrain, which prior to Monday had just one World medal — the silver won in 2018 by another Russian transfer, Adam Batirov.
On Monday, Tazhudinov toppled both his mentor and Sadulaev's biggest rival in succession, authoring one of the most stunning performances in the history of the World Championships.
Tazhudinov took out Snyder 11-0 in swift and sudden fashion in the 97-kilogram quarterfinals, using a pair of four-point moves in the first period to dispose of the four-time World and Olympic champion.
For an encore, Tazhudinov handed Sadulaev his first loss since the 2017 World finals when he lost to Snyder in a clash of reigning Olympic champions. Tazhudinov was leading 9-2 with 62 seconds left when Sadulaev called it quits after suffering what appeared to be a neck or shoulder issue.
Shortly after the match, photos began circulating on social media of a young Tazhudinov standing alongside Sadulaev.
This is wild pic.twitter.com/98wwdHdYSK

— Jason Roush (@Roush149) September 18, 2023
It was just the second loss for Sadulaev since the start of 2014. Since then, he's racked up a pair of Olympic golds and five World titles, and he was climbing the all-time ladder toward greatest of all-time status.
Sadulaev showed no signs of decline in recent years. Since losing to Snyder in Paris, he won three straight rematches with World or Olympic titles on the line. In 2021, he blanked six of his eight opponents at the Tokyo Games and the World Championships.
But the 27-year-old Russian didn't possess his typical high-octane offense and explosiveness on Monday. Sadulaev downed South Africa's Steyn De Lange 7-0 in his opening match of the tournament, downed Vladislav Baitcaev 4-2 in the round of 16 and trailed on criteria with less than 20 seconds remaining before pinning Iran's Mojtaba Goleij in the quarterfinals.
Tazhudinov's victory over Sadulaev revived Snyder's hopes of leaving Belgrade with his ninth World-level medal. If he can notch a repechage win Tuesday morning, Snyder will have another shot at Sadulaev — this time in a bout for bronze.
A little while later, Tazhudinov will wrestle for gold against Maghomedkhan Magomedov, who won a 2018 Junior World title for Russia before transferring to Azerbaijan.