2023 Senior World Championships
Sidakov & Kadi Comment On Dake Before Insane 74 kg Worlds Bracket
Sidakov & Kadi Comment On Dake Before Insane 74 kg Worlds Bracket
74 kilograms at the 2023 World Championships is the best weight class in recent memory. Two of its biggest stars share their thoughts on Kyle Dake.
Sep 15, 2023
by David Bray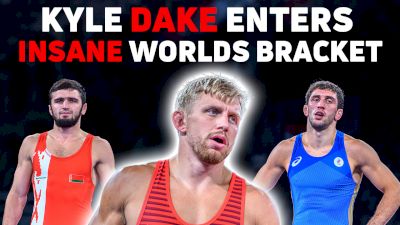 In 2022, both #1 Zaurbek Sidakov and #2 Magomedkhabib Kadimagomedov were absent from the World Championships due to the ongoing war in Ukraine, and this year, with less than a week to go before the World Championships, it was unclear whether Sidakov would be allowed to compete. Now, the brackets are out, and both athletes are in the field.
Jon Kozak and Tyler Meisinger caught up with both Sidakov and Kadimagomedov in Belgrade to hear their thoughts on Kyle Dake, this year's World Championships, and more.
Kadi Wants To Prove Olympic Win Over Dake Wasn't A Fluke
Kadimagomedov's Instagram followers know that he's a showman. The Olympic silver medalist actually attributes much of his showmanship to his fandom of American combat sports. "I would like to say a big thank you to all American fans because if they weren't the way they are, [this sport] wouldn't be really interesting."
Over the past couple of years, he has antagonized both Dake, who he also teched in the Tokyo Olympics, and Jordan Burroughs. Despite his bristly presence online, he complimented Dake's skill before this year's World Championships and believes that Dake's 2022 World gold medal was hard earned even though he and Sidakov weren't in last year's bracket.
As for the potential rematch with Dake, Kadi says that he's taking his tournament one match at a time but that he wants to "prove that what happened and the way I won last time at the Olympic Games wasn't just pure luck." Kadimagomedov and Dake could meet in the semifinals on Sunday.
full interview with Kadimagomedov before the 2023 World Championships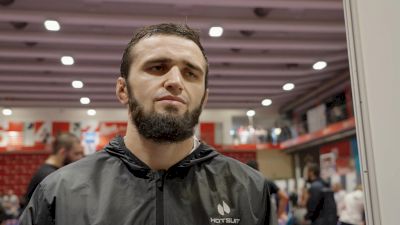 Sidakov Hasn't Been Focusing on Dake
Zaurbek Sidakov is already a two-time World champ and an Olympic Gold medalist, but Russia's war with Ukraine kept him out of last year's World Championships. He had a difficult time watching Kyle Dake win at Worlds last year when he couldn't compete, but he's happy to be back in the bracket this year.
Sidakov isn't too concerned with four-time World Champ Kyle Dake. Russia's 74 kg star told Jon Kozak, "I haven't really been watching him at all, especially focusing on what he's doing...It will definitely be a tough and interesting match for the people. I've just been focusing on myself and how I wrestle."
He also included that he would have a hard time predicting a winner between Dake and Kadimagomedov if they met in the semifinals. Sidakov appears to be looking inward as he searches for his fourth World/Olympic gold.
full interview with Sidakov before incredible 74 kg bracket