2023 Senior World Championships
2023 Men's Freestyle World Championship Bracket Reactions
2023 Men's Freestyle World Championship Bracket Reactions
Team USA takes the mats at the 2023 Senior World Championships starting Saturday, September 16. Here's a rapid reaction to their brackets.
Sep 15, 2023
by David Bray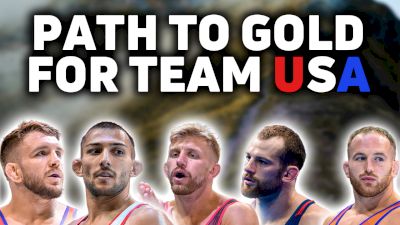 Men's Freestyle World Championship brackets have been released! Here are our rapid reactions to Team USA's chances at each of the ten weights.
Days 1 & 2 | Vito Arujau, Zain Retherford, David Taylor, Mason Parris
61 kg - Vito Arujau (8 seed)
Vito was awarded the #8 seed. He'll start his day with #9 ranked Ossimzhan Dastanbek of Kazakhstan, someone Jon Kozak mentioned as a dark horse in his 61 kg preview. Vito has a good chance to win in the opening round then would be favored against his potential second-round opponent from either Bulgaria or Switzerland.
His most likely quarterfinal opponent appears to be Reza Atri from Iran, last year's silver medalist. As tough as Atri is, Vito has a shot in that quarterfinal.
Should Vito advance to the semifinals, he would likely see #2 Taiyrbek Zhumashbek Uulu (KGZ) or #6 Emrah Ormanoglu (TUR). Zhumashbek Uulu has been on a hot streak and even has a tech over Nick Lee.
World champ Abasgadzhi Magomedov is the favorite in this bracket, and he sits on the opposite side of the bracket from Vito. Magomedov was randomly drawn in and will have to run the gauntlet to the finals through Romania round one, then China, next Mongolia, and likely either Georgia, Uzbekistan or Belarus (wrestling as a neutral athlete) in the semis.
Joey Silva, competing for Puerto Rico, has an interesting draw that could take him to the quarters, after that it's game on.
70 kg - Zain Retherford (2 seed)
Returning finalist Zain Retherford has a bye in the first round of competition then will face either Akhmedov (TJK) or Henkel (GER) neither of whom are ranked in the top 10. He'll be the favorite either way in the round of 16.
The most likely quarterfinal opponent for Retherford appears to be #3 Ihor Nykyforuk of Ukraine, a U23 World medalist who has proven himself as a legitimate contender with sold wins over many of the best guys in this weight. Still, Retherford will be favored in that match.
If Zain makes it to the semifinal, he has a good chance of facing is #6 Zherbaev of Russia, a world medalist who shouldn't be taken lightly. USA fans should be optimistic about Retherford making a return trip to the World finals. Potential finals opponents could include #2 Ramazanov of Bulgaria, #4 Yazdani of Iran or #5 Akmataliev of Kyrgyzstan.
The topside semifinal bout will eliminate Ramazanov or either Amataliev or Yazdani from medal contention. American fans will be pulling for Akmataliev to beat Yazdani in the quarters and then for Ramazanov to win in the semis, which would eliminate Iran's Yazdani and bolster the USA"s team race chances.
86 kg - David Taylor (7 seed)
All signs point to Taylor vs Yazdani round 6 in the World finals as both Olympic champions are on opposite sides of the bracket. Taylor will likely be untested in the round of 32 against Padiou (MAR) or round of 16 against another unranked opponent. He will also be a massive favorite in the quarterfinal where he could see former world finalist Boris Makoev.
Taylor's first real test could come in the semifinals against Russia's Arslan Bagaev. The two have never met, and Bagaev has emerged as Russia's best hope of breaking up another Taylor vs Yazdani rematch.
Michigan NCAA finalist Myles Amine could see Yazdani in the semifinals on the opposite side of the bracket. Absent an upset over Yazdani, Amine is positioned will to earn a bronze and qualify for the Olympics.
Assuming DT and Yaz make the finals, the true-fifth place bout could see a number of countries in the mix for the final Olympic spot. Slovakia's Makoev would be a likely candidate if Taylor beat Bagaev in the semis and Bagaev beats Makoev for bronze. On the other side of the bracket, if Yazdani beats Amine and Amine wins bronze, a good bet is for Torreblanca from Cuba to be in that true fifth bout.
125 kg - Mason Parris (unseeded)
Parris' draw into the bracket is fairly favorable. He starts with #9 Yusup Batirmurzaev of Kazakhstan. Batirmurzaev does have a victory over Nick Gwiazdowski this year, but he's still an opponent Parris can beat.
Parris' next big test could come in the quarterfinal where he might see #4 Munkhtur of Mongolia. Munkhtur isn't as skilled as the big three at this weight (Akgul, Zare, and Petriashvili), but he's a big man who's tough to move and he had an upset victory over Petriashvili in the semifinals a year ago.
If Parris advances past Munkhtur (which he certainly can), he's all but guaranteed to see Geno Petriashvili in the semifinals. Petriashvili is a 3x world champ and 9x World/Olympic medalist, but as he demonstrated in last year's world semis, he's capable of being upset. Parris will look for that sort of opportunity in hopes of seeing either Akgul (TUR) or Zare (IRI) in the finals. Parris, by the way, pinned Zare in the U20 World finals in 2019.
Deng of China is a two-time world medalist and Olympic fifth-placer has a massive first-round bout with Munktur. He could also be in Parris' path in the quarterfinals.
With the talent as separated as it is, the semifinals are going to eliminate a lot of Olympic hopefuls from a potential qualification spot.
Days 2 & 3 | Zane Richards, Kyle Dake, Chance Marsteller, Zahid Valencia
57 kg - Zane Richards (unseeded)
Illinois All-American Zane Richards was drawn into the bracket against U23 World champ Aliabbas Rzazade of Azerbaijan, the #5 ranked man in the world. Rzazade is tough and has a victory over two-time World medalist Suleyman Atli of Turkey. Should Zane advance, he'd see either Valizad of Iran or Kacacs of Romania, neither of whom are ranked in the top 10 in the world.
Potential quarterfinal opponents for Zane include Abakarov of Albania and Aman of India. Abakarov is the returning World champ at this weight, and Aman already has a victory over Richards this year.
If Richards makes it to the semifinal, he could see #1 Zaur Uguev of Russia (but a neutral athlete this year). Returning bronze medalist Stevan Micic is also in Uguev's quarter. Richards certainly has his work cut out for him to medal or qualify the weight for the Olympics.
Opposite Richards' gnarly half of the 57kg bracket is Japan's #2 Rei Higuchi, the Rio 57kg silver medalist and 2022 world gold medalist at 61kg. Back down at 57 and on the Japanese world team, he'll be the favorite to make the semis where he could face Turkey's Atli for a spot in the finals and a guaranteed Olympic qualifying spot.
74 kg - Kyle Dake (2 seed)
This bracket turned out to be as exciting as wrestling fans hoped it would. Dake is definitely on the toughest side of he bracket. He starts with #10 Evloev (TJK) then will see an unranked opponent in the second round. He could see fan favorite Frank Chamizo in the quarterfinals.
Dake's most likely semifinals opponents include Slovakia's Salkazanov (who he beat in the 2022 World finals) and Belarus's Kadimagomedov, the last man to beat Dake. For the sake of the wrestling community, it would be fantastic to see a Dake vs Kadimagomedov rematch, but Kadi will have his hands full just to make it to Dake.
#1 Zaurbek Sidakov sits opposite Dake on a relatively easier side of the bracket. He should advance to the finals, though his route is no picnic. He's got #7 Kentchadze (GEO) in round one, then three-time world/Olympic bronze medalist Abdurakhmonov (UZB) in the round of 32, then 2022 world bronze #6 Emami (IRI) in the round of 16. 2014 world champ and 2023 Euro bronze Tsabolov (SRB) could be his quarterfinal opponent, with Bayramov (AZE) or #9 Demirtash (TUR) in the semis. If Sidakov emerges unscathed from that, we will hopefully see the Dake vs Sidakov that has thus far eluded us.
79 kg - Chance Marsteller (5 seed)
Marsteller starts his day with a bye followed by a match against an opponent from either Algeria or South Korea. Neither wrestler is ranked, so Marsteller should advance to the quarterfinals where he could see Abasov of Azerbaijan, a tough wrestler who is filling in for #6 Amiraslanov, Azerbaijan's original entry at this weight.
The semifinals get much more challenging for Marsteller as he could see a rematch with Mohammad Nokhodi who teched him earlier this year. His other potential semifinal opponent could be Akhmed Usmanov, a tough Russian who's been racking up incredible wins and hasn't lost in over a year.
A victory for Marsteller in the semifinals would make him a favorite heading into the finals. A loss in the semifinals would mean he would need likely need to beat either Nokhodi or Usmanov to earn bronze.
On the other side of the bracket, look for one of Gamkredlidze (GEO), the #3 seed, Gulaev (SVK), or Mykhailov (UKR), the #2 seed, to be the other finals wrestler.
92 kg - Zahid Valencia (7 seed)
Valencia has a bye in the first round then will expect to see Iran's Amirali Azarpira in the second round. Azarpira is one of the favorites in this weight, and he owns a victory over Zahid Valencia this year.
Should Valencia flip the script on Azarpira, he would need to get past the likes of #5 Nurmagomedov (AZE) in the quarterfinals and Valiev of Russia in the semifinals. Valencia definitely ended up on the tough side of this bracket, so he'll have to be on his A-game to bring home a medal.
This is an interesting weight as a lot of the wrestlers have spent a lot of time at either 86kg or 97kg, so there is little overlap between common opponents. 2023 Euro bronze medalists Kardanov (SVK) and Maisuradze (GEO) will vie with 2023 Euro gold medalist Akturk (TUR) for the finals spot on the top side of the bracket opposite Valencia.
Days 3 & 4 | Nick Lee, Kyle Snyder
65 kg - Nick Lee (unseeded)
This is often considered the deepest weight in the world. Just last year, Yianni became the first US world medalist since Bill Zadick in 2006, so American fans are familiar with tough brackets at 65 kg. Lee starts with a winnable match against Bienkowski of Poland then could see either Anuj of India or All-American Austin Gomez who's representing Mexico in the second round. He will be favored against Gomez and against either third-round opponent he might face (either Naim of Bulgaria or Jalolov of Uzbekistan).
The sledding will get tougher in the quarterfinals as Lee would likely see last year's champ #2 Amouzad of Iran. If Lee navigates that challenge, he might see Olympic gold medalist Otoguro of Japan in the semifinals. He could also see Hungary's Musukaev who teched him earlier this year.
Additionally, neutral athlete Shamil Mamedov of Russia, the 2021 U20 world champ and 2022 Yashar Dogu and Yariguin champ, could very well rip through the bracket. He's in the same quarter of the bracket as Otoguro and Musukaev.
There's an insane amount of firepower on Lee's side of the bracket, so medaling or qualifying Team USA for the Olympics could be tough.
The other side of the bracket is equally bonkers. 2023 Asian silver Tumur-Ochir (MGL), three-time world champ and two-time Olympic medalist Aliyev (AZE), 2018 world bronze Valdes (CUB) and 2023 Euro champ Tevanyan (ARM) are all in one quarter of the bracket. All are Olympic medal-caliber wrestlers who will contend for a 2023 world title.
In the other quarter of the bottom half of the bracket is the #2 seed Sebastian Rivera, competing for Puerto Rico, and a host of other tough wrestlers headlined by Bolkvadze (GEO) who could see Seabass in the quarterfinals.
97 kg - Kyle Snyder (1 seed)
Snyder won't see a top-ten ranked opponent in the first two rounds than could face #7 Ibragimov of Uzbekistan in the quarterfinals. He will expect to face great Russian champion Abdulrashid Sadulaev in the semifinals. Since Russia was banned from competition last year, Sadulaev didn't earn seeding points and was randomly drawn into the bracket. Sadulaev has owned his rivalry with Snyder barring their first meeting in 2017. Snyder will need to recapture that 2017 magic in order to advance to the finals.
Should Sadulaev defeat Snyder in the semis, American fans should expect a rematch with #6 Goleij (IRI) in the bronze medal match. Snyder needed a takedown in the final seconds to beat Goleij in the semifinals of the 2021 World Championships.
On the other side of the bracket, the #2 and #3 seeds, Magomedov (AZE) and Matcharashvili (GEO) are the favorites to meet in the semifinals.