2023 Senior World Championships
Tracking International Transfers With College Ties At 2023 Worlds
Tracking International Transfers With College Ties At 2023 Worlds
Tracking the current and former college wrestlers representing countries other than Team USA at the 2023 Senior World Championships.
Sep 18, 2023
by Jon Kozak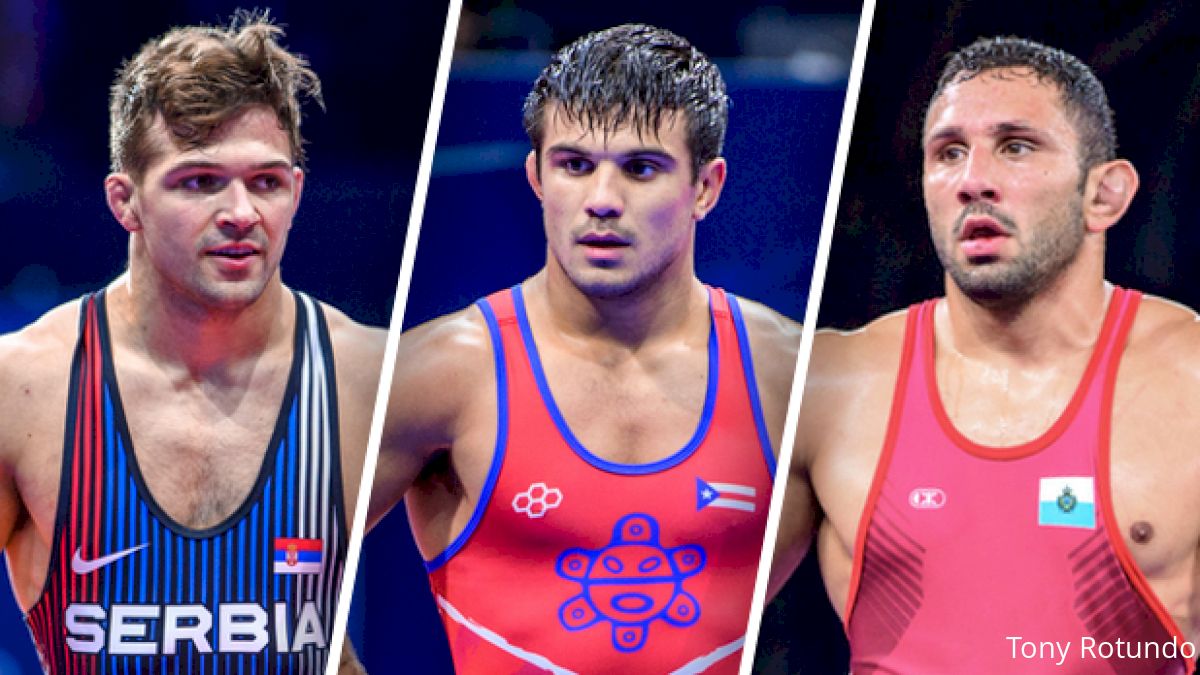 A number of current and former US College wrestlers are representing a variety of countries at the 2023 World Championships in the men's freestyle division. See the competitors wrestling for countries other than Team USA below and check back once the competition begins as we track their world championship results.
We will also be tracking Team USA's results throughout the event.
Other World Championship Content
Full Schedule | Team USA's Results | Women's Freestyle Preview | 65 kg Preview | 97 kg Preview
Medalists
57 kg: Stevan Micic, SRB (Michigan) | NCAA finalist, 3x All-American
86 kg: Myles Amine, SMR (Michigan) | NCAA finalist, 5x All-American
65 kg: Sebastian Rivera, PUR (Northwestern/Rutgers) | 4x All-American
---
Non-Medalists
57 kg: Darian Cruz, PUR (Lehigh) | NCAA champ, 3x All-American
57 kg: Gulumjon Abduallaev, UZB (Menlo College) | NAIA National Champ
61 kg: Joey Silva, PUR (Michigan)
61 kg: Nick Lattanze, CAN (Brown)
Qualif - Forfeit loss to Jahongirmirza Turobov, UZB
65 kg: Lachlan McNeil, CAN (North Carolina) | All-American
65 kg: Josh Finesilver, ISR (Duke) | 4x NCAA qualifier
65 kg: Austin Gomez, MEX (Wisconsin) | All-American
65 kg: Colin Realbuto, ITA (Northern Iowa) | 2x NCAA qualifier
65 kg: Abdullah Assaf, PLE (Illinois)
74 kg: Cesar Alvan, BRA (Columbia) | NCAA qualifier
74 kg: Adam Thomson, CAN (Penn)
74 kg: Mitch Finesilver, ISR (Duke) | All-American
74 kg: Anthony Valencia, MEX (Arizona State) | All-American
74 kg: Shane Jones, PUR (Old Dominion)
74 kg: Malik Amine, SMR (Michigan) | 2x NCAA qualifier
74 kg: Bekzod Abdurakhmonov, UZB (Clarion) | All-American
74 kg: Anthony Wesley, CPV (Iowa State)
86 kg: Matt Finesilver, ISR (Duke/Michigan) | 4x NCAA qualifier
86 kg: Noel Torres, MEX (Newman) | NCAA D2 champ
86 kg: Ethan Ramos, PUR (North Carolina) | All-American
97 kg: Maxwell Lacey, CRC (Wheeling)
97 kg: Ben Honis, ITA (Cornell) | All-American
125 kg: Aaron Johnson, JAM (Cumberlands) | 3x NAIA All-American
125 kg: Jonovan Smith, PUR (Presbyterian)
*Let us know if we missed any wrestlers by sending an email to jonathan.kozak@flosports.tv or a dm on Twitter to @KozakJon