2023 Senior World Championships
The Full Breakdown On Women's World Championship Contenders At Each Weight
The Full Breakdown On Women's World Championship Contenders At Each Weight
Women's freestyle competition begins Monday at the World Championships. Get ready by taking a look at the top contenders at each weight.
Sep 15, 2023
by Olivia Lichti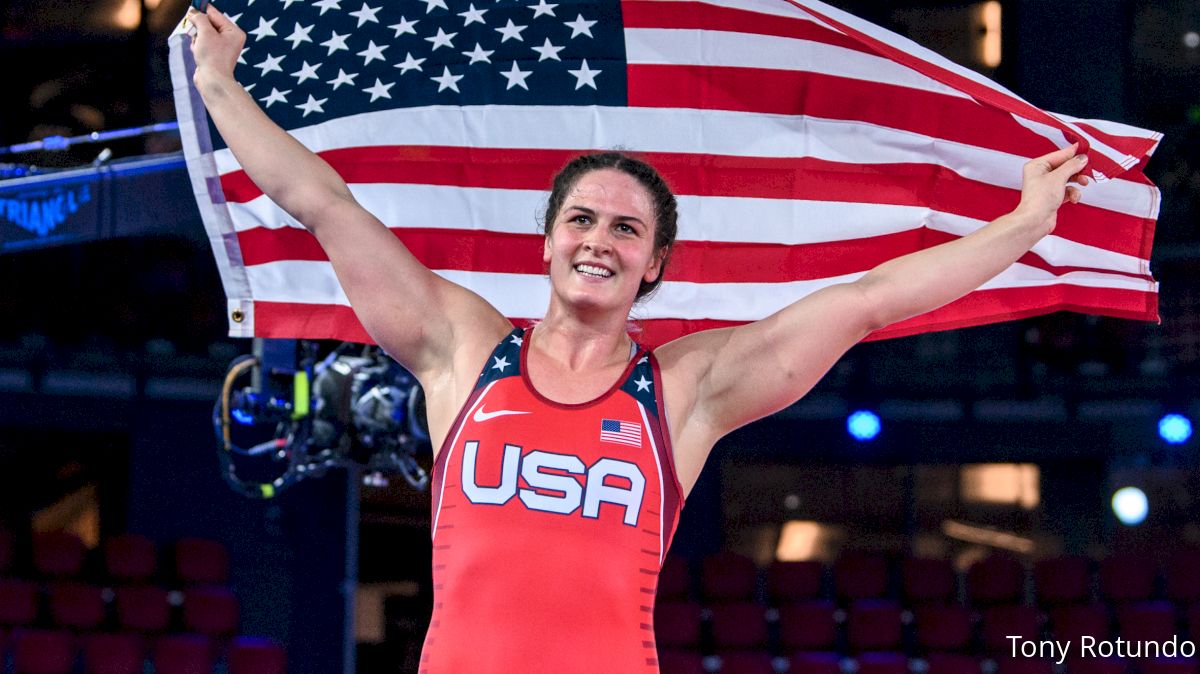 Women's freestyle competition kicks off Monday morning at the World Championships in Belgrade. The United States assembled a lineup loaded with past World champions to contend with global power Japan and the rest of international wrestling's top talents.
Here's a look at the top contenders and wrestlers to watch at each weight:
50 kilograms
Since winning her first World title in 2017, Japan's Yui Susaki has never lost to anyone outside her home nation — and she likely won't be slowing down anytime soon. She's not the only all-time great in this weight class. Azerbaijan's Mariia Stadnik is a multiple-time World champion and has the opportunity next year in Paris to become the first wrestler to win five Olympic medals. Though she is 33 and has been less active internationally since the Tokyo Olympics, Stadnik is still a powerful athlete who should not be underestimated.
Though American Sarah Hildebrandt owns three World medals, she has yet to face Stadnik or Susaki; both matchups will be highly anticipated in Belgrade. Other challengers for medals including Mongolia's Otgonjargal Dolgarjav, who beat Hildebrandt last year (Hildebrandt avenged that loss recently at the Ranking Series in Budapest) as well as previous World medalists Oksana Livach of Ukraine, Anna Lukasiak of Poland and Emilia Vuc of Romania.
53 kilograms
If there's one name Dom Parrish definitely has circled as she looks to defend her 2022 World title, it's Japan's 19-year-old Akari Fujinami. Although a foot injury kept Fujinami from competing last year on the international scene, she was plenty impressive in her Senior-level debut in 2021, notching a World title before going on to defeat 2021 Olympic champion Mayu Shidochi (formerly Mukaida), also of Japan.
Two other Tokyo Olympic medalists return to this weight class for the first time since 2021: bronze medalist Vanesa Kaladzinskaya, who has been absent due to Belarus' suspension, and China's silver medalist Qianyu Pang. Additionally, age-level World champions Lucia Yepez of Ecuador, Antim of India and Jonna Malmgrem of Sweden will look to push the nine previous World medalists who will be searching for Olympic qualification spots in this loaded bracket.
55 kilograms
Japan's depth leads to many talented women falling below the radar, but perhaps none are as underrated as 23-year-old Haruna Okuno. Though she's struggled to crack the senior lineup since 2018, she owns a total of seven World titles from all age-levels (including two at the Senior level). Okuno will be Jacarra Winchester's greatest challenge as the American looks to win her second World title. Other prominent contenders include Canada's Karla Godinez, a 2022 World bronze medalist who has split matches with Winchester, 2021 World bronze medalist Katarzyna Krawczyk of Poland and recent U20 World champion Aryna Martynava of Belarus.
57 kilograms
In last year's World finals, Helen Maroulis suffered a rare loss to Japan's two-time World champion Tsugumi Sakurai, whose tactical performance and impeccable positioning led her to a 3-0 victory. This time, the two are slotted to face each other in the semifinals (should they defeat the other elite athletes in this bracket). Ukraine's U23 World champion and returning World bronze medalist Alina Akobiia holds the top seed and seems primed to make the finals from the other side.
The list of elite contenders is long: Anastasia Nichita of Moldova is dropping to the Olympic weight after winning Worlds at 59 kilograms last year. Belarus' 2020 Olympic finalist Iryna Kurachkina will also return to the World Championships for the first time since Tokyo. Olympic bronze medalist Evelina Nikolova's high-flying style and uncanny pinning ability makes her a threat to anyone in the weight. Past World medalists Odunayo Adekuoroye of Nigeria and Anhelina Lysak of Poland are both in the primes of their career. And China's 20-year-old Kexin Hong has been quietly making a name for herself as a dark horse after excellent performances at this year's Ranking Series. The Olympic weight classes are an absolute gauntlet in Serbia, and this division is certainly no exception.
59 kilograms
This weight class is headlined by two main stars in Belgrade. Ukraine's World champion Yuliia Tkach is a seasoned veteran with two Olympic appearances, four World medals and more than a decade of international experience. Japan's Sae Nanjo, a 2021 World bronze medalist and two-time U23 World champion, will be her biggest challenger. The two have yet to face each other in competition. Past World medalists Jowita Wreszien of Poland and Qi Zhang of China will also challenge for spots on the podium. Nonetheless, Jen Page's domestic successes have shown she is well prepared for the challenges of this international bracket.
62 kilograms
Although Japan's Nonoka Ozaki dominated Senior Worlds last year, she won't return to this weight class in Belgrade. In a pair of shocking domestic upsets at Japan's World Team Trials tournaments, Ozaki was ousted from her World Team spot by Sakura Motoki. Motoki earned a bronze medal at 59 kg last year, suffering her sole international loss to World champ Anastasia Nichita in the semifinals, but she has proved herself capable with her domestic performance and a gold medal at the Zagreb Open Ranking Series. However, the depth of this weight class means she certainly won't be handed the gold medal.
Having made the past two World finals and owning the top seed, Kayla Miracle is the on-paper favorite heading into the World Championships. But Olympic medalists Iryna Koliadenko of Ukraine and Aisuluu Tynybekova of Kyrgyzstan will both have their say, as will returning World medalists Xiaojuan Liao and Grace Bullen of Norway. Canada's Ana Godinez, who is slotted to face Miracle in the semifinals should seeds hold, has been able to push Miracle each time they've faced. And don't forget Orkhon Purevdorj. Though the Mongolian is only just returning to international competition following a lengthy doping suspension, she is one of the few women to hold a win over wrestling legend Kaori Icho.
65 kilograms
Although Nonoka Ozaki will not have the opportunity to try to qualify 62kg for Japan, she will have the chance to earn her second Senior World title. In a weight class thinned by the upcoming Olympic year, Ozaki will be the clear favorite. Other top contenders will be Bulgaria's Mimi Hristova and France's Pauline Lecarpentier, both veterans of the international scene. Although Macey Kilty has been plagued with injuries over the past couple years, her Final X victory over last year's World bronze medalist Mallory Velte labels her as an instant medal contender as well.
68 kilograms
Tamyra Mensah-Stock has owned 68 kilos once 2019, and her absence leaves this weight class wide open for the taking in Belgrade. Mensah-Stock's finals opponent last year, Ami Ishii of Japan, has limited international experience but appears poised to break out as a possible leader in this tumultuous weight class. Top-seeded Feng Zhou of China already owns two World medals and had a strong Ranking Series campaign this year. 2021 World champions Meerim Zhumanzarova of Kyrgyzstan and Irina Ringaci of Moldova will also contend for the title, though both have taken their share of losses to other top competitors in this field.
Other entrants of note include Tokyo 2020 silver medalist Blessing Oborududu of Nigeria and three-time World medalist Koumba Larroque of France, though both have decidedly inconsistent results. Also of note is Emma Bruntil's international debut at this weight class; she's notched some big wins at 65 kg, but it remains to be seen how she'll perform in this stacked Olympic weight.
72 kilograms
After (yet another) dominant run at the U20 World Championships, Amit Elor seems poised to repeat her feats from last year and win another Senior World title. While some familiar faces remain in the field, like Elor's 2022 finalist opponent Zhamila Bakbergenova, there's one significant new foe she'll need to overcome: Miwa Morikawa. Morikawa won Worlds last year at 65 kg and has been one of Japan's most successful upperweight wrestlers as of late. Expect their matchup to be the toughest of Elor's campaign. Other notable athletes include U23 World Champion Nesrin Bas of Turkey, two-time U23 World medalist Kendra Dacher of France and China's Qiandegenchagan.
76 kilograms
The list of contenders at 76 kilos has never been longer, but the one everyone will have circled is the long-anticipated return of Adeline Gray. Despite some early rust while getting back into elite competitive shape, Gray looked phenomenal in earning her World Team spot and fans should be excited to see where she stacks up as she searches for her seventh World title.
The list of credentialed athletes in this weight class is long. Returning World medalists Epp Maee of Estonia and Samar Hamza of Egypt will look to lock in their places in Paris. U23 World champions Tatiana Renteria of Colombia and Milaimys Marin of Cuba will continue to search for their Senior-level breakout moment. Other Senior-level stars like Canada's Justina Di Stasio, Japan's Yuka Kagami and Kyrgyzstan's Aiperi Medet Kyzy are definite podium contenders as well. If you're looking for a dark horse, keep an eye on Ecuador's third-seeded Genesis Reasco Valdez. She's quietly racked up some impressive Senior-level wins over the past couple years and could really shake things up in Serbia.