Class Of 2025 Recruiting News
Christian Castillo Ready To Make Life Changing College Decision
Christian Castillo Ready To Make Life Changing College Decision
An inside look at the recruitment of Christian Castillo.
Jul 1, 2023
by JD Rader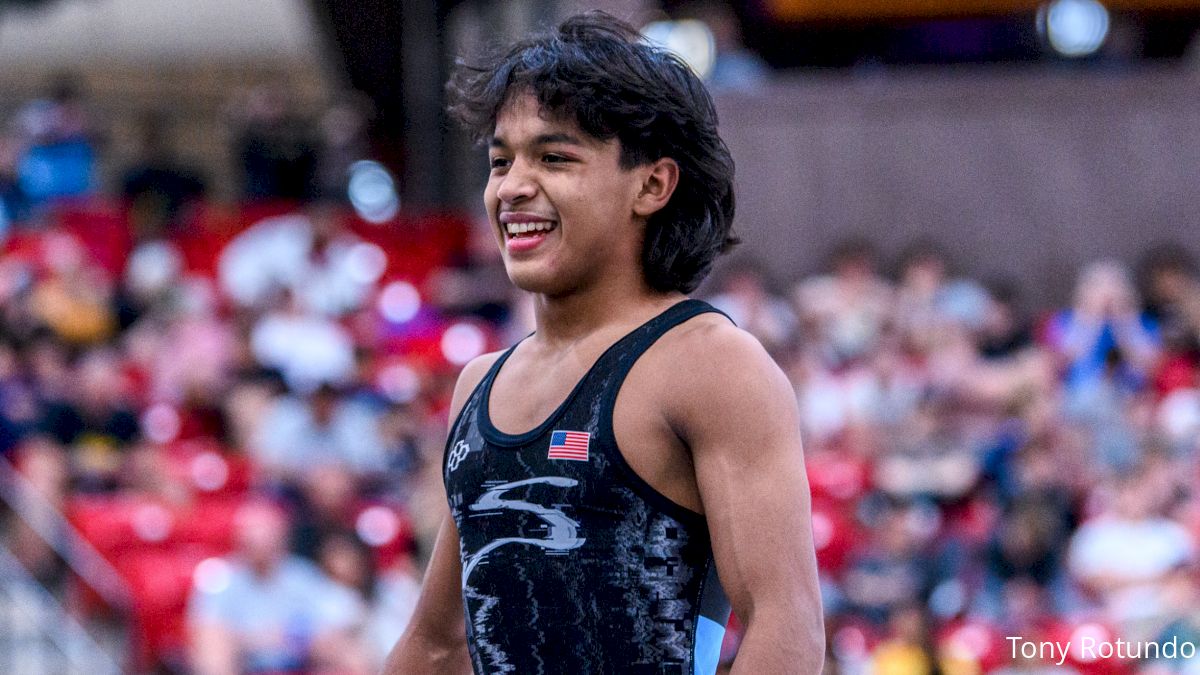 A rising junior at Valient Prep, Christian Castillo is the #11 overall recruit in the class of 2025. A U17 World silver medalist and Super 32 champion, he most recently made his second-straight U17 World Team. The Arizona native is currently ranked #1 in the country at 113 lbs. We recently spoke to Castillo to get an inside look at his recruitment process and what's next for him.
What do you remember about the first day coaches could contact you?
I was sleeping and didn't know what the day was, so when I woke up I had a bunch of text messages and missed calls. It actually wasn't as many as I thought it would be, but there were still quite a few. I guess there were a couple of people saying I was committed to ASU which kind of confused people. I had to tell a few people that I wasn't.
What have you learned about the recruitment process so far?
It's definitely really cool. It's going to be life changing, the decision I make. I have to make it with my family, but I'm not really focused on it too much right now because I have the World Championships coming up.
What has been the most surprising part?
The most surprising part is how much coaches really show they want someone. I knew they would go after someone, but not as much as they have been. They're always trying to call, text, and see how I am. There's a chance I can't even go to the college and they're still reaching out.
Do you have a top school list yet?
I like certain colleges, but I don't really know them. I don't have a list, but I have preferred colleges that I would go to. Some of my coaches wrestled with the guys that coach, so they know who's a good coach and who's not. I'll ask my coaches for advice, and my family, and scholarship plays a large role. I want a full ride wherever I go. Just so I don't have to have my parents worry about being where I am.
What are some of those programs that you're more interested in?
It's a bunch of schools in the top fifteen. The no-brainers like Penn State, Michigan, Cornell, Stanford, and a bunch of schools like that. I'm really looking to move from the state because I want to experience new things outside of my state. I've been here my whole life. It would take a lot for me to stay here. As good as the ASU coaching staff is, I really like traveling the world and to different states. So, I like ASU, but it would take a lot for me to stay here.
Do you have a timeline for when you want to make your decision?
Just when I know it feels right and which college is the one. I kind of just go with the flow. If I had a preferred time, it would be the end of or during next summer. I'm not saying I will, but if it happens, it happens.
How many official visits do you think you'll take?
I don't know if I'll go over or under, but I think I'll stay around five. I think six or seven would probably be the limit for me. It would be cool to go to different schools, but I don't want to get too many coaches' hopes up and stuff like that.
What are some of the most significant factors for you when considering where to go to college?
Definitely the coaching staff. Also my family. I'm going to take them with me on some visits. And the team culture. I just want an all-around program. The way my school is, we're all pretty tight including our coaches, so I want to keep it like that.
How is NIL playing a role in your decision?
It hasn't popped up in any of my calls yet, but it'll definitely play a factor. If someone wants to throw some cash around, it will be tempting, but it's not all about that. You want the coaches to be good and you want the team to be good.
What's on the horizon for you?
I've got the World Championships coming up at the end of July. I'll just be training for four or five weeks to get ready for that. After that, I'll switch my headspace to try to get better at folkstyle. I feel like last year I did good, but not as good as I wanted to. I struggled in folkstyle, but I'll definitely be better next year.