2023 Final X - Newark
Vito Arujau vs Nahshon Garrett - Final X Preview & Prediction
Vito Arujau vs Nahshon Garrett - Final X Preview & Prediction
A full preview and prediction for the 2023 Final X matchup between Vito Arujau and Nahshon Garrett.
Jun 2, 2023
by Jon Kozak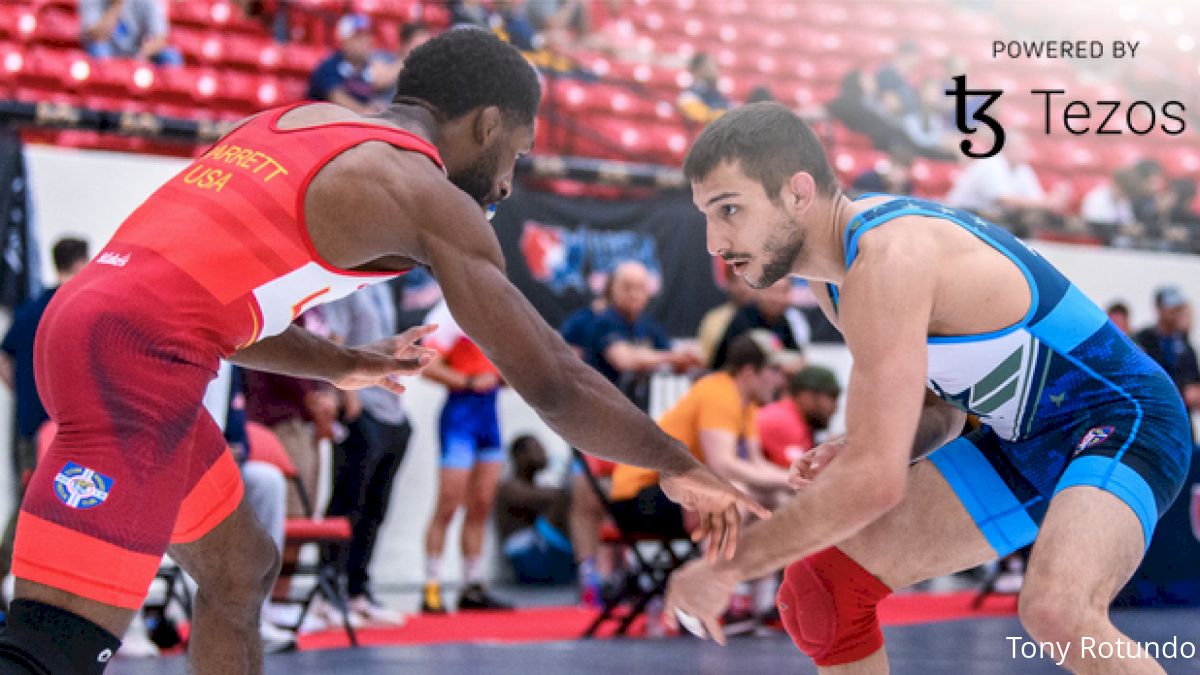 Final X 2023 presented by Tezos is set to go down on June 10 at the Prudential Center in Newark, New Jersey. This event will feature the best wrestlers in the United States as they seek to make Team USA's 2023 World Team. The 61kg matchup between Vito Arujau and Nahshon Garrett is fascinating and should be one of the best of the night. Check out the below article for a full breakdown of this incredible matchup!
Match History
Arujau and Garrett's history is one of the elements that make their head-to-head matchup so interesting. Both are very familiar with one another - they're both national champions for Cornell, they trained together for years in Ithaca, and they have met 3 times on the freestyle circuit over the past 3 years.
They first wrestled at the RTC Cup in December 2020 on back-to-back days in ultra-competitive matches. In their first match, Arujau got out to a big, 11-2 lead and looked like he was going to end the match early with a tech fall. However, Garrett stormed back late in the match and closed the deficit to 11-9. As Garrett was attempting the match-tying gut wrench, Arujau was able to step over for two points and sealed the victory.
In their second match at the RTC Cup, Garrett got out to an early lead with a takedown and a gut wrench in the first 20 seconds of the match and even took a 5-2 lead into the break. The turning point in the match came with just under 45 seconds to go in the match when Nahshon was in on a double leg and drove Vito toward the edge of the mat. Though Arujau stepped out, he was able to hit a chest wrap that was ruled a four-point move and was upheld after Garret's corner challenged giving Arujau a 7-5 lead. That's how the match ended giving Arujau another narrow victory.
The two most recently met in the quarter-finals at the 2023 US Open. In that match, Arujau took a 1-0 lead into the break on 1 activity clock point. Then, while on the activity clock, Arujau converted on a big double leg for 4 points and then immediately transitioned to a turn to take a 7-0 lead. Garret and Arujau then exchanged takedowns to close out a 9-2 victory for Vito. Check out all three of those matches below:
2020 RTC Cup Match 1: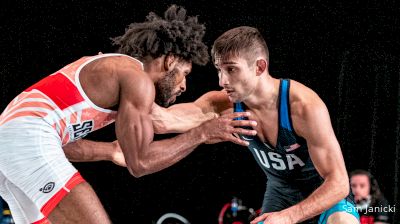 Unlock this video, live events, and more with a subscription!
Get Started
Already a subscriber? Log In
2020 RTC Cup Match 2: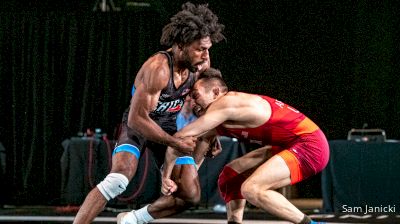 Unlock this video, live events, and more with a subscription!
Get Started
Already a subscriber? Log In
2023 US Open Quarter-Final Match: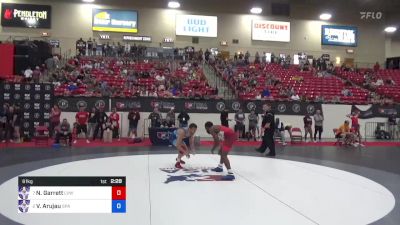 Unlock this video, live events, and more with a subscription!
Get Started
Already a subscriber? Log In
What Nahshon Needs To Do To Defeat Vito
If Garrett wants to come out on top on June 10, there are a few simple keys to victory. The first is limiting big moves. There was one commonality that existed across all three of the Garrett-Arujau matches - Vito scored a 4-point move in every match. This may sound obvious, but it's incredibly challenging to win a match if you're giving up 4 point moves. On top of the points, the wrestler with the "higher-amplitude score" also holds criteria. Simply put, giving up 4-pointers against a dynamic wrestler like Vito Arujau is not a luxury Garrett can afford if he hopes to come out victorious.
Another important key to victory for Garrett is to get to his par terre offense. In both RTC Cup matches Garrett was able to successfully turn Arujau multiple times once he got on top. However, Garrett never got a chance to work on top at the US Open and it resulted in the largest margin of victory win for Aurjau. Garrett showed off his world-class par terre offense at the recent World Team Trials Challenge Tournament when he teched Austin DeSanto with turns and even turned Daton Fix with a gut wrench. Nahshon Garrett has one of the best gut wrenches in America and if he can get on top against Arujau, we should expect a turn.
Garrett's win over Daton Fix at the 2023 WTT Challenge Tournament: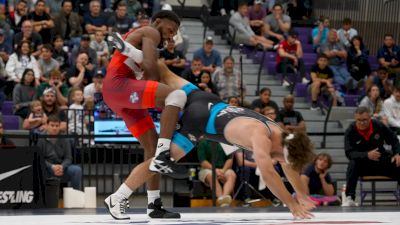 Unlock this video, live events, and more with a subscription!
Get Started
Already a subscriber? Log In
Garrett is wrestling the best he has in years and is absolutely capable of taking out Arujau at Final X. Garrett has the unique combination of size, speed, and offense that make him a dangerous competitor to anyone in the world at 61kg and we should not be surprised if he comes out on top on June 10.
Vito Arujau Can Win A World Title
For as good as Nahshon Garrett is wrestling, is there any wrestler in the world who is riding a streak hotter than Vito Arujau? On his way to winning an NCAA title in March and the US Open in April, Vito recorded impressive wins over Daton Fix, Roman Bravo-Young, Nashon Garrett, Nathan Tomasello, and Austin DeSanto! Beyond that incredible hitlist, Vito's closest match in that mix was his 8-3 victory over Tomasello in the US Open semis. The point - Vito is not only winning at the highest level but he's also dominating.
While his performance over the past few months is certainly noteworthy, it's also something we've seen glimpses of in his development over the years. As an age-level wrestler, Arujau was one of Team USA's brightest prospects. He made a Cadet World team in 2016 and a Junior World team in 2019. Both of those years Arujau went on to win silver at the world championships. Despite showing promise in those developmental years, Arujau has struggled to get "over the hump" on the senior level finishing runner-up the past few years at 57kg to Thomas Gilman. However, this looks to be the year that Arujau is ready to break out and make his mark at the senior world championships.
Arujau's win over Russia's Akhmed Idrisov to make the 2019 Junior World Finals:
When Arujau is wrestling his best, there doesn't seem to be anyone in the world who can defeat him at 61kg. He might be the fastest wrestler on the planet (regardless of weight) and uses his speed to convert on big moves and then transition immediately into his top-level parterre offense. On top of that, Vito has improved his parterre defense which was formerly a liability in his freestyle game. Vito's the favorite heading into Final X and he's 100% ready to win a senior world title this year.
Final X Prediction
Both Garrett and Arujau are wrestling better than we've ever seen and that means we should expect an incredible series on June 10 in Newark. So, who wins? Based on their match series, and more importantly their meeting 6 weeks ago at the US Open, I expect Vito Arujau to come out on top. Arujau has shown a better ability to get to his offense against Garrett and execute for a full 6 minutes. While Garrett is a dangerous wrestler, he hasn't yet shown he can put together the perfect match to take out Arujau. For that reason, my pick is Vito Arujau in 2-straight matches.