Big Ten
Nathan Tomasello Has A Nearly Unbreakable Record
Nathan Tomasello Has A Nearly Unbreakable Record
Nathan Tomasello has a remarkable winning streak on wrestling's toughest day of the year. And Oklahoma's Roger Frizzell isn't far behind.
May 29, 2023
by Kyle Klingman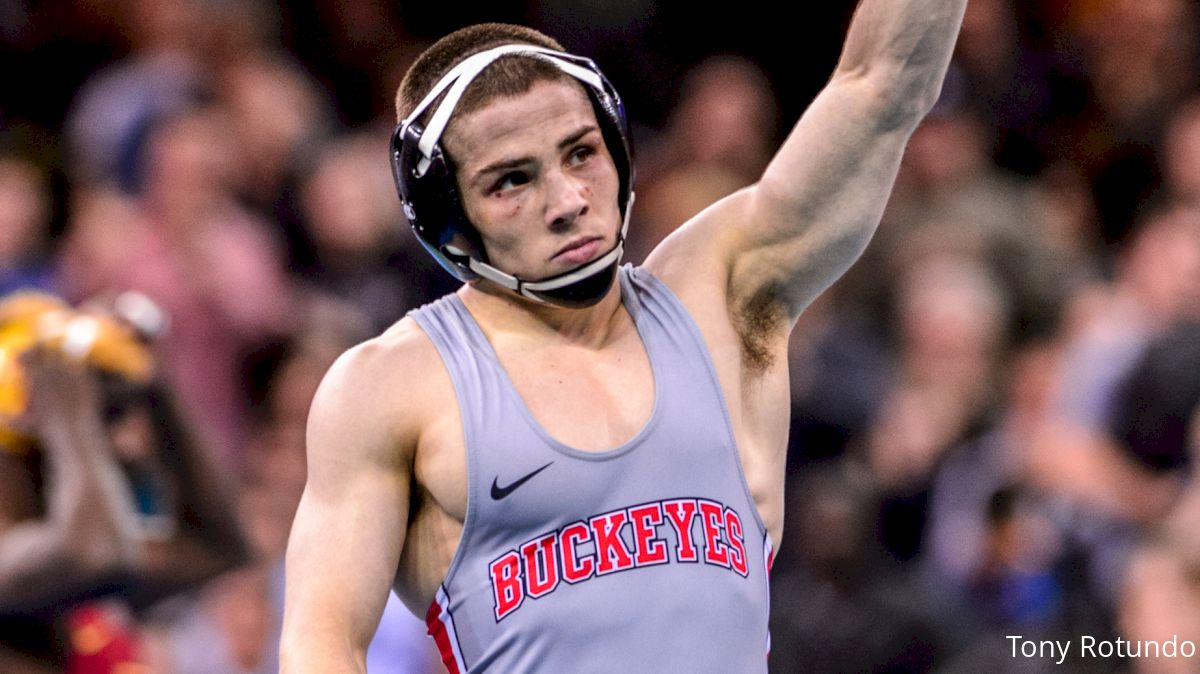 Jim Gibbons coached Iowa State for seven seasons (1986-92), which included an NCAA team title in 1987. His favorite stat is his team's 33-13 record on Saturday of the NCAA D1 Championships.
The logic is that the NCAA Championships are the only three-day college tournament of the year and every Saturday match is against a current All-American. Consolation semifinals, placing matches, and finals occur on the last day of American Folkstyle's crown jewel event.
Not everything on Saturday is equal, though. The second-place finisher will go 0-1, while the seventh-place finisher goes 1-0. As a competitor, Gibbons placed 7-1-3 at the NCAA Championships from 1980-82, and that means a 4-0 Saturday record.
Below is the complete Saturday breakdown:
First: 1-0
Second: 0-1
Third: 2-0
Fourth: 1-1
Fifth: 1-1
Sixth: 0-2
Seventh: 1-0
Eighth: 0-1
Making it to Saturday of the D1 NCAA Championships is a feat few achieve. The maximum number of Saturday wins with a straight bracket system is eight (unless you have a COVID year), which means you placed third during four tournaments.
Note: The 1948 NCAA Championships used freestyle rules and a round-robin format as a way to prepare for the London Olympics that year. For this exercise, we are referring to the current three-day format of the NCAA tournament.
Former Ohio State star Nathan Tomasello has seven wins on Saturday without a loss. He went 1-3-3-3 from 2015-18 and was 7-0.
Oklahoma's Roger Frizzell also has seven wins but suffered a loss during his freshman season. He went 4-3-3-3 from 1980-83 and was 7-1.
A side-by-side comparison of Frizzell's NCAA tournament losses next to Tomasello's losses shows how tough the competition was.
Tomasello's losses: Thomas Gilman, Cory Clark, and Spencer Lee — all of Iowa.
Frizzell's losses: Andy Rein (Wisconsin), King Mueller (Iowa), Scott Trizzino (Iowa), Nate Carr (Iowa State), and Kenny Monday (Oklahoma State).
Three of Frizzell's losses were to future Olympic medalists: Rein (silver in 1984), Carr (bronze in 1988), and Monday (gold in 1988, silver in 1992).
"Roger was very tough," Monday said. "He would have won two or three NCAA titles if it wasn't for me and Nate."
A 4-0 record in the NCAA finals is the goal, but fighting back for third is a time-honored tradition — and it can lead to more wins on wrestling's toughest day of the year.
Nathan Tomasello's Record On Saturday (7-0)
2015 NCAA Championships (125)
Finals: Tomasello over Zeke Moisey (West Virginia), 9-5
2016 NCAA Championships (125)
Friday's Semifinal: Thomas Gilman (Iowa) over Tomasello, SV-1, Fall 7:37
Consolation Semis: Tomasello over Conor Youtsey (Michigan), 10-1
Third-place Match: Tomasello over David Terao (American), 5-3
2017 NCAA Championships (133)
Friday's Semifinal: Cory Clark (Iowa) over Tomasello, 7-4
Consolation Semis: Tomasello over Eric Montoya (Nebraska), 4-1
Third-place Match: Tomasello over Stevan Micic (Michigan), 5-2
2018 NCAA Championships (125)
Friday's Semifinal: Spencer Lee (Iowa) over Tomasello, Fall 6:05
Consolation Semis: Tomasello (Ohio State) over Sebastian Rivera (Northwestern), Fall 1:14
Third-place Match: Tomasello (Ohio State) over Ethan Lizak (Minnesota), SV-1 8-6
Roger Frizzell's Record on Saturday (7-1)
1980 NCAA Championships (150)
Friday's Semifinal: Andy Rein (Wisconsin) over Frizzell, 9-6
Consolation Semis: Frizzell over Fred Boss (Central Michigan), Fall 1:52
Third-place match: King Mueller (Iowa) over (Frizzell), 16-11
1981 NCAA Championships (150)
Friday's Semifinal: Scott Trizzino (Iowa) over Frizzell, 10-6
Consolation Semis: Frizzell over Jackson Kistler (Arizona State), 10-5
Third-place Match: Frizzell over Fred Boss (Central Michigan), 10-3
1982 NCAA Championships (150)
Friday's Semifinal: Nate Carr (Iowa State) over Frizzell, 13-10
Consolation Semis: Frizzell over Frank Castrignano (NC State), Fall 1:30
Third-place Match: Frizzell over Wes Roper (Missouri), 9-2
1983 NCAA Championships (150)
Friday's Semifinal: Kenny Monday (Oklahoma State) over Frizzell, 7-5
Consolation Semis: Frizzell over Wes Gasner (Wyoming), 11-3
Third-place: Frizzell over Jim Heffernan (Iowa), Medical Forfeit