Women's Weekly
Women's Weekly: Mother And Daughter Make History
Women's Weekly: Mother And Daughter Make History
Makenna Dolt will compete at the same college as her mother, women's wrestling continues to explode, and Final X is upon us.
May 16, 2023
by Kyle Klingman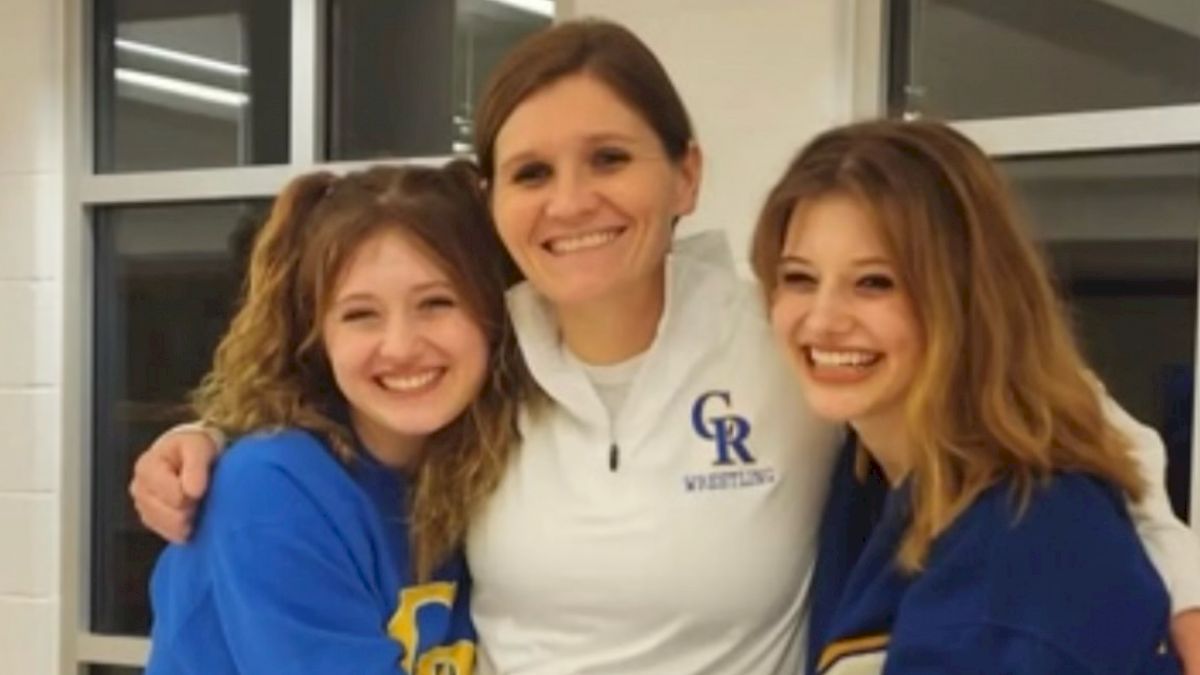 There will be others, but Brandy and Makenna Dolt will always be the first. And, if you ask Missouri Valley head coach Kevin Corbett, it's hard to argue otherwise.
Brandy Golt finished second at the 2004 Women's College Nationals during the inaugural year of the event. Missouri Valley was one of the original schools to add women's wrestling. Her eventual husband, Chad Dolt, was an All-American for the program in 2002 and 2003.
Their daughter, Makenna, will wrestle for the same school as her parents, which likely makes this the first time a daughter will wrestle for the same program as her mother. This day was bound to happen — and now it's here.
Daughters are following in their mothers' wrestling footsteps.
"I think it's a pretty special moment in women's wrestling and in general," Corbett said. "Kristie Davis and her daughter, Kayla, wrestled but it wasn't at the same college. This is the first time, I think, that this has happened where an alumni's daughter is wrestling here at Missouri Valley. I'm not sure if it's happened at any of the other schools. I'd say it would be fairly difficult for it to have happened to at some of the other schools.
"It's a milestone in women's wrestling now because you always hear about the fathers and sons. This is the first example of it in women's wrestling just to show how it has grown. We're into our second generation of athletes from the moms."
There were only five teams at the 2004 Women's College National Championships: Menlo, Pacific, Cumberlands, Missouri Valley, and Minnesota-Morris. Host Missouri Valley won the inaugural title, 97-87, over Cumberlands.
Today, there are 155 women's college programs between NCAA, NAIA, and NJCAA.
Makenna Dolt's recent commitment to wrestle for Missouri Valley represents progress.
"I've been wrestling for a little over 10 years now, and I would say my key accomplishments include being a part of the growth in women's wrestling," Makenna said. "When I was about seven, my family and I went to the alumni dual at Missouri Valley. I can't remember her match, but I remember watching her leave the mat and being very intrigued. The lights, the yelling, the cheering, and the smell of the mat are all vividly remembered.
"In a sport as tough as wrestling it's not often that people get to have genuine motherly care from their coach. Having my mom as my coach to balance out all the chaos, grind, and stress that comes with the most grueling sport has prevented me from getting burned out, which is, unfortunately, the fate of other wrestlers who don't have that kind of support.
"She also shares the same difficult experiences with me, because we're both girls who wrestled on boys' teams in high school. She's essentially walking proof that I can also make it through the hardships of being a female wrestler.
"Going to Missouri Valley would mean going back home, to where my wrestling career began. I have the chance to make something of myself the same way my mom and dad did. People know their names for a good reason and that's something I want, too. I think Missouri Valley will provide the right guidance that's necessary for my success, along with giving me the opportunity to become the best version of myself — just like it did for both of my parents."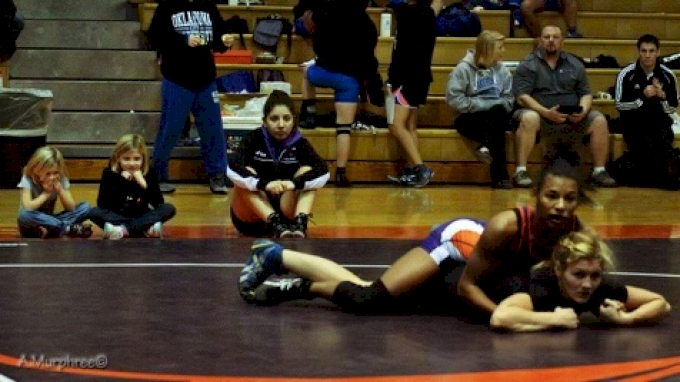 Makenna Dolt sits mat-side (far left) as her mom, Brandy, wrestles future world champion Jacarra Winchester at an alumni event. Makenna wrestled for Caesar Rodney High School in Excelsior Springs, Missouri, and will compete for Missouri Valley (the same school as her mother) next season.
Numbers Game
Speaking of growth, here is a breakdown of the current women's college wrestling landscape thanks to data from Lori Ayres of Division I women's wrestling. As mentioned earlier, there are currently 155 women's college programs.
Here is a breakdown of colleges by division and a graphic (created by Lori Ayres) with the states that sanction girls' high school wrestling.
89 NCAA programs (all divisions)
D3: 54
D2: 31
D1: 4
43 NAIA programs
23 NJCAA programs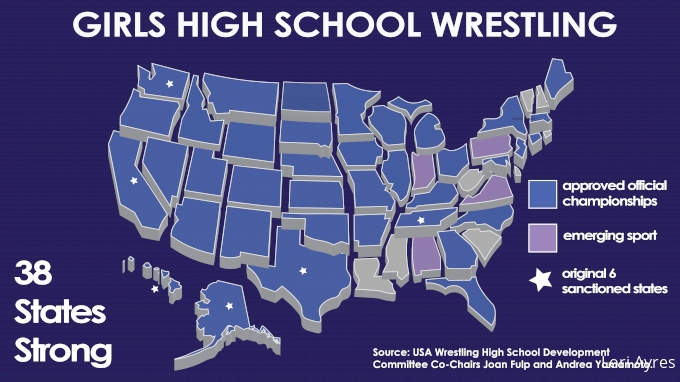 Whitney Conder-Cox and Sarah Allen accept head coaching roles
The University of the Cumberlands recently hired Sarah Allen as its next coach. Allen was an assistant with the program and will move into the head role. Cumberlands has a rich tradition that includes national titles from 2006-08.
Allen was a four-time WCWA All-American for the program (2014-17) and a 2016 national finalist at 101 pounds.
"I am honored to move into the head position at the University of the Cumberlands," Allen said. "UC has been my home since 2013. I was an athlete, graduate assistant, assistant coach, and now head of the program. I'm excited to continue coaching my athletes and looking forward to being in the corner for our incoming class. We're looking forward to continuing success in the classroom and on the mat."
Whitney Conder-Cox takes over the Siena Height program following a successful athletic career. She was a five-time U.S. World Team member and six-time U.S. Open champion.
"I'm excited to get this program up and running, and have some fun, and get working with these girls," Conder-Cox said.
Final X Is Almost Set
The final step in the World Team Trials process is upon us. Final X was created in 2018 as a stand-alone event to determine our World Team. The final two wrestlers at each weight compete in a special event to determine our 10-member World team (X is the Roman numeral 10, hence the name Final X).
Final X, presented by Tezos, is Saturday, June 10 at Prudential Center in Newark, New Jersey, and will be streamed LIVE on FloWrestling. Six match-ups have been determined, while the remaining four will be decided at this weekend's World Team Trials in Colorado Springs.
Current Final X Matches
50 kg: Sarah Hildebrandt vs Audrey Jimenez
53 kg: Dominique Parrish vs Katie Gomez
55 kg: Alisha Howk vs TBD
57 kg: Helen Maroulis vs Xochitl Mota-Pettis
59 kg: Michaela Beck vs TBD
62 kg: Kayla Miracle vs Adaugo Nwachukwu
65 kg: Mallory Velte vs Macey Kilty
68 kg: Forrest Molinari vs TBD
72 kg: Amit Elor vs Joye Levendusky
76 kg: Kennedy Blades vs TBD