2023 NCAA Championships Watch Party
First Time All-Americans As Seniors In 2023
First Time All-Americans As Seniors In 2023
A salute to the 2023 NCAA D1 Wrestling first-time All-Americans who achieved the honor in their final year of eligibility.
Apr 6, 2023
by Andrew Spey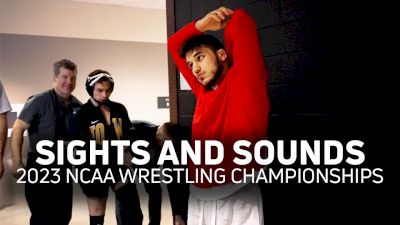 That's right, I haven't stopped creating 2023 NCAA Championship content, despite the NCAAs being in the rearview and with the US Open just weeks away. Indeed, I will continue blogging about the 2023 NCAA Championships, for as long as it takes for me to run out of ideas, which may take a while because I am famously an idea man.
We pick up today's entry in our ever-expanding constellation of 'By The Numbers' articles by pulling on a thread first knitted in this blog about wrestlers who have qualified for four tournaments but had yet to reach the podium and then carried through by this helpful eligibility tracker curated by our very own Jon Kozak.
First-Time AAs In Their Final Year Of Eligibility
The next (and last?) phase of the discussion entails highlighting the wrestlers that broke through and reached the medal rounds of the NCAA Championships in their final year of eligibility.
This proved slightly more difficult to ascertain than I imagined it would, mostly due to stupid covid. Apologies if I missed anyone, either through miscalculation of eligibility or if they are first-time AAs who technically have eligibility but then don't use it.
Anyway, here are the guys that will no longer carry an All-American-sized albatross on their backs.
From what I understand, Humphreys is hoping to get an extra year of eligibility, a position I endorse, however, he is, as of now, technically out of seasons with which to compete in the NCAA.
The West Virginia native started as a true freshman for the Mountain Hawks, reaching the bloodround at the 2019 NCAA Championships. A promising sophomore campaign was ended by stupid covid, though Josh did receive the #7 seed at the canceled 2020 Tourney, which earned him an NWCA All-American honor.
Injuries kept Humphreys out of action for the entity of 2020-21 -- hence the request for an extra year -- and then in 2022 Humphreys was again stopped in the bloodround.
However, Humphreys would not be denied in 2023, earning the #5 seed with an undefeated (though low on total matches) regular season. Josh overperformed his seed, losing in the final seconds in the semis to eventual champ Austin O'Connor but then beating eventual 5th and 4th placers Ed Scott and Jared Franek 7-3 and 8-0 respectively in the consolation bracket.
Watch highlights of Humphreys' quarterfinal win over Franek: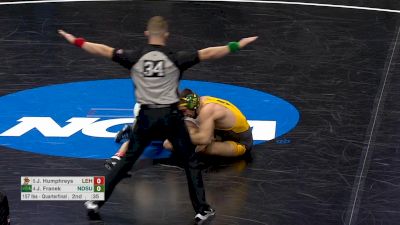 Unlock this video, live events, and more with a subscription!
Get Started
Already a subscriber? Log In
125lbs: Liam Cronin, Nebraska - 5th
Cronin took a very long route to the podium, being one of two All-Americans from the high school class of 2016 (Max Dean being the other). A regular redshirt season in 2018 and a medical redshirt in 2022, plus the 2021 season not counting for eligibility, all helped extend the Orange County, California native's collegiate career to 2023.
Cronin also "only" qualified for three NCAA tournaments (2020, 2021 and 2023). In 2021, Cornin won his first bout before dropping his next two and finishing in the round of 24, making his 2023 postseason run one of the more improbable results of the season (at least on paper, many folks in Lincoln, Nebraska and elsewhere I'm sure would disagree!).
Tusla was kinder to Cronin than Detroit, as he won his first three bouts of the tournament, which is enough to make the semifinals and guarantee an All-American honor.
You can see the manic exuberance in Cronin's celebration after he defeated Virginia Tech's Eddie Ventresca in the quarterfinals in sudden victory.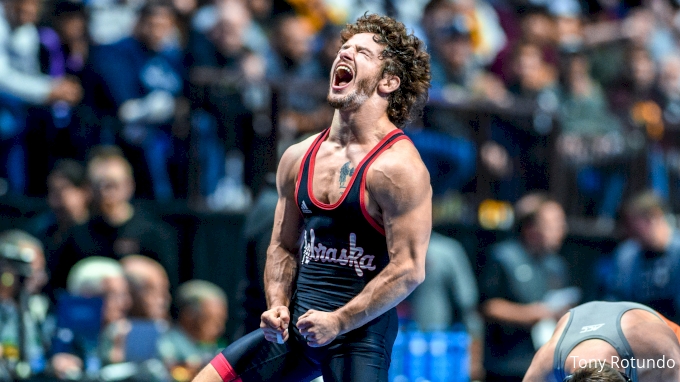 149lbs: Max Murin, Iowa - 6th
Murin had perhaps the most satisfying podium placement of all the wrestlers in Tulsa last March. Not only did Murin outplace his seed by two notches, but he also reached the medal round after falling short on three previous occasions.
In 2019, 2021 and 2022, Murin ended his NCAA Tournament on Friday night in the round of 12. In 2023, the Ebensburg, PA native finally punched through to Saturday morning with a 3-2 battle (there are no easy matches with Murin!) over Chance Lamer of Michigan.
Good Murin America and congratulations to Max!
Laird qualified for three NCAAs before the big dance in Tulsa. He reached the round of 16 in 2019, was seeded 16th in the canceled 2020 tourney, bumped up to heavyweight in 2021 and reached the round of 12, took a redshirt in 2022, then finally made his way to the medal matches in 2023.
Laird's tournament run was no fluke, as the Waterford, PA native defeated the defending NCAA champion Max Dean in a dual meet in December and never left the top 10 in the national rankings after that.
Laird won his first three matches in Tulsa, including the pivotal quarterfinal bout 2-3 over Zac Braunagel of Illinois. With that win, Laird became just the seventh Rider Bronc AA over the last 20 years.
Watch a brief highlight of Laird punching thru to the semifinals: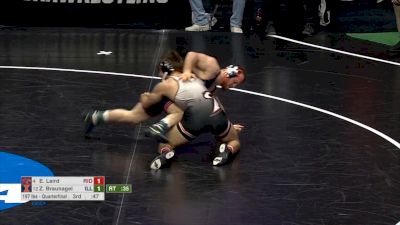 Boilermaker head coach Tony Ersland had never had an All-American during his tenure at Purdue heading into Tulsa. That would all change Friday morning in the BOK Center when Matt Ramos defeated West Virginia's Killian Cardinale in the quarterfinals (which would be followed up by an even more famous match by Ramos in the semifinals).
Later that evening, amidst the fallout from Ramos' seismic pinfall over Spencer Lee, the Boilermaker from Havre, Montana quietly secured Ersland and company's second All-American. Filius pinned Iowa State's Casey Swiderski to reach the medal rounds. Filius would ultimately place 7th.
Parker didn't qualify for the NCAAs in 2019. He was seeded 32th in 2020. He won two matches in 2021 and just a single match in 2022. An upset win over the #5 seed Ryan Jack of NC State in the round of 16 helped Filius achieve an elusive AA honor.
After four years of collegiate wrestling and zero trips to the NCAAs, Feldkamp decamped Northern Illinois and transferred to Clarion, where he qualified for two national tournaments. In 2022, the Pinckney, Michigan native won the pigtail bout but then dropped his next two contests, finishing the tournament in the round of 32.
In 2023, however, Feldkamp finally reached the promised land. The #14 seed won his first bout before being sent to the consi bracket, where he then peeled off three wins, including a bloodround upset over #9 seed Isaiah Salazar of Minnesota to secure AA honors.
Feldkamp entered the tournament ranked 20th in a wild 184-pound weight class. The highest Will was ever ranked prior to Tusla was #16 for a few weeks in November, making his one of the best stories of the season.
Feldkamp may also have a future as an orchestra percussionist.
You gotta love the pin gong! #wingsup pic.twitter.com/rYYv8mLEaH

— Clarion Wrestling (@WrestlingCUP) December 2, 2021
Other First-Time All-Americans Who MAY Be Out Of Eligibility
The following wrestlers all have another year of eligibility (thanks to stupid covid). They might not use it though, so I figured I'd rather include them now because why not? It's a blog, I'm not wasting any ink or paper. Plenty of room for more names.
141lbs Andrew Alirez, Northern Colorado - 1st
197lbs Tanner Sloan, South Dakota State - 2nd
157lbs Jared Franek, North Dakota State - 4th
174lbs Nelson Brands, Iowa - 5th
285lbs Zach Elam, Missouri - 6th
165lbs Izzak Olejnik, Northern Illinois - 8th
174lbs Peyton Mocco, Missouri - 8th
149lbs Michael Blockhus, Minnesota - 8th
After taking another look at this list, I think we're all but assured to see everyone back next season. Or maybe even in 2025 as Alirez (and maybe others) could take an Olympic redshirt. But whatever, more names and numbers never hurt a wrestling blog before. I mean who doesn't like seeing familiar names with numbers signifying achievements next to them? No one, that's who.