2023 NCAA Championships Watch Party
The Best Wrestlers At 2023 NCAAs Who Have Yet To All-American
The Best Wrestlers At 2023 NCAAs Who Have Yet To All-American
A list of wrestlers competing in their fourth NCAA Championship in their final season of eligibility who have yet to reach All-American status.
Mar 15, 2023
by Andrew Spey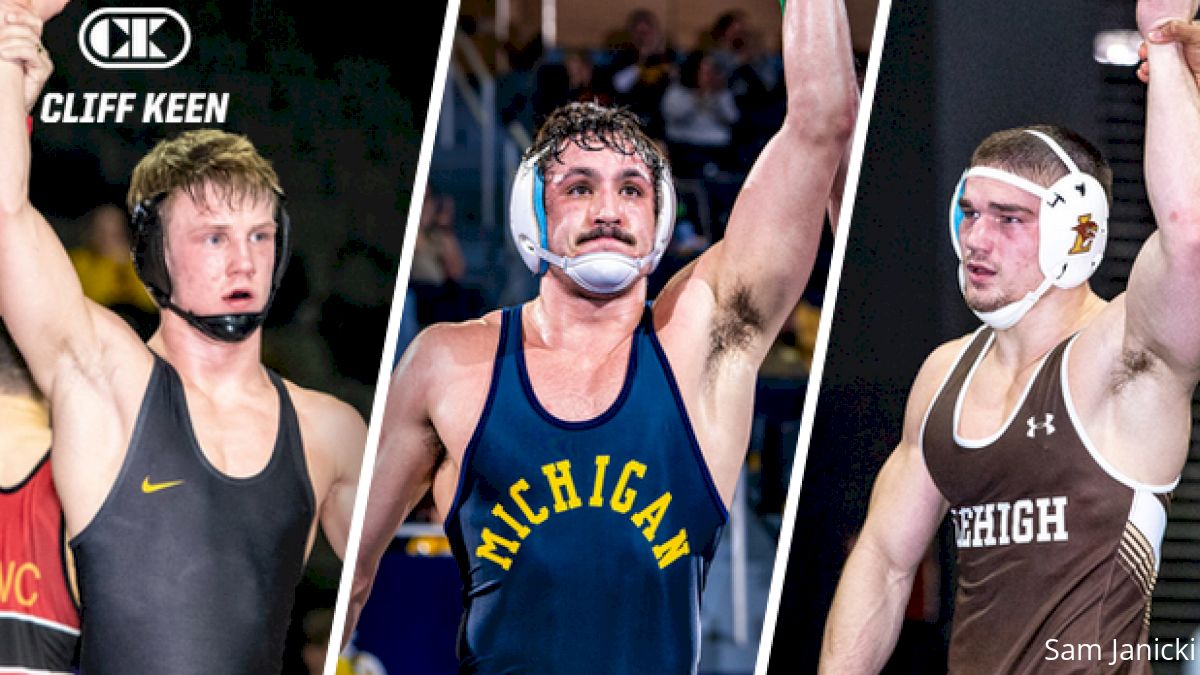 Every collegiate gladiator that enters the arena of competition deserves our collective respect and admiration, however, there are certain wrestlers who qualified for the 2023 NCAA Wrestling Championships in Tulsa that we think might engender some extra rooting interest from the average fan.
Most of the fans inside the BOK Center have already identified the wrestlers they would most like to see win national titles or All-American medals. However, most would agree that it's also enjoyable to see student-athletes break through and make the podium for the first time in their final year of eligibility, especially wrestlers who have competed in three previous NCAA tournaments.
Now, the 13 hard luck wrestlers we've listed below that meet those criteria do not need our sympathy. They have all accomplished far more than most wrestlers get to in their lives and should be proud of their careers regardless of what happens in Tulsa over the next few days.
Nevertheless, many fans like to root extra hard for such wrestlers, so we've combed through the qualifiers and identified them below for those who are so inclined.
133 Pounds: #9 Micky Phillippi, Pittsburgh
149 Pounds: #10 Max Murin, Iowa
Phillippi and Murin have the added distinction of having made the bloodround three times, and thus have thricely come up one match shy of the podium. Both wrestlers reached the round of 12 in the 2019, 2021 and 2022 NCAA Championships.
Phillippi and Murin both also qualified for the 2020 tournament and received top 8 seeds: Micky got the 4 and Max the 7. This year, Phillippi received the 9 seed while Murin was given the 8 seed. If you're looking for a feel-good story of the tournament, either of these wrestlers finally punching through would be it.
157 Pounds: #5 Josh Humphreys, Lehigh
Humphreys is the highest ranked and seeded wrestler that we're highlighting, with both the fifth seed and ranking. The West Virginia native reached the bloodround in 2019 as a true freshman, received the #7 seed in 2020, redshirted in 2021, then reached the bloodround again in 2022.
Along with Phillippi and Murin, the 16-0 Humphreys seems most destined to end his career on the medal stand.
157-Pounds: #10 Kaden Gfeller, Oklahoma State
157-Pounds: #15 Jacob Wright, Wyoming
157-Pounds: #16 Jarrett Jacques, Missouri
157-Pounds: #21 Anthony Artalona, Penn
The bad news about having this many guys chasing their first top 8 medal in the same bracket is there are only so many podium steps to go around. The good news is there's a pretty good chance at least one of them makes it past the blood round or into the semifinals.
This quintet of wrestlers have all, like Humphreys, advanced to the bloodround before, though only once in their respective careers. Gfeller and Artalona made the round of 12 last season, while Wright and Jacques were stopped in the bloodround in 2021. Gfeller has the highest seed at 10, whereas Artalona will have the theoretically toughest path with the #21 seed.
141-Pounds: #8 Allan Hart, Missouri
Hart qualified for his first NCAA tournament in 2020 after redshirting in 2018 and being unable to break into the Tiger starting lineup in 2019. In 2021 Hart reached the round of 12, while last season he was eliminated after winning a single match. Hart is ranked and seeded eighth, so has a very navigable path to his first All-American honor. We also realize now that Hart technically did not wrestle in three previous NCAA Championships, however, he did qualify for three, so we're leaving him on the list regardless.
197-Pounds: #20 Cam Caffey, Michigan State
Caffey qualified for his first NCAA tournament as a redshirt freshman in 2019 where he made it to the round of 16. In 2020 he received the #6 seed at the canceled Championships. In 2021 Caffey made the bloodround, and in 2022 he again finished in the round of 16. This year Caffey will attempt to make the podium from the #19 seed in his final bite at the apple.
184-Pounds: #7 Matt Finesilver, Michigan
285-Pounds: #13 AJ Nevills, South Dakota State
184-Pounds: #17 Tate Samuelson, Lehigh
285-Pounds: Travis Stefanik, Princeton
Our final quartet never made it as far as the bloodround, but they have all qualified for at least three other tournaments before and are all in their final year of eligibility.
We wish all the student-athletes competing in Tulsa this weekend the best of luck, but we're wishing a little bit extra for these thirteen guys.